In Conversation With Mr. Amish Mehta | COO, CRISIL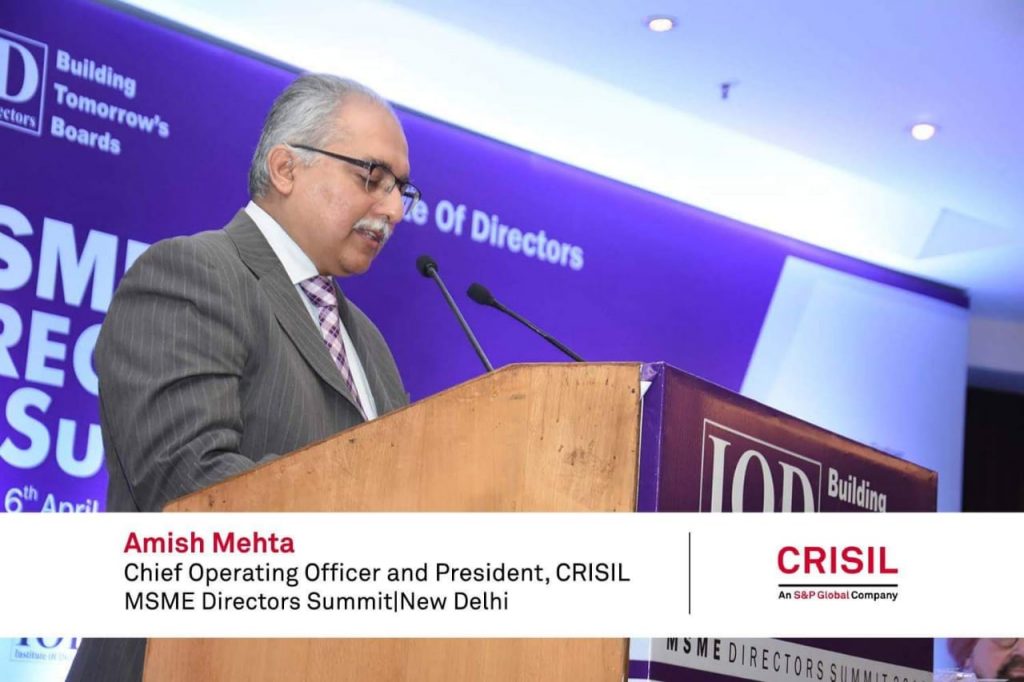 I approached Mr. Amish Mehta, COO CRISIL. I reached out to him via LinkedIn, explained about the scenario and what were the expectations from the interview. I was asked to send a formal email with the requisite details. After sending the mail, I received a call from his secretary with whom the schedule was chalked out. I reached the office as discussed earlier with the secretary and received a warm welcome, following which the interview was conducted successfully and the following questions were asked:
Q. How did you start your career?
A. I come from a background where most of my family, including my father, comes from a business background. So, business came as a natural choice for me.
Q. How did you decide that you wanted to do B.Com?
A. My natural aptitude was more suited towards engineering. However, my parents urged me to take B.Com. That was what triggered me to take it up. Even though my aptitude tilted towards science, I was never hung up on anything; be it science or B.Com.
Q. One incident from your time in college that helped shape your professional life?
A. I was very clear about wanting to do something different from business. Being a graduate was not enough for me. Being a good student, I was more interested towards maths and economics. One of my teachers told me, "Why don't you do CA? If you have the ability, why don't you go ahead?"
I was not very keen on joining my family business. After college, I joined Ernst and Young. I was not worried about what role was offered. I was raising funds before this and there I started advising.
Q. From then, how was your journey?
A. I started pursuing CA. The choice was to join top firms or mid-level firms. After due diligence, I came to the conclusion that if I join a mid-level firm, the experience that I would end up getting would be great. However, in the case of a larger company, things will be more structured. In a medium sized firm, you'll end up doing what you are supposed to do in the second year, right in the first year.
For example, I was sent to audit a partner in the very first year of my joining the firm. That brought a sense of accountability and responsibility in the very first stage of my career. How do you handle people much greater than you in stature? When I asked the partner about it, he replied that when he sees someone with capability, he throws them into the water. So a lot of the instances in my career take their roots from this incident.
Have faith in your own abilities. I am not worried about if this doesn't work then what next? I have worked in places where things might not have necessarily worked out. I worked at this startup for 2 years. It was the time when Harshad Mehta scam had happened. It was the time when things were not scaling up. As long as learning is there and you are not required to compromise on your values, everything is fine.
A startup will give you an experience of a very different type which would be fulfilling and challenging. Corporate will give you stability and structure. It would be very rewarding but not necessarily fulfilling. Another thing is that I would want to look for companies which would add to my profile. I would not join a good company if it does not do that and would prefer an average organization above it.
Q. One passion of yours that helps you become better at your mainline career?                        
A. Having reached at a level of a COO, usually people get to become complacent and start believing as to what can go wrong. But I keep learning and learn from my surroundings and keep upskilling myself. The idea that I am adding value and able to motivate my employees to achieve our targets, is my passion now.
Q. 3 major learnings from the corporate world?
A.
Learning is more important than minting money.
Never be worried about what your peers are doing. Have faith in your abilities.
Different environments teach you different things. Different cultures and organisations, all have different working styles.
Many times when you join a firm, you do not know what you were expected to do. People say that there are a wide variety of verticals but it is not easy switch. I feel that is a major problem. We are aware of our designation but not what it entails. What should be the course of action for a management trainee?
When you enter a firm, you should ask what kind of work and the kind of experience they are expecting. That would give an idea about what they are looking for. You should have the ability to ask those questions because in a global scenario, interns are considered an investment for the company. Unfortunately, I don't think that their value is realised fully. If they don't give you what you expected, you can have that conversation with them. You should make that choice rather than being unhappy.
Q. When you are looking for people in your team, apart from specific skills, what kind of attitudes and approaches do you look for in candidates?
A. I would like to have people who are go-getters. We work in an environment where everything is not served on the platter. So someone who is able to work collaboratively and is able to find solutions to problems that are not easily available are the traits which I would look for. The world is changing and is very dynamic. So, mindset is very important. One who is with solution oriented mindset and has the ability to think beyond ambiguity is a preferred candidate. Because at the end of the day, that attitude overcomes any skill set.