In Conversation With Mr. Ramesh Shankar S., Executive VP And Head Of H.R., South Asia At Siemens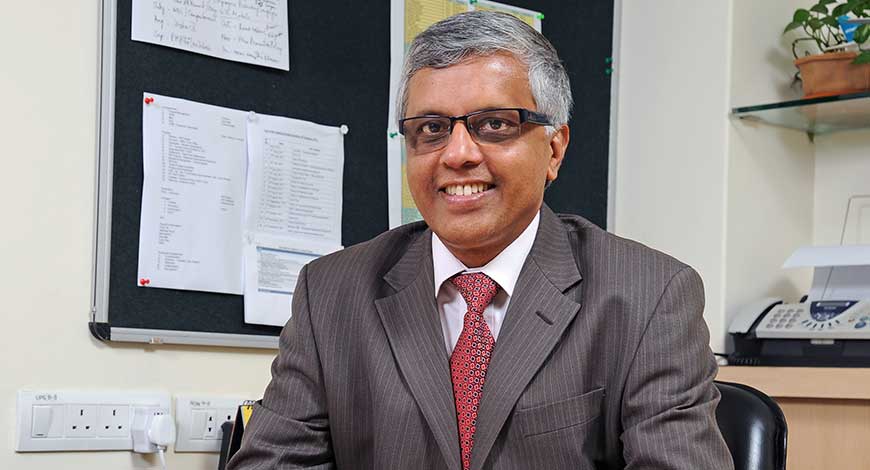 I was puzzled as to how I should approach a Senior Management Executive of a top company for an interview.
It was supposedly a tough task to convince a reputed personality to spend their hard-earned weekend giving interview to a B-school student. However, with fortune on my side paired with a little bit of boldness, I could connect with a truly Humble person on LinkedIn, Mr. Ramesh Shankar S. to learn about his experiences from his successful career.
I explained to him about the interview and assured him about its utility to the student community. He readily agreed and provided me with his contact number and a time frame when I could contact him. It was a telephonic conversation, and below is a brief transcript of the conversation which I had with Ramesh sir:
Q. What has been the strongest motivating factor in your long career?
A: I have a mission in life – I want to be a better human being everyday I live, enjoying myself and making life enjoyable for all the people around me in whatever ways I can. This has motivated me the most.
Q. One passion of yours that helped you become better at your mainline career?
A:  The passion has always been to be of help to others, my family and friends – which is also the reason that I chose H.R. as my career.
Q. One incident from your time in college/B-school that helped shape your professional life?
A: In 1987, I was in a team of three members that participated in a national competition for young managers and we were amongst the top three teams. This competition helped me gain confidence that I could do well in my career and this was the turning point in my career"
Q. With your experience in forming and developing so many teams, according to you what is the key to develop a good team?
A:  The key to developing a good team is to bring out the best in  everybody. Each person is different and it is very important how you view at the strengths of everyone rather than the weakness, as generally the tendency is to identify the weakness first. If I can identify the strength of a person, I can try to put everyone in their area of strength and accordingly I have to choose roles which suit them.
Q. Once you form a good team, how to keep them focused and happy?
A: The key is in the ability to keep in touch with every member of the team and look at their interest individually as well as of the team. This makes it easier to keep them gelled as a team and to contribute to each others' success. If we can create an environment where we can enable each other to succeed than the team succeeds.
Q. What was the most challenging part which you faced in your corporate career just after joining as a management trainee in SAIL?
A: I landed up in an iron-ore mine and I moved from Chennai to Chhattisgarh in a remote location around 100 kms away from Bhilai. It was a God – Forsaking place, I didn't knew the local language, didn't know the people there but I got a good support from seniors and learnt how to work in a challenging environment and as long as you're committed, sincere, hardworking – all these difficulties can be worked out.
Q. When you are looking for people in your team, apart from specific skills, what kind of attitudes and approaches do you look for in candidates?
A: I look at what are the core values and mindset of the person. If an individual has the core values and learning attitude, then skills can be developed. If Integrity and hard working attitude is a question mark, then these are the things that show that the person will not be willing to come out of comfort zone. So if a positive mindset , a 'can-do' attitude and willingness to learn is present then the skills can be taught.
Q. If you had to give weightage out of the total 100%, how much would you allot to new-age technologies and the attitude of a person towards work and innovation.
A: I would give 80% to attitude and 20% to New-age skills. New Age skills such as A.I. can be taught but if your attitude is not okay at the age of 21 then skills don't matter much.
Q. If you had an opportunity to go back in time, is there anything that you would like to change?
A: I started my career in the public sector than joined the private sector. I joined private sector much later – by around 10 years, which is quite late. If I had joined by the age of 25 than it would have been better.
Q. What would be your advice to the current students who are aspiring to be good managers?
A: My advice would be that there is no substitute for hard-work. You should work hard without expecting much in return. Whatever you do, you should try to be the best in it.
It was an enlightening experience talking with Ramesh sir, and one of the things which I learnt from him even before calling him was his Humility. Amongst other learnings, one is that there is no substitute for hard-work and no amount of knowledge can be the short-cut to success. My third learning is to manage your focus towards work even when things don't go as expected.