Corporate ConneXion – "Emerging Trends In The Business Environment And Its Implications" – MYRA School Of Business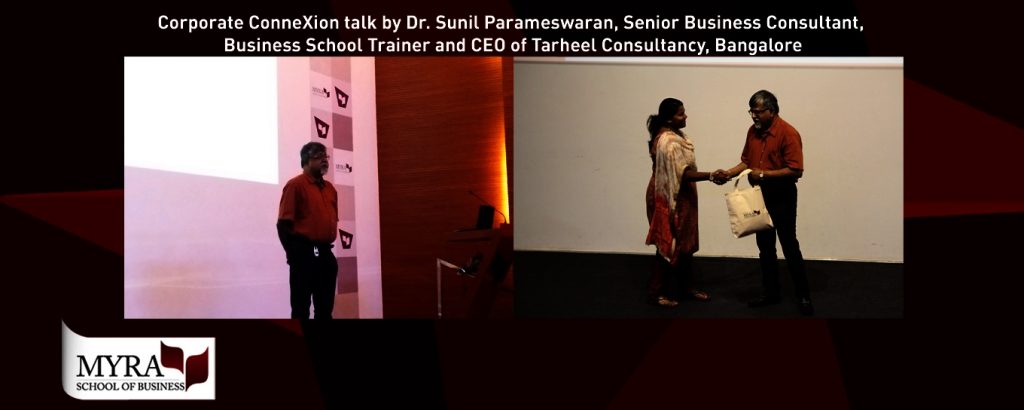 Dr. Sunil Parameswaran a Senior Business Consultant, Business School Trainer and CEO of Tarheel Consultancy, Bangalore is a Visiting Professor teaching Finance courses at MYRA School of Business, Mysore for the last two years.
During his current visit, he delivered a very inspiring talk to students guiding them on "Emerging trends in the Business Environment and its Implications for the Business School Students". The talk was organized under the Corporate ConneXion Forum of MYRA with a view to preparing the students for the placement season.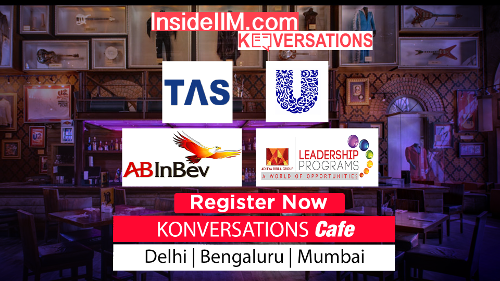 His key messages to the students was clear and crisp — learn a foreign language when you have the opportunity; three essential skills for the future business professionals are People Orientation, Domain Expertise and Linguistic Versatility and added that sound knowledge of quantitative techniques is a must to have domain expertise. Knowledge of foreign laws and regulations are essential in this globally connected world as people and companies invest and earn in multiple currencies and work across the globe. He therefore advised them to tap into the areas of Global Treasury Management and Financial Risk Management if they are looking for careers in the Finance Sector.
He said that today's managers face a difficult and unprecedented challenge —the world is changing much faster than their organizations. Every industry, without exception has been overtaken by an accelerating pace of change that shows no signs of letting up anytime soon. In a business world of increasing uncertainty, the one clear certainty is that the pace of change is only going to get faster. Short shelf-life for products, services & knowledge is the order of the day. Obsolescence happens every day in the business world and processes become obsolete as technology advances. The two areas that are being heavily impacted by changes are the IT Industry and Finance. New Tools, New Financial Products are being developed —whether it is Insurance, Investment Banking, Brokerage, Futures Markets, Portfolio Management, Fixed Income Securities etc. Therefore the concept of long-range planning has lost its meaning, he said adding that even the validity of the skill sets learnt during an MBA program is like 10-15 years; after this period, re-learning and adapting to new tools and techniques is the only way to stay relevant, he advised.
While these are important, he deliberated upon the need to develop and hone on non-technical skills — soft skills and HR skills which are the key tools for new managers working in a diverse and multicultural workforce. The fact that we have moved from a male-dominated to a gender-neutral work force requires us to attune ourselves with relevant non-technical skills and these should never be overlooked, he opined.
He deliberated upon the need to develop strong analytical skills as Analytics is the buzzword of businesses across the globe and across all domains— Marketing Analytics, Financial Analytics, HR Analytics, etc. — are all significant to stay professionally ahead.
Answering to specific queries from his young audience, he said that Certificate courses in very specific finance areas such as International Finance, Relationships Management, Brokerage Operations and such could add value but only after having a sound footing in the traditional finance courses. Such expertise should be acquired while on the job rather than compromise on the traditional courses at this point of time, he added. Another takeaway from his talk was that in today's job deficient market, fresher's are better advised not to insist on a minimum salary, but take a job, work well for 2 years, get rid of their fresher's tag, and then compete on their abilities with the world for the rest of their work life.
For more details: https://goo.gl/9VdCAe