Corporate Leaders meet the brightest minds at IIM Kozhikode – Part I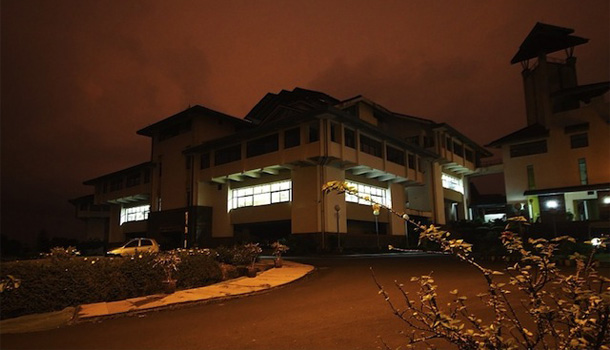 The Industrial Interaction Cell (IIC) at IIM Kozhikode has been helping students interact with some top corporate leaders for over a month. The leaders are from a diverse set of industries ranging from Supply Chain and Logistics to Steel to Quick Service Restaurants to Financial Services. The topics covered by the leaders were also extremely insightful: from managing supply chains to creating a high performing organization to managing oneself.
In this part of the story let's look at some of the themes explored by the leaders:
Workshop by Mr. Ali Hasnain Ghoghai, Senior Manager at DHL Supply Chain Solutions
IIM Kozhikode hosted a first-of-its-kind workshop in Supply Chain Management on the 7th and 8th of July. The event was organized byIndustry Interaction Cell (IIC) in collaboration with OMEGA (the operations interest group) of IIMK.
The workshop was conducted over two days. Two lectures were scheduled on the 7th of July followed by the presentations of the top 5 teams who qualified for the DHL Supply Chain Case Challenge.
The first day (07.07.2012) saw a lecture-cum-interactive session on General Outline of Supply Chain Management like highlighting the key differences between SCM in theory and SCM in practice and the core skills required for SCM and basic market offered career paths for different SCM professional roles.  Mr. Ghogai also talked on the Emerging concepts in SCM in India like FTWZ (Free Trade and Warehousing Zones) and LLP (Lead Logistics Partner), GST (Goods & Services Tax) and its impact on the Supply Chain industry. A post dinner informal career counseling session followed when Mr. Ali dealt with questions on individual careers based on the individual's past experience and skills.
The mainstay of the workshop is the "DHL Supply Chain Case Challenge". The case was all about designing a warehousing and transportation solution for an e-commerce company. The top 5 teams were shortlisted by Mr. Ali Ghoghai himself. These teams presented on Sunday (08.07.2012) and were jointly evaluated by Mr. Ali Ghoghai and Prof Saji Gopinath – one of the revered names in the QM & OM department,IIMK. The session ended with a concluding speech by Prof. Saji Gopinath, and felicitation of Mr. Ghoghai by Prof Gopinath and declaration of results. (Below: Mr.Ghoghai)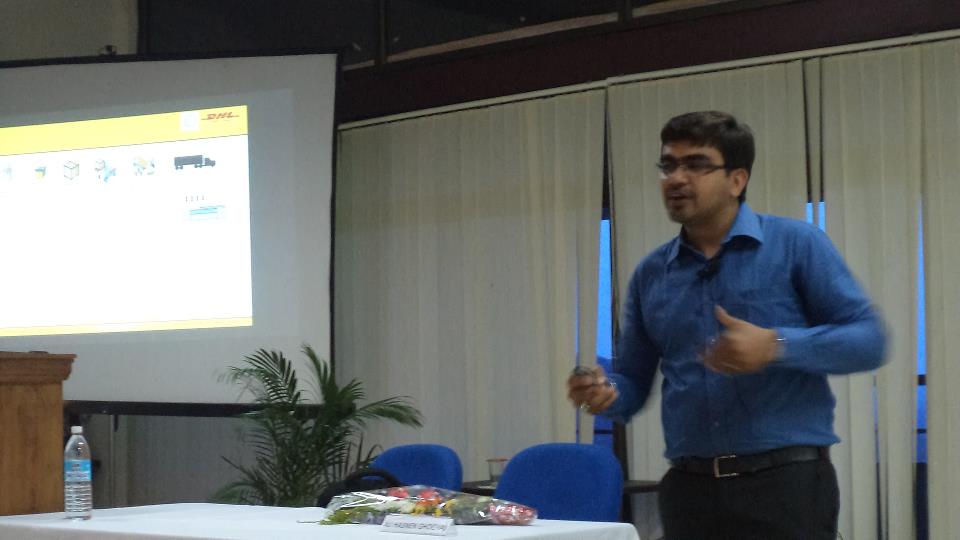 Talk on Sustainable Energy Management by Mr. Amol Kotwal, the Deputy Director – Energy & Power Systems Practice, Frost & Sullivan 
For a developing economy like India, in order to maintain the high growth trajectory Energy security is the need of the hour but this requires new and innovative thinking and effectiveness through structural change. Talking about "Sustainable Energy Management", Mr. Kotwal focused on how tapping the non-conventional energy sources, is the key for India in order to meet its rapidly rising future energy demands. He also talked about how to overcome the technological challenges which stand as one of the biggest barriers for large scale commercialization of the same.
Sustainable energy management is an emerging area of discussion and is becoming a key component in the strategic decisions of big corporates and Mr. Kotwal, in his speech, touched upon the potential risks associated with attracting investments and related government initiatives in this sector.
Talk by Mr. Ajay Kaul, CEO, Jubilant Food Works Ltd. (Master Franchisee for Dominos' Pizza and Dunkin' Donuts)
As a leader in a highly competitive industry, Mr. Kaul had very interesting insights to share on the food retailing industry where Dominos' currently tops the Organized Pizza Delivery segment with a gaint market share of 70%. He discussed the unique brand positioning of Dominos' as a delivery based brand as opposed to the dine-in path choosen by competitors. He pointed out the specific issues that plague a time bound segment such as pizza delivery and shared the Dominos' methods that were used to successfully overcome the same.
While throwing light on the journey of Dominos' from "Hungry Kya" to "khushiyon ki Home Delivery" he laid emphasis on often overlooked factors such as the delivery boy who is the real face of the brand to the customer. Elaborating on the role played by the delivery boys he impressed the importance of human resource management at Dominos' which sees even its ex-employees returning during peak days to help in delivery, thus is their bonding with the brand he said. He also shared some of the earlier ad campaigns of Dominos' to drive home the importance of occupying consumer mind space and the communication of brand image. Mr. Kaul also shared his insights into Building a High Performance Organization from his professional experiences. Under him, Dominos has grown leaps and bounds.
Answering students' questions, Mr.Kaul, insisted that Indian mentality towards delivered food has come a long way, but is yet to grow in leaps and bounds. The event which was an enriching experience for the students closed with some words of graditude and appreciation from, Professor Joffy Thomas, Faculty, Marketing Management, IIM Kozhikode. (Below: Mr.Ajay Kaul)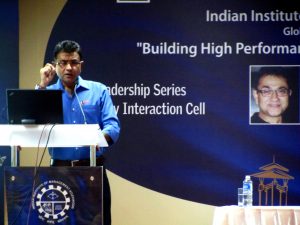 Talk on Social Entrepreneurship by Mr.Gyanesh Pandey, Founder and CEO, of Husk Power Systems
Mr. Pandey talked about his journey from a cushy, highly paid job in the US (where he had worked for five years) to the inner conflict which compelled him to come back to his hometown in West Champaran district of Bihar. He had a single aim – to uplift the living conditions of the people in his hometown, and being an electrical engineer from IT-BHU, electrification of villages was an intuitive decision. He co-founded Husk Power Systems in 2007, and today, it provides electricity to over 250 villages in Bihar.
Mr. Pandey was able to strike a chord with the audience right from the beginning, when he talked about how embarrassed he was of his identity, and how that eventually led to him coming back to India and electrifying villages in Bihar. He busted the twin myths of success and failure for an entrepreneur – he said that all our actions shouldn't be governed by the success or failure of those actions. The single minded aim of an entrepreneur should be to solve a problem, and concentrate only on finding a solution, as opposed to making pots of money.
The session was interactive, and Mr. Pandey kept trying to provoke a response out of students. He also mentioned a life altering event where he was pushed into attending Vippassana sessions by a girlfriend, which eventually led to him making the decision to move back to India. Mr. Pandey put up a number of persuasive arguments in terms of the advantages of becoming an entrepreneur. (Below: Mr.Gyanesh Pandey)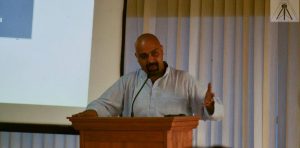 Talk by Uday Chaturvedi (Former Managing Director – Corus Strip Products, UK and Former Chief Technical Officer – Tata Steel Europe)
It has already been covered in detail here
You can read all about IIM Kozhikode here
Read article by IIM Kozhikode author Charan Iyengar here : Charan
Follow us on Twitter : @insideiim