Counsel & Wisdom From Fortune's 40 Under 40 – Part II – Strategy With RS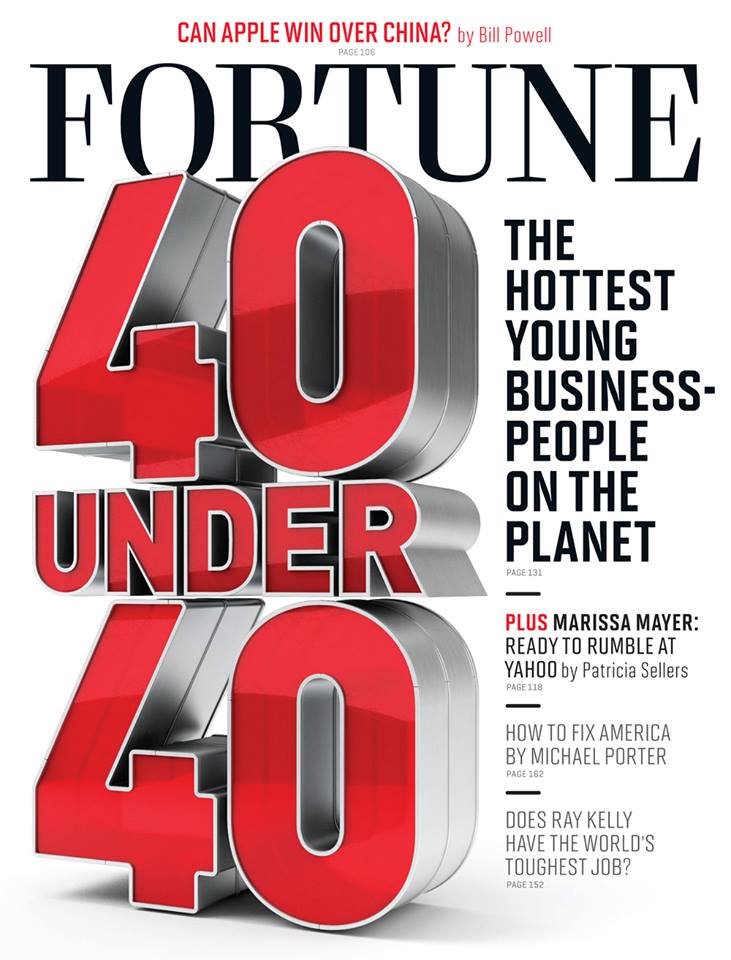 Friends to reach the pinnacle of your profession, that too at a young age – below 40, requires counsel from your well wisher – mentors, friends, mom & dad & your life partner.
This is Part 2 of the series – counsel & wisdom that inspired '40 under 40′. I had posted Part 1 yesterday.
Read, savour, internalise what inspires you; and then without wasting an iota of time start living them. Soon you will enter the illustrious, '40 under 40' list & sharing the counsel that inspired you to stardom.
1. 'Seek truth through facts. For example, I needed to fire somebody. But I wanted to reduce the harm to that person. I wanted to explain why I was firing him. Better to be more direct' – Tang Yan, Founder & CEO, Momo.
2. 'Sleep triumphs everything. I started giving myself permission to sleep more. It made a big difference in my feelings of wellness…' – Julie Smolyansky, CEO & President, Lifeway Foods.
3. 'Choose your other half carefully – they need to make you laugh & support you in all endeavours' – Liv Garfeild, CEO, Severn Trent.
4. 'Take risks, be disruptive & don't look back' – Anthony Waston, CIO, Nike.
5. 'The harder you work the luckier you get – create luck through hard work.' – Peter Wallace, Senior MD, Blackstone.
6. 'If you wish to solve big problems you have to sweep away conventions out of your head. You've got to think in terms of 1st principles.' – Josh Tetrick, Founder & CEO Hampton Creek.
7. 'You don't fail until you stop trying.' – Lisa Falzone, Co-founder &CEO, Revel System.
8. 'You have to create the quiet to be able to listen to the voice of intuition.' – Michael Dubin, Co-founder & CEO, Dollar Shave Club.
9. 'Kill all your darlings. Sometimes we get to focused on one small thing that we love, and ignore the rest of the canvas in favour of what is essentially a fairly insignificantly piece with a lot of emotional attachment.' – Debbie Sterling, Founder & CEO, GoldieBlow.
10. 'Fail hard, fail fast, and fail often. It is key to success.' – Reshma Saujani, Founder & CEO, Girls Who Code.
11. 'Learn to court measured risk.' – Trevor Nelson, Co-president & Managing Partner, Alliance Consumer Growth.
12. 'Take 1 mandatory day off every week. It has done wonders for my productivity. I realized a few years back that I used to burn out every few months & it was happening increasingly. By taking 1 full day off, I was able to give my body & brain a much-needed break that allowed me to come back to work refreshed.' – Apoorva Metha, Founder & CEO, Instacart.
13. 'Do not take life too seriously, you will never get out alive.' – Ryan Graves, SVP of Global Operations, Uber.
14. 'Always have to courage to persevere.' – Julian Steinberg, C0-president & Managing, Partner, Alliance Consumer Growth.
15. 'A. Pick your battles wisely. B. This too shall pass – acknowledge your success & failure quickly & move on. C. You are only as successful as the least well-off person in your community.' – Noah Wintroub, Vice Chairperson, J.P. Morgan Chase.
Most of the '40 under 40' did 'growth hacking' to grow their business.
If you wish to be introduced to the concept of 'Growth Hacking' – one of the hottest concept to emerge from Silicon valley in recent times, then I would invite you to read my article published here titled, 'Develop a Growth Hacker's Mindset'. The article will introduce you to concepts of how to grow your business without having to spend a fortune! Get introduced to the concept & implement it in your business & see your bottom line improve. It also has a video embedded in it which will succinctly share the key points of the article.