Crazy Batchmates At IIM Trichy – Satyam Verma

Introducing some of my crazy Batch Mates
Vivek Rai – Vivek says he is 26 years old, but the legend has it that he was born sometime around 500BC. His believers, who also know him by the name 'chacha', claim that he had fought alongside Julius Caesar, Genghis Khan, and Adolf Hitler. Vivek frequently becomes the punch line of age-related jokes, not because he is old, but because of he 'acts' old. These punch lines, however, never fail to crack him up and he can often be seen laughing hilariously at jabs which are thrown at him. The fact that 'chacha' handles all the gibberish around him so elegantly and maturely only goes on to substantiate that maybe, maybe he truly is really old.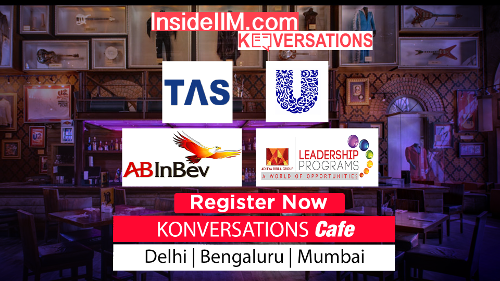 Rahul Gulati – Rahul is known for a number of things. His scorecards are studded with shining A's. He is in the Director's Merit List, ranked third in the entire batch of 180 on the basis of grades. He is also the secretary of the Mess committee in IIM Trichy. But don't let any of that fool you. He is a 'Dilli Waala', and he does justice to the tag. Known by his last name among his peers, Rahul is the most mischievous prankster you will ever see. His lives for a laugh, and can often be spotted throwing random jokes at people. While most of us in the batch are buried in their laptops either cramming for grades or trying to have a little 'me-time' watching an episode of Suits or Game of Thrones, Gulati lurks out there in the unknown, trying to find the victim of his next prank. Despite his 'shortcomings', the beloved CR of Section A is one of the nicest persons I have ever known. He is as kind as he is entertaining, and it's a privilege to have a friend like him.
Ritu Raj – Ritu is the go-to-guy (yes, he is a guy) if you have a doubt or a question in quants or statistics. He is naturally good at maths, a trait which can be traced back to his Bihari genes. Like most people good at maths, he has characteristically developed a dislike for subjects related to HR and Marketing. A happy-go-lucky Ritu Raj lives by his mantra "Light lo be!" ("take it easy, mate!"). He is often seen chanting this mantra around people who are upset about their plummeting grades, but he is also known to have skipped meals and pulled back to back all-nighters when he once scored 18 out of 20 in a Quant quiz. Ritu idolized Salman Khan (of Khan Academy) and Anand Kumar (of Super 30) and had plans of starting a similar initiative to teach underprivileged children to help them achieve their dreams.
Tanuj Kar  – There are no adjectives yet invented in any language known to mankind which can even begin describing the wonder that Tanuj Kar is, which is why I am only adding a few observations about him in bullet points.
Tanuj Kar loves to sing and is good at it, but he can be heard singing from two blocks away, which kind of ruins it.
Tanuj Kar can often be seen roaming around in the corridors of his hostel, shirtless.
Tanuj is the ultimate exhibitionist. He purposely enters the class (or any public gathering for that matter) at the last moment with a swagger that cries for attention.
Tanuj throws a fit when he's late for lunch, and there is no fish left. (He's a Bengali)
Tanuj doesn't mend words. He is pretty straightforward.
Tanuj is kind to people. He easily gets happy or sad for others.
Tanuj doesn't share food.
Which ABG Company Do I Want To Work For And Why?
I would love to work for the fashion/apparel division of the Aditya Birla Group. As a young marketer, I see tremendous opportunities for learning and growing with brands like Pantaloons, Van Heusen, Peter England and Louis Philippe. These brands have grown to global recognition and are great examples of the marketing acumen and its execution in the conglomerate. The very fact that a lot of people are still unknown that these brands are actually Indian speaks tons of their success.
This article is written by Satyam Verma – Class of 2019