Uncategorized
Creating an Industry and a Brand: Journey of Meru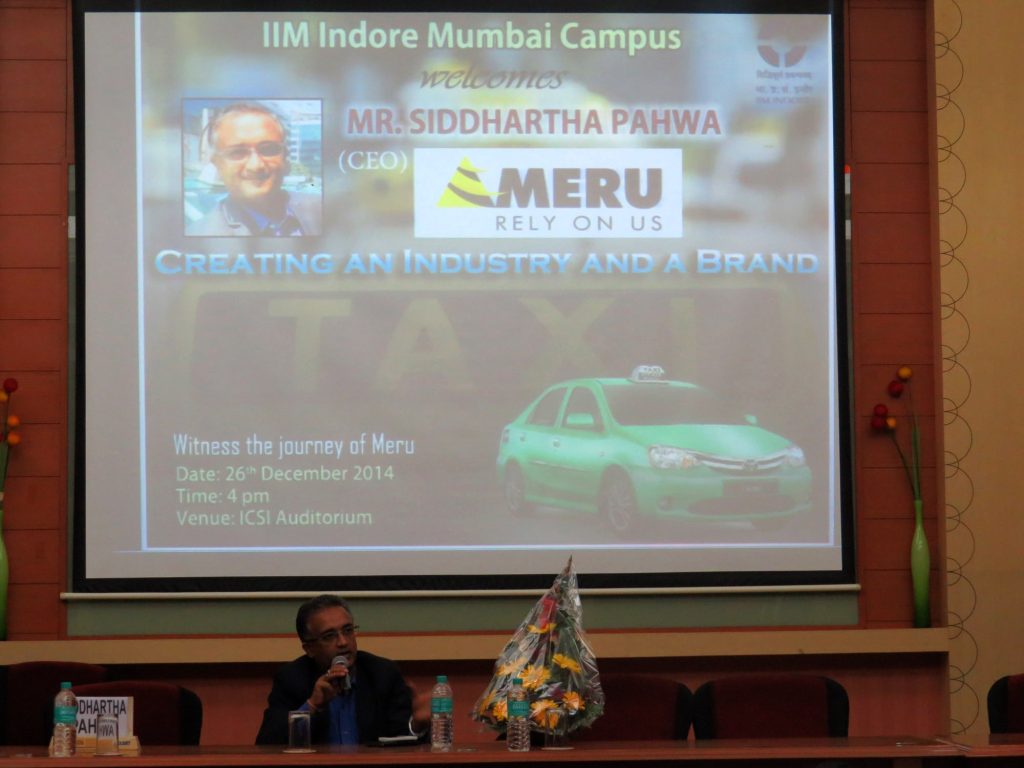 Mr. Siddhartha Pahwa, CEO of Meru Cabs Pvt. Ltd. visited IIM Indore Mumbai Campus to interact with PGP students on 26th December 2014. Mr. Pahwa had a diverse experience of more than 16 years in companies like Abbott Healthcare Pvt. ltd, Piramal Healthcare Limited, Unilever and PwC before joining Meru Cabs. Mr. Pahwa completed his studies from ICWA and ICAI.
Mr. Pahwa shared his journey in building Meru brand in taxi services industry. He told that Meru relied on data processing and analytics in order to strategize their business and gave insight on cost benefits of using taxis over owning a car, which they wanted people to understand to make the business a success.
Mr. Pahwa said that Meru provided value through continuous technology implementations. He shared different innovative technology systems which they have implemented in order to improve convenience to customers and employees and which has also helped them save costs. For example they implemented Home button for driver which tells when driver want to go home and as it is pressed it gives driver opportunity to take a drop in the direction of his home. Similarly, they have implemented a number of self learning innovative algorithms and gave sheer importance to technology to thrive in the market and provide differentiated services.
Mr. Pahwa, expressing his grief on the unfortunate incident in Delhi, told that customer's safety is Meru's primary concern and they can never compromise with anything for the sake of that. They implemented advance tracking mechanism and made driver identification process strict in order to ensure safer ride to the customers and their family members.
Mr. Pahwa concluded the lecture by sensitizing participants about how they can grow their business by creating a story or mission and bringing momentum to back it. He insisted that it is necessary to align the organization with company's goal to make profits and cut costs. According to him some things can't be compromised even if the business needs to be shut down.
The whole session gave a good insight to the participants about how to create a brand and transform any business with constant technology implementation and focused leadership.