'Crowding', The Winning Idea At i5 Summit – Student Ventures At IIM Indore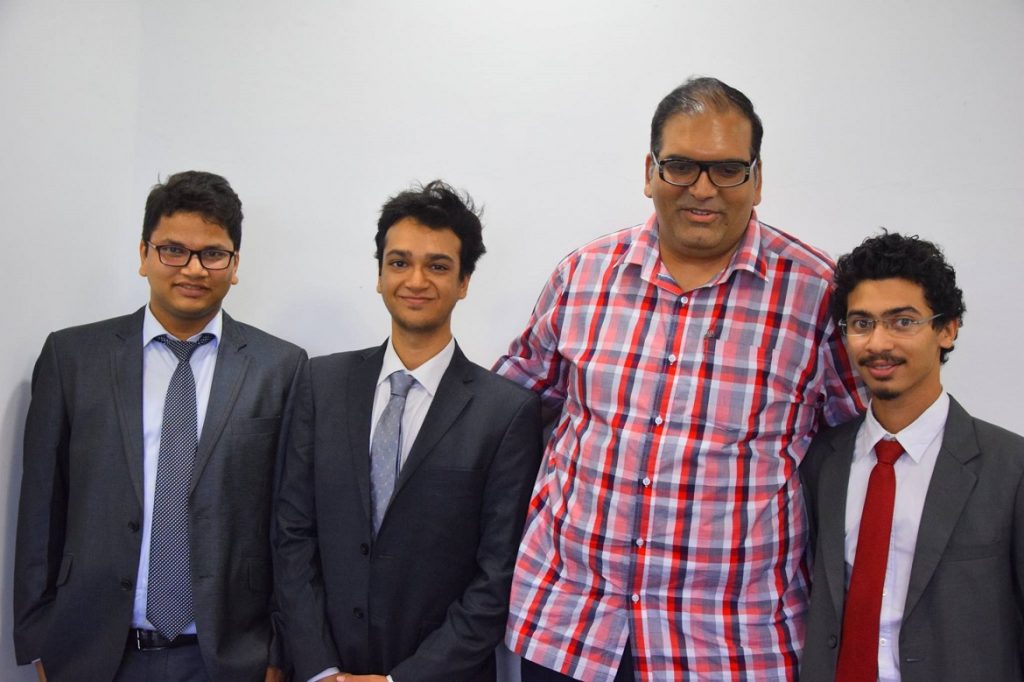 Meet the winners of our flagship event 'GetFunded' at i5, the entrepreneurship summit conducted by IIM Indore and IIT Indore. Mosab Cheriya Arakkal, Kanish Aggarwal, and Pallav Jain of the PGP 2015-17 batch of IIM Indore (seen here posing with Judge Investor Mr. Anand Govindaluri during the networking session) raised 50 Lakhs by pitching their venture 'Crowding'. The idea for the venture was made by the team along with Abhinav Gupta from IIM Kozhikode. The event 'GetFunded', presented by Bike 4 Everything, was the most coveted event at the summit. It is an international venture plan competition and a one of a kind platform where entrepreneurs can raise capital by selling a minority stake of their start-ups.
Jasmine – So could you tell us a bit about what your winning idea was?
Kanish – So basically it's a crowdsourcing platform by which companies can leverage the huge coder base of India. Whatever IT problems they might have, they can get them solved by these coders. We provide that kind of a platform to them.
Jasmine – What are the current competitors in this industry?
Pallav – Primarily, this industry is at a very nascent stage in India. It is mostly driven by the US, with Top Coder as the biggest player. But you can't really call them direct competitors to us because they are on a very different scale. The targets that they are looking at are also very different from us.  We are primarily looking at startups and assemblies.
Jasmine – So is there a particular way in which you identified that there was a need for such a product in the market?
Kanish – Right now there's a huge drive towards Digital India and Startup India as well. I worked on the idea of crowd sourcing during my internship along with Abhinav Gupta from IIM Kozhikode and we discovered that it was just in its nascent stages and felt that there was a lot of potential for it. Top Coder has just developed this facility. Right now they're doing it for big clients like NASA, IBM etc. in US. So we thought why not do something like that for the smaller players in India.
Jasmine – So how are you planning to reach out to your target audience?
Pallav – As we said that startups and SMEs are our main targets. Given that startups come up with funding from VCs, we can definitely say that the leverage power of VCs and their network is very high and can be capitalized on.
Apart from that there are a lot of startups which come and participate at exhibitions or funding events. So we'd definitely like to network with them there. Along with that we are also looking into tapping into the official associations of SMEs.
Kanish – There are also some SME chambers that we are planning to approach and pitch our idea to.
Jasmine – So are you still just in the stage of pitching your idea alone or have you also started any trial runs alongside?
Kanish – No we haven't moved on to that stage yet. But we hope to be doing a trial early next year if all goes as planned.
Jasmine – How did you all come together as a team? What was the journey like and approximately how long did it take you to give shape to your idea?
Pallav – Once we had the idea in place, we started doing the market research and checking out what were the available options that we had. We tried to look at it from the consumer's perspective first, asking ourselves the question that if I have some IT needs can I get it crowdsourced? The answer was no. So that's why we decided to take it up. Simultaneously i5 came into the picture. So as our selection process progressed we continued building up on our idea.
Mosab – It's been a fairy tale ride. We wanted to help SMEs reach their full potential without burning a hole in their pockets. We will definitely pursue this idea with utmost passion. We are also extremely grateful to the IIM-Indore E-cell who conducted the TSM competition which served as the catalyst for our idea. 
Jasmine – So do you think events and colloquiums such as i5 are useful for people who have business ideas like you guys?
Kanish – Definitely. It helps you to stand out. Our idea was recognized as very different from the hundreds of other generic ideas that are going around in the market. If you something unique to sell then events like i5 definitely help you get noticed.
Pallav – I think what helps you define yourself in such an event is to be different as compared to most of the other participants focusing on one thing like say education sector or health sector. These are the primary sectors that everybody is focusing on as they are B-to-C. If you are working on something that focuses on using the untapped talent in our country, at the same time helping SMEs which are in a very important growth stage in India. So if you go parallely along this path then you will definitely have a better chance.
Kanish – i5's basic aim is to help startups from IIM Indore and IIT Indore and to develop a startup culture in the city of Indore as a whole. So yes, that definitely helps us.
Jasmine – Even though we're all encouraged in college to come up with our own startups, currently there are also a lot of naysayers who say that the start boom is over. Do you think such claims must be taken with a pinch of salt?
Kanish – I think that is very specific to the industry that you're talking about. Yes, startups in certain sectors have definitely reached a saturation point, for example the food delivery business. But there are so many other areas still left to be explored. So if you have the right idea, there's always scope.
Jasmine – So are you planning to take this idea further once you pass out of college?
Pallav – Yes, we're quite keen on this.
Jasmine – Before we wrap up, would you like to give us a few tips about the difficulties that you might face while setting up a startup and how to overcome them?
Pallav – Well initially we ourselves had many inhibitions about whether this idea would be liked by VCs or not. Keeping all that aside, you should just believe in your idea. Especially after winning the offer from i5, we feel our decision to just keep going was right.
Kanish – Adding to what he said, I think you shouldn't wait for an opportunity to come your way. You need to create opportunities for yourself.