"Customer experience is the most sustainable differentiator," says Mr.Sawhny , CEO, Reliance Communications.

"The combination of mobile technology and social media is changing consumer behavior," says Vinod Sawhny, CEO, Reliance Communications who was with the participants of IIM Indore, PGP Mumbai on Thursday, 17th December  to interact on the topic Digital Leadership. Mr. Sawhny is a senior business leader with over three decades of experience in building profitable businesses in telecom, retail and consumer sectors across India. He has held several leadership roles in Joint ventures of Global multinationals and large Indian corporations, which include leading Bharti Airtel's Mobile businesses and Bharti's retail business with Walmart. Vinod has also served in leadership roles with Godrej -GE and Spice Telecom. But he says his personal vocation is working with young people.
Mr. Sawhny began by telling the students about the changing scenario in the field of digitization. He elucidated it by citing various examples from around the globe. With 7.2 billion mobile phones in the in the world (which is more than the world population), the digital consumers are not necessarily the ones belonging to the developed nations. The pace at which the things are changing today is faster than ever. And in order to sustain, the organizations need to catch up with the velocity of the change.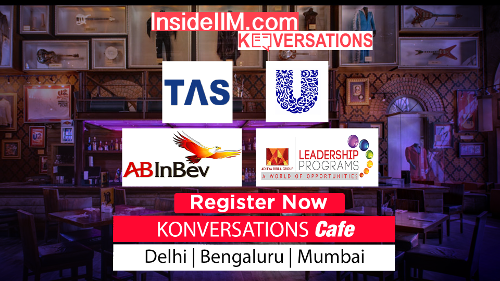 He told that the consumers have become hyperaware. "There is a huge paradigm shift in consumer behavior," he said. Because of this change in the consumer behavior, there are no traditional barriers to entry. The most sustainable differentiator today is the consumer experience. Moreover, the traditional lines between the organizations are blurring and the traditional idea of core competencies does not exist anymore.
Big data is what is driving this transformation. Organizations, like e-bay have employed thousands of data scientists to analyse consumer behavior, because knowing the consumer is of prime importance. Mr. Sawhny urged that data analytics should be used to remove the inequities in healthcare, because economic growth is directly related to health.
The new kind of leaderships, says Mr. Sawhny, would have leaders who focus on intangibles like vision, brand and customer experience. Today we need leaders who can take setbacks and are provocative, not a 'fundamental' manager. Now, it's about the relationship and the work you do.
Mr. Sawhny concluded by motivating the participants, who will be leaders in the times to come. He said it is the best time to start to be young in India because we're now in the digital age where we need talent in the field. With respect to the organizations, he said it's not about the experience but relevance in the field. Finally, he said that leadership is about striking the right balance among work, home, community and self. The session was followed by an interactive talk where the participants asked various queries.