Customer retention in today's data driven world – Guest Lecture by Aditya Bhamidipaty, Co-founder and CEO of eMart Solutions India at IIM Indore, Mumbai Campus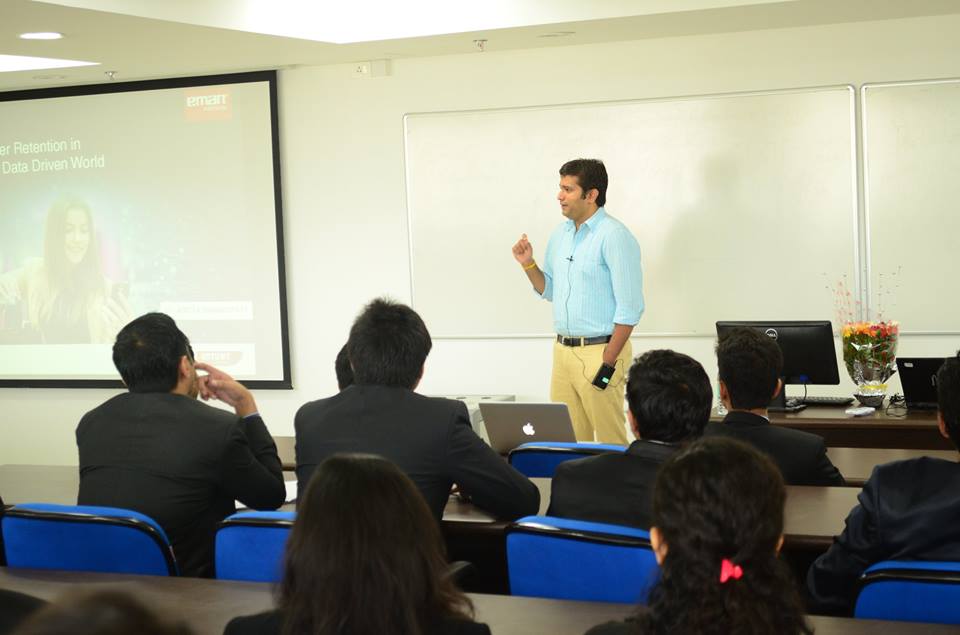 Mr. Aditya  Bhamidipaty, Co-founder and CEO, eMart Solutions India Pvt. Ltd., visited IIM Indore Mumbai Campus to interact with the participants on 13th September 2015. Mr.Bhamidipaty, an IIM-A alumnus has worked with P&G and iGate Global Solutions Ltd. Later in 2009, he co-founded eMart Solutions with an idea of it being a one-stop shop for marketers.
Mr. Bhamidipaty briefed on the importance of customer data captured using various interfaces for understanding customers' priorities. It gives an essence of the customer experience and useful insights about the customers which benefits the company.
Mr. Bhamidipaty emphasized the need for integrating marketing efforts of a brand across various channels. Most brands generate data about millions of their customers and leave them unutilized. Even if they are used, the decisions are based on just one channel, whereas the data accumulated from all the channels of a brand's interaction with customers can give much deeper insights. This can help increase the ROI of a marketing campaign considerably. He also introduced eMart's efforts in multi-channel marketing and their new SaaS first Hive.
He further discussed how the brands need to build loyalty in today's data driven world in order to retain their customers and emphasized that the customers are switching to content loyalty rather than brand loyalty. Thus, if brands don't come up with the products that are relevant in content or context, they will ultimately lose. He reiterated the fact that digital age is driving brands to increase their digital marketing spend, as over the next 4 years, the amount spent on digital marketing will be more than the amount spent on all other channels put together. This translates to the CMO's expenditure on technology being more than that of CIO's in near future.
The interaction with the participants was highly insightful. Students came up with multiple queries which were answered by Mr. Bhamidipaty promptly. The interaction gave theparticipants an overall understanding of the significance and ways of customer retention.