A Day In IIM Trichy That I Wouldn't Forget For The Rest Of My Life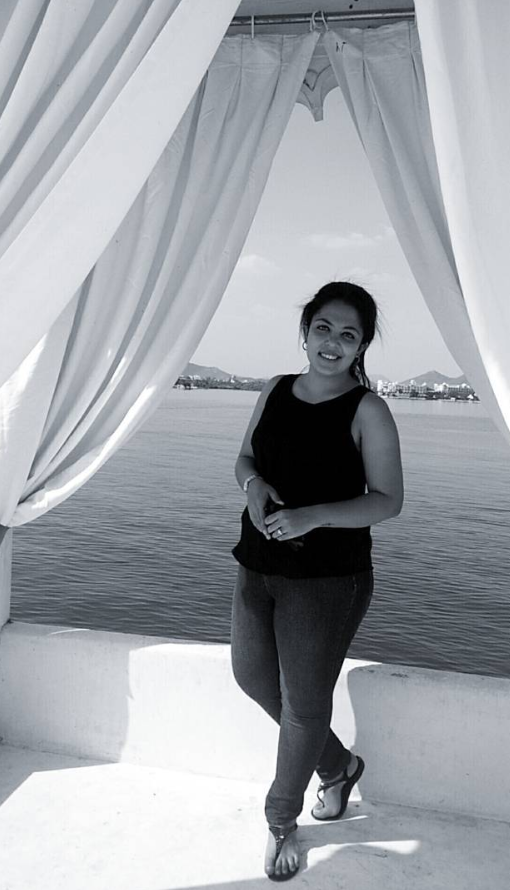 21 st June 2018 was the day when I first set foot on the humongous campus of IIM Trichy. With 5 bags of luggage and one of mixed emotions, I began my beautiful journey in this prestigious B school. 2 days later, the week long orientation program was supposed to begin and I just did not know what to expect out of it. I stepped into my hostel room which couldn't look prettier. It took me 2 days to unpack and settle in. Finally, the day of orientation arrived and 180 anxious faces sat in the auditorium waiting to be addressed by the Director and Chief Guest. Minutes turned into hours and hour into days as we patiently tried to absorb each and every word spoken by prominent industry leaders. However, something unexpectedly absurd happened on 26 th June.
A guest lecturer named Mr. Swapnil Tewari was to arrive on campus. A UNESCO ambassador and founder of Live mad, this man was infamously known as the MadMan. Dressed in a black kurta with a big red tilak on his forehead and think long black hair, he came nowhere close to what the typical corporate world leader looked like. He had a mysterious aura about him and a personality that could intimidate the best of the best. As soon as he began his address, we knew that this man was not the typical "speaker" and he would definitely bring something new to the table. Little did we know that the next 2.5 hours would have us all in Goosebumps. This man did not have the best qualifications, neither had he worked in any big corporate conglomerate, yet he was a UNESCO ambassador and had made it to Forbes Magazine's Changemakers 30 under 30 list. Dyslexic and synesthetic since birth, Mr. Tewari was another regular guy wanting to do an MBA and make it big in life. After having scored a meagre 33 percentile in CAT and being thrown out of the IIM Ahmedabad campus as a visitor, Swapnil did not let his hopes die down. He completed his MBA from a small college in Noida and started his career with a job in a bank. As time passed by, his seniors told him that he wasn't cut out for the job and offered him to go and do some field work and research in small parts of the country such as villages and tribal areas. He was told that he did not have a choice as refusal to do so would result in loss of his job. With little choice and lots of optimism, Tewari set out to work in rural areas. With passing time, he became better at his work which was highly appreciated by his seniors. While working, he came across some small village where women small items and sole them for meagre rates. Tewari had always wanted to do something better with his life and that's when he resolved to make the lives of these people better. He started an initiative called Naked Colours – an organization that branded the items created by the artisans and sold them in urban cities at high prices. Only 15% of the total revenue was kept by Tewari himself and he used it in the interest of expanding the same business. The rest was returned to the artisans. This way, he built a small scale industry himself to make uneducated poor women self-sufficient. One fine day, Tewari recalls, he heard about some amazing technology being created by the tribals of a forest in Karnataka – they were creating extremely thin arrows out of metal. Tewari decided to visit this group. While on his way, he came across a group of Naxalites who mistook him for a RAW agent, owing to his looks. They kidnapped him, beat him up and tortured him for days at end. While reciting the same incident to the students at IIM Trichy, he had a lump in his throat and one could literally feel the pain and anguish in his voice. Everyone in the auditorium had tears in their eyes and Goosebumps on their skin. But nonetheless, Tewari did not lose hope. He was finally able to escape from the shackles of his prisoners and he continued his journey to the forest. Upon reaching the forest, what he saw was unimaginable. A lady was lying naked, unconscious on the forest floor in a pool of blood. She had been raped by some Naxalites so brutally that on careful inspection, Tewari observed that her vagina was torn open till her behind. He could not control his tears and sobbed uncontrollably while thinking about what to do. He recalled that somewhere he'd read that a person's hair can easily integrate with their skin if stitched to the body. Tewari had a suturing needle on him and he plucked out the woman's hair and stitched the skin around her vagina. A man of such calibre is rare to find and that was more than evident by the anecdotes he recited. This was just one of the many miracles that he was involve in. Further into the lecture, Tewari also spoke about how he saved Kargil war widows from constant sexual abuse and rape and how he put an end to human trafficking. Most of the stories he recited were so gore that the audience sat wide eyes, spellbound.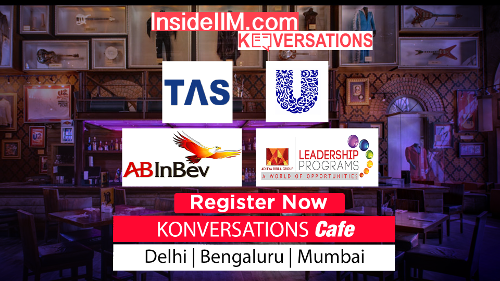 It was not about Tewari's bravery and the mean feats he's achieved but how he communicated those with utter honesty, simplicity and humility that left us all enthralled and fascinated by the man. His optimistic approach and never say die attitude even in the most dire circumstances is what made the audience give him a standing ovation. No wonder the man has been nominated for Padma Shree this year and has also been approached by Anurag Kashyap, the very well known Bollywood director who plans to make a movie on him. Truly, his story was nothing less than a film. He made us laugh, cry, cringe, empathize and feel anxious all at once. No wonder I didn't sleep all night that day, just thinking about how we always want to make a change in the world but are always so apprehensive in even taking the first step. This was definitely the most life changing lecture I ever attended and has been the most memorable day for me at IIM Trichy so far.
Which ABG company would you want to work for and why?
Coming from a healthcare background and having some managerial experience behind me, I believe that I would fit into a any role in the Aditya Birla Group Pharmaceutical Company very easily. I would be an asset for the company as I will be able to provide valuable insights and work diligently towards taking Aditya Birla Group to new heights.
This article is written by Avni Sethi – Class of 2020