A Day At JBIMS Mumbai – Getting Out Of Your Comfort Zone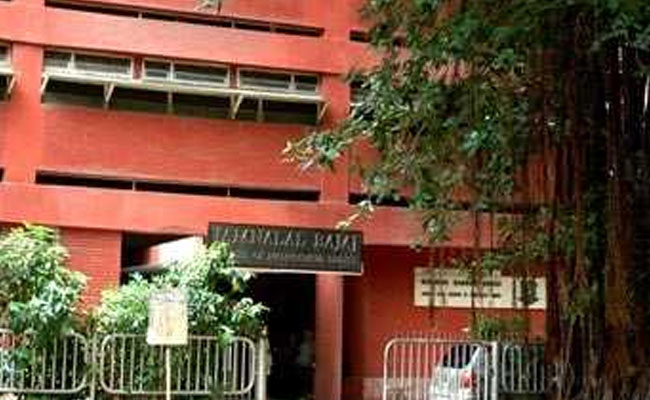 A bag pack, some pairs of formals and a heart full of expectations; that's how I walked into the 'Pre-Joining Meet' at 'Jamnalal Bajaj Institute of Management Studies' on my first day. Ever since the first moment of the meeting, I was assured that this college is all about tradition and heritage. 'Discipline' is more valuable than an 'oasis in the desert' and 'tradition' is guarded like 'The Holy Grail'. It is this fierce nurturing of values that sets apart Jamnalal Bajaj Institute of Management Studies. When it comes to tradition, JBIMS is second to none! And rightly so; when you have 5 decades of legacy prodding you, 'Tradition' is the least you can expect.
Once we were done with the induction, the next rude shocker that came to us was in the form of time-table! As a student who grew up accustomed to timetables, it felt like a deer caught in the headlights.  Let me get this straight, JBIMS does not have timetables. In the maximum city, you just cannot expect to get by miserly. The night before you come to know that the next day would be jam-packed with a Placement activity just as the sun is coming up, followed by a guest lecture at around breakfast time, followed by a company presentation. Just when a sleep-deprived student thinks that that would be it, comes another bolt from the blue! The company presentation would be followed by a regular 4-hour lecture which would, in turn, be followed by a club and/or committee session! Oh boy, seems like a description of 2 days clubbed into one! Believe me, this is what one day looks like at Bajaj and I have not even included the assignments and submissions!
Amidst all this clutter and hard work, one thing that sets apart this college is the power that the 5-floor, brick-red coloured building wields! If there was a prize for the amount of awesomeness emanating from a single structure, Bajaj would be right there at the top. When you have the 'President of JSW Steel' teaching Corporate Finance, 'The God of Operations' teaching Production Management, Professor 'M' teaching 'Markets' and the 'Guru of Marketing' teaching branding you cannot but expect people to stand up and take notice! When it comes to sheer learning, Bajaj is again in a class of its own. Jamnalal Bajaj is popularly called as the 'CEO Factory of India', and rightly so. The teachers who come and teach over here do not teach anywhere else in the country. Every hour that they spend with us is worth millions. But they come to teach because they respect Jamnalal Bajaj Institute of Management Studies and wish to give back to the college. The alumni base that Bajaj has is unrivaled and the amount of expertise that the faculty bring into the class is unmatched.
As MMS-I students enter into their second month at the institute, the one thing with which everyone would unanimously agree is the amount of transformation that they have undergone. 'Getting out of your comfort zone' – that's what this college inculcates in you. On a personal front, this college has pushed me to my limits and then pushed me some more. The college has unlocked a part of my persona whose existence I never knew. At Bajaj you learn that three things are elastic: hunger, sleep and patience. Over the past two months, students here have become super-humans bordering on the extreme limits of all the three parameters. But amidst all this rush the one thing that binds us is the unadulterated love for this unique college.
Which ABG Company would you want to work for and why?
Being a Civil Engineer myself I would love to work with Ultratech Cement. With an annual capacity of 63 million tons, UltraTech Cement is the largest cement company in India and amongst the leading producers of cement globally. UltraTech is also the largest manufacturer of white cement and ready mix concrete (RMC) in India. As a responsible contributor towards sustainable development, UltraTech Cement balances the growing demand for cement and its environmental implications by developing and championing sustainable solutions. In addition to the technical factors I firmly believe in the four pillars of employee satisfaction that ABG follows, Enhance Careers, Learning and Development, Rewards and recognition and Enriching Life.
– Chinmay Panday
MMS – II, JBIMS
JBIMS Placement Committee
JBIMS was established in 1965 by the University of Mumbai in collaboration with the Stanford Graduate School of Business. JBIMS is considered to be unique in management education as it is firmly rooted in the local soil and capable of articulating the Indian ethos. In the contemporary era, when globalization and liberalization are the buzz words, the institute has (without disturbing the said roots) ordered itself to meet the emerging challenges, sentiments and opportunities that are coming with the new economic order.