A Day In The Life Of A CEO – The Land Of Opportunities – SPJIMR
What does a CEO really do in a typical day at the office? Is it every bit of glamorous as it looks? What are the qualities that are needed to make it to the most coveted position of the C-suite? What would you do if you could be the CEO for a day?
I received the opportunity to find out the answers to some of these questions by winning a competition held by the 'CEO and Industry Integration Committee' of SPJIMR, who work with the purpose of making the batch interact with the leaders of the industry. The competition required students from the batch to think of a new product idea for Nivea and then perform an elevator pitch to a panel consisting of members of the Senior Management team at Nivea and faculty from SPJIMR. It was an amazing experience; the moment of the results being declared is something I would cherish for a long time.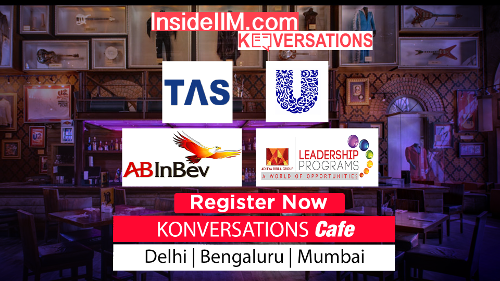 I reached the Nivea office by 7:30 as Neil George (CEO-Nivea) had a meeting at 8, it didn't take me long to realise that the days of a CEO have three characteristics:
They start early.
Continuous meetings (Working lunches and green teas galore)
Managing expectations, providing direction and motivation.
You would think a CEO is too busy in his plush corner office to even step out, but Neil George started the day by walking around the office, adjusting the different Nivea products lined up in the Gallery and checking if the office was neat and clean. He told me that it helps him get into the groove as he has his coffee. It helped me understand the importance of respecting your workplace. He also said that he wakes up at 5:00 every day and never skips gym. We discussed about his book, "Building the Perfect Beast", a truly remarkable read and the world's first comic book on Brand Management, which is also being used for teaching purposes in different B-schools.
I was allowed to attend all the meetings, which helped me understand the working culture within an office environment (Being a fresher, this was my first day at an office). Neil George kept the meetings short and to the point. He didn't take any notes but was able to summarize every meeting at the end with 6-7 points, which was quite remarkable to watch. This is definitely a skill that I decided to practise and develop.
Apart from my observations, I was given the opportunity to convey my opinion at the end of every meeting. I was quite nervous to speak at first, as I was sitting in a room with the Marketing Director, Sales Director and the HR director of Nivea India, but I managed to gather courage and their encouraging smiles helped me voice my views. I learnt the art of framing my replies in a polished manner. As the day went on, the quality and quantity of my inputs only improved.
Six meetings later, although I wasn't allowed to take notes as a lot of confidential information was shared during the meetings, I walked out of the Nivea Office much richer in terms of experience and maturity in my interactions. Back to back meetings didn't allow me much time to talk to him, therefore, during the car ride back to the campus, I had an insightful chat with him. I realised the enormity of the opportunity with me and tried to maximize my learning. Despite being a CEO, he spoke about how he ensures that he maintains work-life balance and replies immediately to family and friends. He also asked me a lot of questions and it was very useful to help me gauge my self-awareness and understanding of the various aspects of business.
When you see an alumnus from your B-school at the top of the corporate world, it serves as a massive inspiration. It has helped me identify certain aspects of my personality which I can work on and also provided valuable insights on how to maintain relationships and manage people. The fact that he is willing to take time out of his schedule just to mentor and ensure that you have a great experience, shows the amount of love that the alumni have for the institute and also the fantastic mechanisms in place at SPJIMR to foster interaction and mentorship among current students and the alumni.
About the Author:
Aditya Karthic is a first year PGDM student in the Marketing specialization. He is a Mechanical Engineer from Anna University, Chennai. A fun-loving soul who loves to communicate with people, he enjoys taking up new tasks or challenges and always has his dancing shoes on. Food is his first love and he has always remained loyal to it.