Why I Decided To Pursue CFA Along With An MBA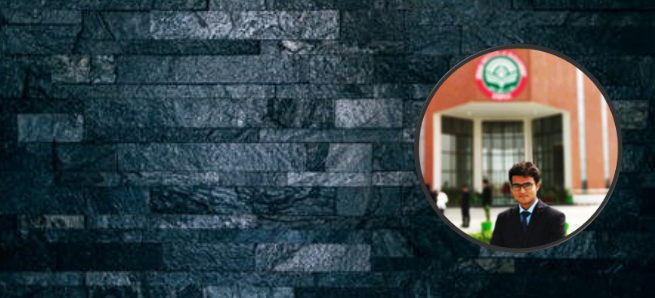 'Nothing is impossible with dedication and hard work' and Aditya Singh is a live representation of this phrase. Aditya is a graduate in Mining engineering from India School of Mines, Dhanbad. Working with a Navratna company in India, he successfully cracked CFA Level 1 in his first attempt. In an interview with Soumi Basu, Aditya shared his experience while preparing for the exam and what led him towards the decision of attempting CFA.
Interviewer: Tell us something about yourself and your family.
Aditya: I belong to Satna, Madhya Pradesh and have also done my schooling there. Later I prepared for IITJEE and was able to crack the exam in 2011. I studied Mining engineering from ISM Dhanbad. I cleared the national exam of National Mineral Development Corporation (NMDC). I joined NMDC as Assistant Manager (Mining) and worked there for 2.5 years. My father works as a surgical specialist in Satna Government Hospital and my mother is a chemistry professor. My brother is presently working as a General Physician in a government medical hospital in Delhi.
Interviewer: When did you decide on preparing for CFA?
Aditya: After graduation when I joined the mining industry, I was very intrigued by the overall economics of this sector. Mining is, without doubt, a huge sector and I gained exposure to class products like a diamond as I was in diamond mining for a year and also got relevant knowledge in the iron and steel industry. I was partially always inclined towards gaining knowledge about the economies of mining industry in general and after joining NMDC, I decided to pursue formal education in Financial Management. Therefore I sat for CAT 2017 and later decided to attempt CFA for gaining more insight into the Financial Services industry.
Interviewer: What was your motivation behind this step?
Aditya: I was not very financially knowledgeable earlier. But with time I realized my taste for the segment. In my four years of studying Mining in ISM Dhanbad, I only enjoyed one subject Mineral Economics and I think that's where the seed was sown and I got more inclined to getting more knowledge in the field of finance and economics.  As I learned more about the subject, I started admiring the way the government and RBI acted. I believe that Economics is the religion that everyone follows irrespective of their difference in demography, religion or otherwise. And this is something which compels me to know more about it.
Interviewer: What drove you towards Finance from Mining?
Aditya: I cannot exactly point out as to what drives me as I wasn't involved in the field of commerce, economics or finance for a major part of my life. I believe the seed of liking towards finance was sown when I encountered the subject of Mineral Economics during my B.Tech as that was the subject I enjoyed the most out of all subjects throughout the four years. Gradually, I became more inclined towards gaining knowledge about finance and economics.
Interviewer: What was your preparation strategy for CFA?
Aditya: I had quite a less amount of time to prepare for CFA, 3 months to be precise. And I sincerely dedicated two of them to prepare for the exam. I believe that the exam is doable in such a time if one dedicates enough time and hard work. I devoted at least four hours daily although I also did not get enough time to revise. I prepared partially through videos and partially through curriculum.
Interviewer: Tell us something about the exam.
Aditya: The registration process goes on throughout the year. The fees is approximately 1100 $ for early bird registration. Then there is normal registration and you also have the option to attempt the exam by registering by paying the late fees along with registration charges. The exam usually happens in June and December and both have different registration windows. All the levels of CFA are conducted on a particular day in two slots, morning and evening. There were 120 questions in each slot and the paper was objective by nature. The options are usually tricky and it is possible that any wrong approach you follow might also get that answer in the options. Therefore it is required to be precise in your approach and the answer.
Interviewer: What were your strong and weak areas?
Aditya: the subjects I was more confident about were Quantitative Methods, Alternate Investments, Macroeconomics, Equity and Derivative trading. I was average in Ethics and Macroeconomics. There were not much of the weak areas due to my prior interest in the field.
Interviewer: Were there any hurdles you faced while preparation?
Aditya: People I knew faced difficulties in Financial Reporting and Accounting and Economics. Luckily that wasn't the case with me as I carried a particular interest in the subject from the start.  The major issue I faced was the lack of time due to which I was neither able to revise nor able to gauge my performance in the exam. I also used to feel demotivated at times but my confidence in myself kept me motivated throughout the period. Also, as I had a liking for the subjects, therefore studying wasn't a heavy task for me.
Interviewer: How did you manage your time while preparing?
Aditya: Time was the biggest player in my case as I wasn't able to dedicate any time to my friends or family. For about a month, I was in compete solitude as there was less time and it got difficult to manage studies with the job. The job took almost 9.5 to 10 hours daily including commuting. I used to sit for at least 2 hours in a go and manage to study 4 hours daily for the exam.
Interviewer: Any tips for candidates preparing for CFA?
Aditya: I would request the candidates to be persistent and practice a lot and to revise at least twice before the exam. The curriculum is self-sufficient and covers everything the candidate needs to know and covers ten subjects. I would recommend students to solve all the problems given in the curriculum and if there is time, then also solve from other sources. Start preparing well in advance. CFA not only adds to your CV but you also learn a lot of concepts which you can apply in the real world. Therefore, I recommend aspirants to go through all the concepts given in the curriculum first.
With his extreme hard work and dedication towards cracking one of the most aspired exams of the world came the satisfaction of learning something new in his field of interest. Aditya not only inspires others to follow their dreams but also shows that with consistency, nothing is impossible. IIM Rohtak congratulates Aditya for his achievement and wishes him all the best for all his future endeavors.