Demonetization Awareness Drive By IIM Ranchi In Remote Village Of Ranchi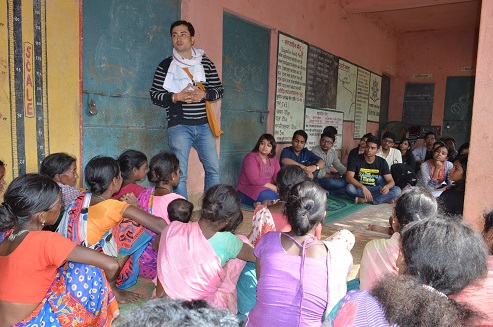 With the government demonetizing 500 and 1000 rupee notes, it has become imperative for everyone to spread this awareness in the remotest area of the country so that all the villagers can get a full value of their hard earned money. And to further this initiative, the Finance club and Samarpan – the social responsibility club of IIM Ranchi planned to visit a remote village in Dimra tehsil of Ranchi along with a faculty member, Prof. Gaurav Marathe and a localite Mr. Mangesh Jha.
The agenda of the visit was to acknowledge the villagers about the demonetization of these higher currency notes and spread awareness about the right channels to get the new currency notes in exchange for the old ones. The team started off by reaching the Dimra tehsil and walked in 2 kms in order to reach the village with a population of around 100 people. On reaching, the team paired up in two to interact one to one with the villagers and gather them around for further interaction. As people were gathered, Prof. Gaurav Marathe explained them about the demonetization of the notes and the procedure to obtain new currency notes for the old ones.
The professor also talked about the time line till which the old currency notes will be changed, the amount up to which they can get exchanged in one time and the documents that needs to be produced for the procedure. Prof. Marathe asked the villagers to not accept any 500 of 1000 denominated currencies from their employers if paid as a salary, since it is of no value now.
On further interacting with the villagers the team got to know about their plight. Their problems include lack of electricity and proper sanitation. Most of these villagers rely on agriculture for their income, but due to improper irrigation facilities, they have to look for other low paying employment opportunities like rock cutting and wood cutting. A truck of rock or wood would pay them only about Rs 400 they say. Mr. Mangesh has been working for the development of this village with his team and has set up sedimentation process filter to provide the villagers with potable water.
The team also got the learn that there is no hospital in the village and the nearest hospital is in the Jonha village which is about 10 kms away. If the health concern gets serious they need to travel all the way to RIMS hospital in the Ranchi city. There is one school in the village which teaches only till class 5, for further studies children are sent to school in Jonha village.
The team from IIM Ranchi interacted with the villagers and assured them to come up with implementable ideas to help better their village and lives.