'Dharma Capitalism And Business Transformation' By Dr. Ram Nidumolu, CEO, Innovastrat At MYRA School of Business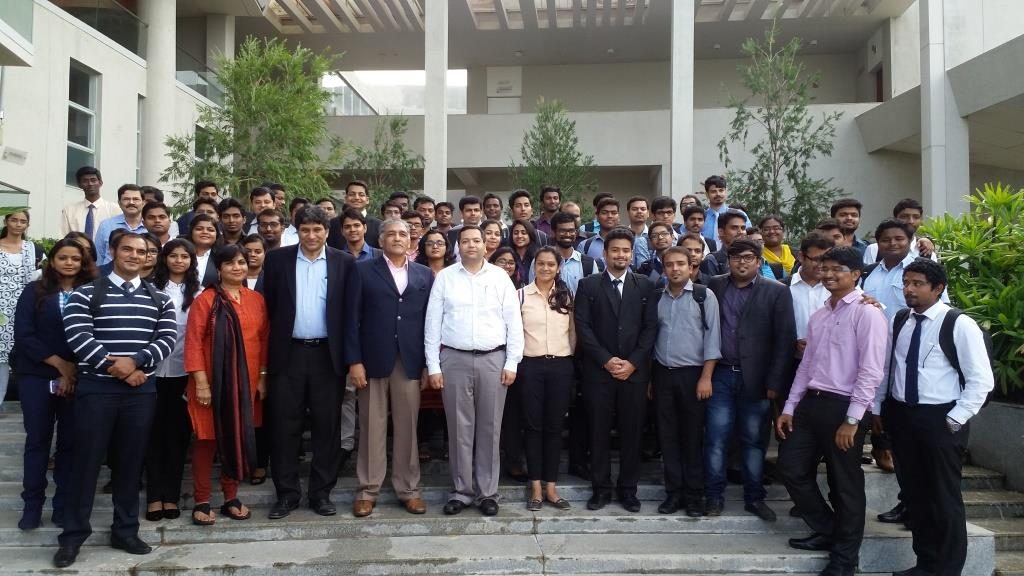 InSight Special Lecture (29th Edition)
"Dharma Capitalism and Business Transformation: An All-Round Model of Sustainable Growth"
Prof. Ram Nidumolu
MD, Academy for Innovation and Management, Bengaluru
CEO, Innovastrat, Inc., Santa Cruz, California
August 3, 2016 | MYRA School of Business
At a time when the business world is still adjusting to the impact of the financial crisis, leaders and decision-makers at all levels need to rethink their attitudes and strategies. Looking for new ways to conduct business, a number of global companies have already started changing their business models.
Dr. Ram Nidumolu, Managing Director, Academy for Innovation and Management at Bangalore and CEO of Innovastrat Inc. California, USA, a stalwart with a unique combination of expertise in Fortune 500 strategy consulting, high-quality business research, Silicon Valley entrepreneurship, in addition to experience as a C-level executive, and top-level business school teaching, was here at MYRA School of Business, on August 3, 2016 to give new insights into 'Dharma Capitalism and Business Transformation'.
Dr. Nidumolu set the context of his theme by analyzing and comparing the existing models of Capitalism – Free Market Capitalism and the State Capitalism. The choice for policy makers today is not between free markets and central planning but in getting the mix of regulation right. No one wants state ownership of production, which corrodes the core character of the business, he opined.
Transformation of business is the need of the hour today and is required at three levels – Business Models, Business Processes and Leaders' Mindsets – the question then raised is how to transform Business and Capitalism so that we can all have a better future? – by bringing in new models of innovation and strategy; new models of collaboration; transformation of corporate culture, – none of these, he opined, and not even a combination of these is sufficient to lead to sustainable growth till a personal commitment to transform business and capitalism comes in, he explained.
'Sustainability is a symptom of deeper changes. It is an aspiration, which leads to improvements', began Dr. Nidumolu. The objective of any business should not only be towards sustainability and social responsibility but towards 'profitability' in the larger sense of the word, and in the longer-term, said Dr. Ram Nidumolu, explaining why doing the right thing is more than a noble idea or a compliance issue and why it can be both practical and profitable.
Business leaders should be personally committed to transforming business and capitalism – and that is where Dharma Capitalism – a model of balanced growth comes in, he said. In rewriting the rules of the game, policy makers must consider the message of dharma from Indian philosophy and literature, which offers a more nuanced answer to moral failure and the ethics of capitalism.
Elaborating further, he explained – Dharma is chiefly concerned with doing the right thing both in the private and the public life. It is the moral law that sustains an individual, a society and the cosmos.
Filled with practical advice and real-life examples of Dr. Venkataswamy of Aravind Eye care and others he also brought in a few ancient approaches of Upanishads as depicted by a story from Chandogya Upanishad which gave a brief idea on Dharma Capitalism and connected its relevance to modern day business. It is important for business leaders to recognize and experience the higher purpose of business and more important to stay anchored to this higher purpose, he said. Personal commitment of a leadership is critical to driving change, he said. While all the three levels of transformations are essential, it is the Leaders' mindsets that are the key differentiator, he concluded.
Dr. Nidumolu's insights were indeed an eye-opener, thought-provoking, a process-based toolkit that helped to evaluate every aspect of a business and to achieve profit with purpose rather than profit for profit's sake.
The event was well received by the large gathering of students, as was evident by the array of interactions that followed the talk. MYRACLE Ms. Nisha introduced and welcomed the speaker and MYRACLE Nehal delivered the vote of thanks, while MYRACLE Poornima compered the program.