'The Difficulty To Crack The Interview Is Irrespective Of Your Educational Background' – Manoj Srikantam (98.9%iler In SNAP 2016) On Cracking The SNAP – SIBM Bengaluru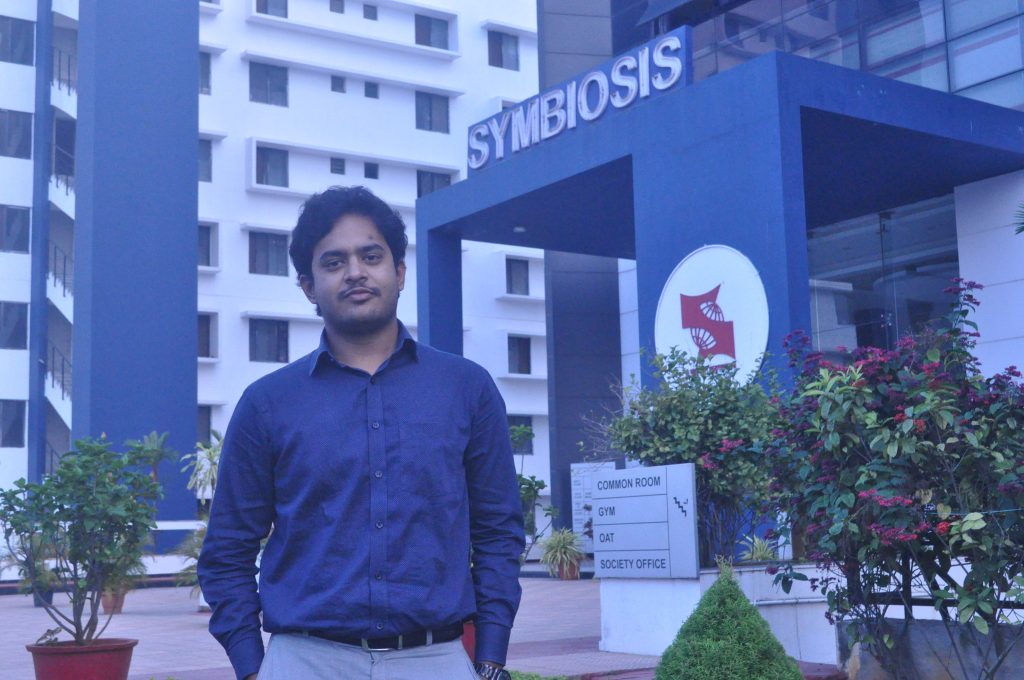 Meet Manoj Srikantam, a first-year MBA student at SIBM Bengaluru. Born and raised in Hyderabad, he completed his Computer Science engineering from JNTU in 2016. To enhance his career in the corporate world and to understand the working of it, Manoj decided to do an MBA and started preparing for competitive exams. The preparation lasted for 3 months after which he secured 98.9 percentile in SNAP. He joined SIBM Bengaluru and is currently in the second semester of his MBA. Manoj believes that scoring a 98 percentile in SNAP and getting an admission requires a lot of skills but it can be made easy by the right preparation, which he also calls as "plan-of-action".
Did your educational background help you during test prep? Did it help you in subsequent rounds (GE-PI-WAT)?
As I come from a technical background i.e. Computer Science, I am well versed in numbers and logic when it comes to dealing with Aptitude and Logical Questions. I specifically focused on my English during my preparation. The final round, GE-PIWAT, depends on General Knowledge and interpersonal skills. Educational background doesn't matter a lot. The difficulty to crack the interview is irrespective of your educational background.
What was your strong/weak section and what was your overall test-taking strategy?
Quant was my strongest section where I managed to get a good score. However, my weak section was English where I dedicated a lot more time.
What was your strategy for individual sections?
I believe practising questions of high-level difficulty is the key to improve the confidence levels in any section. For Quant, it is all the more necessary to practice different types of questions and to learn where and how to apply shortcuts. When you practice for Verbal, it is important to practice Reading Comprehension.
What do you think you did right during test prep? What was it that you did right on Test Day?
I took time to understand my own strengths and weaknesses, and accordingly allocated my resources to the plan of action, which played a major role in my test prep. On the D-Day, it is very important to stay calm and composed. You need to be confident about yourself, a feeling that comes with the right kind of preparation.
How did you prepare for the group discussion? What was the topic and how did you tackle the GD round?
For Group Discussion, an essential thing is to have knowledge of the events happening around the world, especially in India. The most important thing that is to be taken care of is confidence and the understanding that someone exhibits during GE. In my group, the topic was "Effects of Industrialization on Environment".
What resources did you use to refer while preparing for the essay writing?
Reading Newspapers is the best way to prepare for General Awareness and Essay Writing. This helped me during WAT process as my topic turned out to be "Industrialization and its Effects".
How was the interview experience like? What was your preparation strategy and how did the interview turn out to be?
The interview will not only be focused on one's technical knowledge but also on the candidate's academic life, choices and the ability to be culturally fit. The best strategy is to be clear and honest while answering the questions. Giving mock interviews to someone who has a professional experience helps a lot.
SIBM Bengaluru
Ever since its inception in 1978, SYMBIOSIS has been synonymous with progress. The trend of progress has been continued by setting up of SIU's first campus outside Maharashtra at Bengaluru in 2008. SIBM Bengaluru is now one of the leading B-Schools of the country. The focus, now, is on matching global standards of management education. SIBMB instills a work culture which is unparalleled among various institutions. It provides a holistic approach to management which goes a long way in creating a dynamic identity. Vibrant student associations and committees complement the program with a number of activities involving institute-industry interaction.