Dip Your Toes Into Blue Paradise At SIBM Bengaluru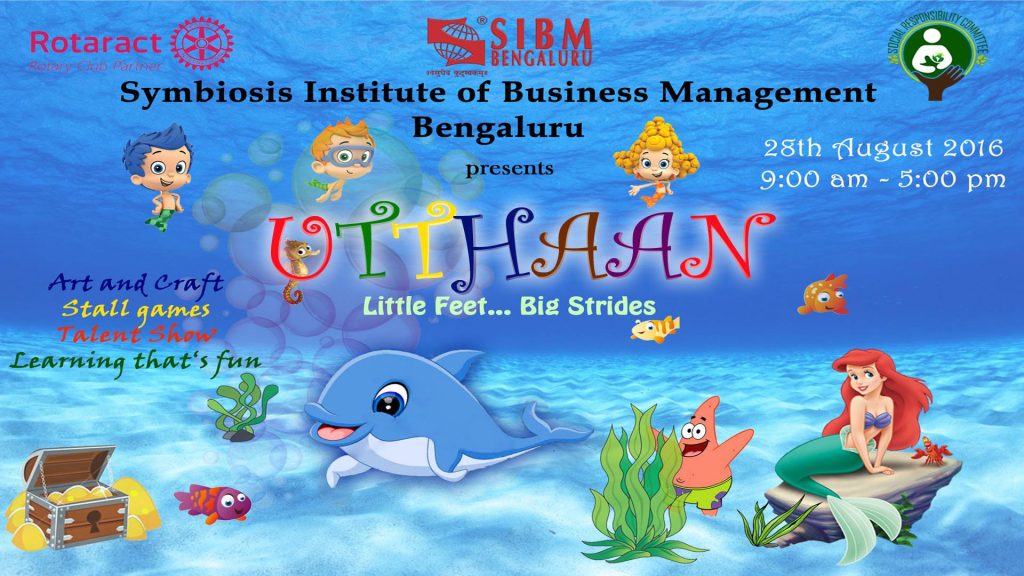 Symbiosis Institute of Business Management, Bengaluru is all geared up to host Utthaan 2016 this Sunday, the 28th of August. The theme of this year's event is "Blue Paradise: An Underwater World" which aims to showcase the beauty and serenity of the aquatic world and exhibit the underwater nature in its full glory.
UTTHAAN celebrates the essence of spreading happiness and love. It takes pride in bringing together the underprivileged children under one roof and giving them adorable moments to cherish forever. It seeks to convey that life, however difficult it might be, is a treasure and that we should all come together and celebrate its spirit in full.
"We know only too well that what we are doing is nothing more than a drop in the ocean. But if the drop were not there, the ocean would be missing something" – Mother Teresa.
Taking inspiration from these words, The Social Responsibility Committee of SIBM Bengaluru organizes this flagship event every year for the orphaned and underprivileged children of various NGOs. The purpose of this initiative is to bring a smile on the face of every child and to give them moments to cherish forever.
The students of SIBM Bengaluru eagerly wait for this day every year as they get to laugh, play, interact and bond with children and thus re-live their own childhood. The event will be lit up with children from various NGOs, the likes of which are:
·Belaku
·Shishu Nivas
·Gasper
·Makkala Jeevodaya
·Sadashreya Charitable Trust
·Premanjali
·Prasana
Also the event will be graced by the august presence of Mrs. Rama N. S., CEO of Electronic City Industries Association (ELCIA).
Event Details:
·Art and Craft
·Stall Games
·Talent Show
Venue: #95/1 #95/2, Symbiosis College, Electronic City Phase-1, Hosur Road, Bengaluru-560100.
Date:  28th August 2016 (Sunday)
Time: 9:00 AM to 5:00 PM
For additional information on the subject of this release, please feel free to contact:
Mr. Arjun Parekh                                                       Ms. Kriti Khanna
+91 9974277665                                                  +91 9772222082
http://www.sibmbengaluru.edu.in/
SIBM Bengaluru, #95/1, #95/2, Electronics City, Phase-1, Hosur Road, Bengaluru – 560100.
SIBM Bengaluru
Ever since its inception in 1978, SYMBIOSIS has been synonymous with progress. The trend of progress has been continued by setting up of SIU's first campus outside Maharashtra at Bengaluru in 2008. SIBM Bengaluru is now one of the leading B-Schools of the country. The focus, now, is on matching global standards of management education. SIBMB instills a work culture which is unparalleled among various institutions. It provides a holistic approach to management which goes a long way in creating a dynamic identity. Vibrant student associations and committees complement the program with a number of activities involving institute-industry interaction.