What If You Don't Get Your Dream B-School?
"Be a dreamer. If you don't know how to dream, you're dead." – Jim Valvano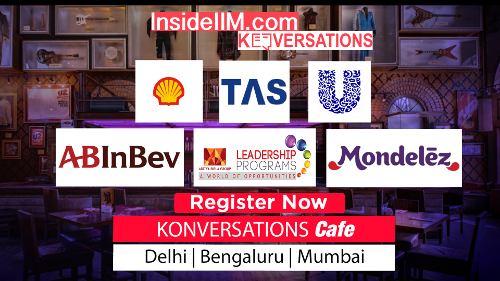 It is funny how most of us in India start our education with chants of 'ABC' and try to finish our education with the same. Let me take this opportunity fellow travellers to have a heart to heart with you. Everyone reading this article wanted/wants to pursue an MBA from IIM ABC. Some of you probably are living the dream. Most aren't. But we can't be blamed for dreaming. I had the same dream. I thought I would redeem all the mistakes I had done in life by pursuing my postgraduate studies in one of these B-Schools. MBA is a game of redemption. Many of us are trying to find a way to fix the mistakes we have done in life previously and the better the B-school, the better your sins get erased.
But it is not just you. Be it your teachers, your parents or your one distant relative who only came to meet you once during your 'mundan'. Everyone wants you to do your management studies from IIM. Even in my case, my parents had to google 'XLRI Jamshedpur' and confirm its rankings before they congratulated me for getting an admit. And I do understand the need for such validation. But now that CAT scores are out and most of the people know where they stand, what to do? Many of you are going to get interview calls but the competition is so freaking tough that there's a possibility of you not getting an admit.
My CAT results came out just the day after I gave XAT. I knew I wasn't going to do well given I had quit my job just 3 weeks before the exam, but at that moment I was extremely disheartened. But your reaction and your feelings will not matter. What will matter is what you do about it!
So what do you do when you don't get into that top tier institute? How do you have a backup ready?
1. B-School Research: I was stupid to not have researched B-Schools. I was only going to apply for BLACK, XLRI and ISB. I didn't know much about SPJIMR, IIFT, SIBM or MDI even though I had friends studying everywhere. This might have put a dent in my career I had later managed to apply for SPJIMR after talking to a senior of mine who gave me a lot of information about the college. I was really interested in pursuing IM from SPJain after that. DO NOT DO THIS. Read, research and rethink. XLRI, NITIE, FMS, SPJIMR, IIFT, MDI, SIBM – there are so many colleges out there which have a good reputation and a good standing in the industry. Find out about all of these colleges and try to apply to all of them. Even if you don't get into your dream B-School, these colleges are pretty damn good. Do not miss an opportunity because of ignorance.
2. Course Research: All of us want to be in consulting or marketing without even knowing what it is about. Believe me when I say that operations is an interesting domain or that Information Management is great for you if you love tech. Even though I took XLRI HR, I wasn't disheartened about it. I was clear about not wanting finance and sales. I was okay with everything else. My priority order was SP Jain IM -> XLRI BM -> ISB -> XLRI HR after my CAT didn't go well. And although I got XLRI HR, I was satisfied because I had done enough research about it. I was excited about learning labour laws, to be honest! Explore all courses and streams and find out suitable colleges accordingly! NITIE for Ops, TISS, MDI, SCMHRD for HR apart from XL.
3. Have a safety college (for extreme conditions): This is for a scenario where you absolutely, definitely HAVE TO get into a B-School this year. Check your mock scores. If you are consistently scoring around X percentile in your mocks then find the best colleges at that percentile and start applying. In this case, look closely at the colleges average placements and compare it with the tuition fees. If the fees is significantly greater than your possible RoI, then I would advise you to not go for the college (unless it has like really great faculty members and a great brand name.)
If you have converted a college and are unsure about joining it then ask yourself this:
– Are you unsatisfied where you are in life right now?
– Will graduating from this college be a step for you as compared to your current position in life?
If the answer to both is yes, then go ahead. Remember that there is more than one way to get into Boston Consulting or Procter and Gamble.
As the old proverb goes, "All roads lead to Rome"