Dreaming Wide Awake – My Summer Internship At Deloitte USI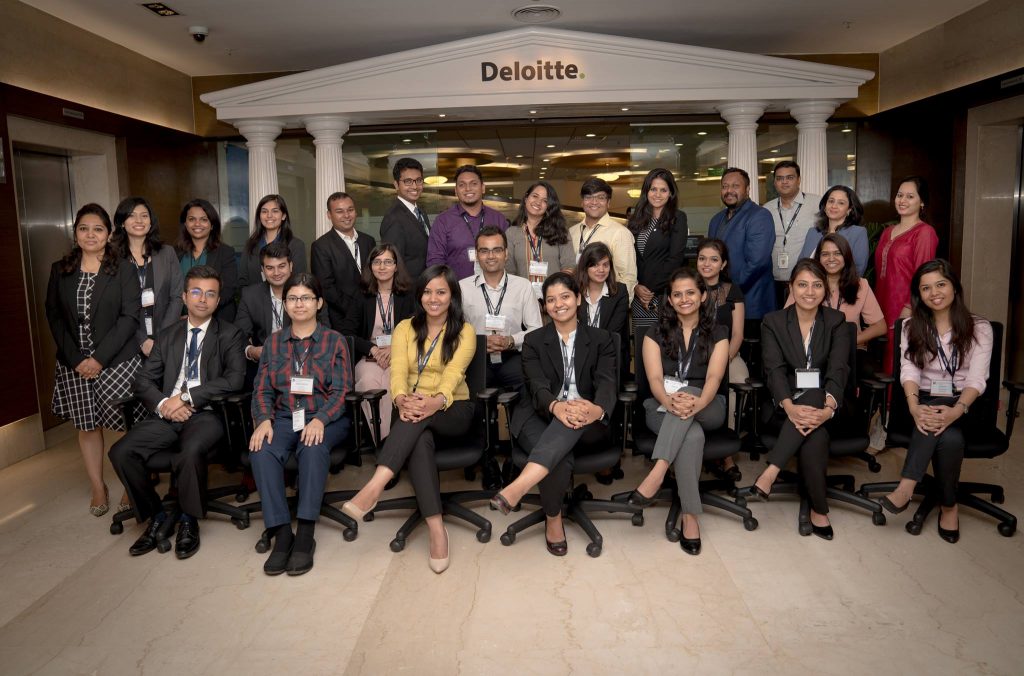 'A 173 year old legacy', '#11 on Fortune's Best Companies to Work', 'Big Four' – these were some of the fluttering thoughts in my head as I sat inside the swanky Deloitte University at Hyderabad in a room with over 100 other B-school counterparts from across the country, waiting for my internship journey to commence. It's been a month now that the internship is over and not a moment goes by when I don't want to rewind time and relive those 8 weeks on a loop.
It all began in August last year. Deloitte conducted a workshop where case studies on different aspects of HR were discussed. The cases were a barometer of our knowledge of the domain and how aware we are of the latest trends in the industry. Then there was the application form, a video interview and a physical interview. Once I was 'spotted', a seamless onboarding process was initiated where my seniors and other leaders welcomed me through videos that kept hitting my inbox often. I was assigned a buddy, a mentor and a sponsor who would help me navigate through my internship days.
Deloitte probably has the most compact and meticulously planned Summer internship program. It packs in an informative 2-day induction program (W2D or Welcome to Deloitte), workshops on contemporary topics like design thinking, gamification and Deloitte's very own Business Chemistry, interaction with HR leaders who give us a peek into the world-class Talent Model that Deloitte has recently adopted and the various facets of HR at Deloitte, regular pro-tips from people who have been with the organization and of course, coffee sessions and extravagant parties.
I had the opportunity to work on two very different projects during my stint with Deloitte. One was to develop a playbook that would aid business leaders in making global mobility decisions more efficient and effective for all of Deloitte's global deployments to 150+ countries. The second project was to position Deloitte's leaders as people who inspire more trust and respect of their employees.
It seemed a little overwhelming at the outset, being the only HR intern with two projects but a day later I was looking at a Gantt Chart that had my internship drilled down to each day. Things move fast at Deloitte. Mostly you would see interns suited up, running between the fourteen blocks of the company in Hyderabad, meeting business leaders and employees in a constant effort to make their projects more meaningful and aligned to the organization. All the work we did was deeply rooted in research and driven by data. In the same breath, this GPTW organization is a pioneer for promoting work-life balance too. It does so by an effortless integration of work and life. There was no reporting time or a mandatory number of hours that we had to clock at office. In fact, we were given the freedom to work from any place we wanted to, at any hour we wanted to. At times we would bounce ideas off each other at the local brewery and at other times we would discuss our favourite bands on the office floor. Work had never been more fun.
Deloitte taught me to look at a problem through a different set of lenses. I learnt to identify the business need, to chart out a detailed action plan and to measure the impact of my actions to the business. I learnt to be thorough with each step of my action plan – there was no place for half-baked work. I learnt the art of storyboarding – presenting my project in the form of a fluid story, connecting the dots like a constellation. I learnt impeccable presentation skills and how to field questions with confidence in a room full of leaders. I came out of the internship a more polished and sophisticated person than I had ever been.
Like smoldering embers, there will always be a little Deloitte in me wherever I go. And I hope it stays that way.
About the Author
Satyaki Dutta is pursuing his Masters in Human Resource Management and Labour Relations at TISS, Mumbai. Earlier, he used to code for a living for companies like Infosys Ltd. and Labvantage Solutions. When the going gets tough, he picks up a book or tunes into Netflix.
ARC TISS
Aspirant Relations Committee manages the entire gamut of admission related activities from aspirant mentoring to onboarding, and the induction process. The committee also manages the social media platforms for TISS Mumbai HRM & LR where it deals with public relations as well as branding related activities.