"In my Negotiation course, I take my students to a mall to negotiate with strangers" – Prof. Himanshu Rai, Dean – MISB Bocconi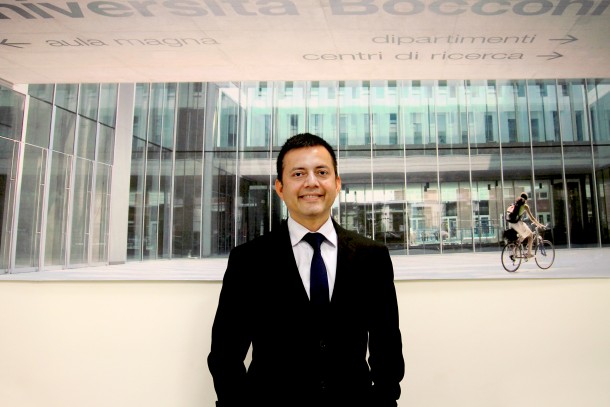 In the second part of our interview with Prof. Himanshu Rai, Dean of MISB Bocconi, we managed to elicit his views on management education – the impact of Online Courses from entities like Coursera, as well as the impact of increasing batch sizes in MBA education in India. We also got his an insight into his elective courses – which are some of the most popular elective courses at IIM Lucknow, and his views on leadership, on how businesses should conduct themselves in society. (You can read the first part of the interview here.)
(Prof. Rai was also the CAT 2010 Convenor. He will be doing a LIVE Chat with aspirants on Friday at 8.30 pm. Do join us then)
About his elective courses – what are they about, and what qualities does he try to inculcate in students
Strategic Business Negotiation is a course which looks at the skill of negotiation. I want students to become better negotiators by developing negotiating abilities, by being able to identify the appropriate negotiating strategy depending on the situation and also by honing the skills of communication so that they become more persuasive. SBN is a practical course – where they do negotiation with complete strangers as well. I take them out to a mall where they deal with complete strangers which is completely different from negotiating with batch-mates in classrooms.
Leadership through Literature is based on my passion for literature. I love leadership as a subject and I love literature as a part of my eclectic reading and there is a lot to be learnt through vicarious experiences. To me literature is like living through the life and times of the protagonist. If we pick up a book like Siddhartha by Hermann Hesse and look at the character of Siddhartha and see how the character moves from passion to compassion, from chasing his dreams to achieving it, and think about the things that Siddhartha imbibed to be successful during his journey,  lessons are to be learnt by not imitating what Siddhartha did or taking it as an absolute truth but by exploring what he did. In the classroom, we explore the theme of the book, the character of the protagonist and the other characters and also compare this protagonist with some other protagonist of some other literary works as well leaders of today (from business and other spheres). With this kind of multi-pronged approach we try to build up frameworks of leadership in the classroom. Many lessons in responsible leadership are learnt in the classroom.
(Download the MISB Bocconi brochure here. Start your application!)
The third course is FIRE – Framing Identities & Roles through Exploration – it is a process lab where I take students out and through exploring their own self, by introspection and also by talking about what they have reflected upon, students try to answer questions like who they are, what is the purpose of their life, how has their past shaped their present and how is their past still affecting their aims for their future. These are some of the fundamental questions whose answers tell the students what kind of person they are going to become. It makes a necessary impact on how students think.
Lastly, JEM – Justice, Ethics and Morality – a course which I started last year for two reasons – firstly, I wanted to establish the difference between Morality and Ethics, the difference between the concept of good & bad and the concept of right & wrong. Predominantly, what we learn through culturisation from our family, community and religion is the concept of good & bad, somehow, we end up accepting them as absolute good & bad. When we talk of ethics, we are contextualising morality so something that is good may not be necessarily right every time. There are many situations in the business world where you need to deal with areas of grey. Therefore, students need to understand how to navigate them. At the end of my course I do not qualify what is right or wrong but I help them  develop yardsticks by giving them different perspectives so that they remain steady in their decision making process. You have to base your decisions on yardsticks and be consistent with them; you cannot change them at your convenience. So that is something the course tries to imbibe in the students.
His view on the increasing batch sizes across B-Schools
At the end of the day, it is all driven by whether you are able to provide quality education or not. There are two things – One, there should be a difference between B-Schools and Placement Agencies. A lot of expectations people have from B-Schools are similar to their expectations from placement agencies. Placement is important by all means. Education which cannot provide you a living, is not very useful. Education has to provide you a living. But it cannot be the primary driver. The primary driver has to be what kind of people do we want out there.
A business school's primary driver should be what kind of business leaders do we want, not just in the organisations but also in the Government and NGOs. India needs more seats to be offered; there are more people who want business education. However, what they need is quality business education. Therefore, the business schools that are expanding for the purpose of money are certainly doing it wrong and they would not sustain. Only business schools which are expanding with the aim of providing quality education to more number of people will succeed. And the most important thing would be to get the best faculty. Even the IIMs face problems because there is a dearth of good faculty, therefore, the ratios go out of whack. Fortunately, I am very happily placed so far as the faculty at Bocconi is concerned. It has 14000 students and 1400 faculty members with each faculty member being at the top of their profession. The number of faculty here is far more than what I require. However, I want other B-Schools to invest in Faculty Development Programmes and good schools should be responsible for Faculty Development Programmes for faculty of other B-Schools and help them come up to a standard where they can provide quality education.  Quality education is where the focus should be, if it can be done with increase in seats then so be it, if not then they should instead reduce their seats to maintain the standard.
His view on Massive Open Online Courses (MOOCs – Coursera et al)
Very useful for people who have a self-motivation to learn but very limited because there is no scope for a discussion and a exchange of ideas. Why I am a great fan of classroom is because of two things – One, there is an exchange, a give and take of thoughts and an exploration of multiple perspectives, you either strengthen a perspective or you  question it to develop some other perspective. Second, there is immense learning happening with your peer group. Online courses are useful to be given as a pre-course read. If I were to use the online course I would use it as a pre-course or a post course, I would give the theoretical aspects and integrate the online course with my classroom set up.
His views on the ethical underpinnings of business
Focus of the business is to do its business well and efficiently. One mistake we do is that we take social activities as something independent of the core business. So CSR is seen as separate from the core business of the organisation. CSR should not be taken as the means of branding or an effort to cover up the mess you are creating in your business. CSR has to be built into the system, of course you have to make profits as a company but not at the social cost. The profit has to take care of the society and the environment.
The business processes  have to be socially relevant and socially acceptable. You have to be good, you have to do it in the best and efficient manner using least amount of energy and the minimum amount of wastage. That should be the focus of the company.
(Download the MISB Bocconi brochure here. Start your application!)
His views on technology replacing human work
I do not believe that technology is replacing human beings. It is helping them to upgrade. You are replacing human beings in certain areas but you are also creating new avenues, so the skill set required by the industry is changing. There is a completely new dimension of industry that would be initiated through it.
If I were an HR person, I would keep telling my employees to figure out what career they want . And make them loyal to their career as well as the organisation. Currently, the main focus of the HR manager is to make them loyal towards the organisation. Also, organisations are also not sure that they will remain in the same line, if they can create a better value by merging, selling themselves or entering into a different product line, then they would not need the same set of employees.
But if I make sure that I have trained my employees well, charted out a career path for them then it would not matter if the employee is with me or with some other organisation. Companies have issues with attrition, for me, attrition should be looked upon as an opportunity since there are new people joining with new ideas. Therefore, we have to make sure that there is enough investment made so that the knowledge of the industry grows, in making people more knowledgeable irrespective of they stay with my company or not.
(Prof. Rai was also the CAT 2010 Convenor. He will be doing a LIVE Chat with aspirants on Friday at 8.30 pm. Do join us then)
On how working with Tata Steel shaped him – as an employee and as a teacher
Most of my examples are rooted from my work life at TATA Steel especially my lessons in Ethics, I have carried forth the ethos of the TATAs. The best thing about the TATAs was that the work they did for the society was at a level which even today nobody does and at a time when people hadn't heard the term Corporate Social Responsibility. They used to spend 15-20% of the their profits in CSR activities. They were the first people to address the country and say that what is good for India, is good for the TATAs. Therefore, they went on to start the Steel Plant, Textiles, Railways, Airlines and also initiated Institutes like IISc, TIFR, Tata Memorial Hospital and even the NCPA Auditorium. I have always carried that value system – you do not help people in order to establish a brand image but you do because that is the right thing to do.
The second ethos that I have carried is that the TATAs have always said that to distribute wealth you must first create it – there was no condescension towards the art of creating wealth. The wealth could be money and it could also be knowledge which they imbibed themselves before distributing it.
The third thing that I carry is their immense respect for people, TATAs always care for their employees – they go beyond the normal call of organisational duty to take care of their employees – they understand them and reach out to their families to make their lives happier. And this is what I carry as a part of the organisational value, I never thought of my students as just students, I always saw them as people whom I can learn from, share knowledge and experiences. The same thing is applied here where I am heading an organisation with my colleagues. So there was an immense impact that the TATAs have had on me.
Advice to startups trying to create a company culture
Define your value system in terms of the terminal values you are looking at – what kind of a world you envisage, what kind of a world you want your business to be in, and then define your instrumental values how you want to reach there. Define very clearly what you would do to reach there and what would you not do to reach there. And thereafter build stories – because a lot of culturalisation happens through story telling – in India specially we have been listening to stories from our grandparents, stories that we read in Amar Chitra Katha – somewhere the value system gets more strengthened and reinforced. Same is the case within an organisation – organisations create stories about their founders like the TATAs have done – you get inspired & motivated by these stories then you try to build your lives modelled on those stories. You also have to create those kind of stories and examples.
Also, you have share your vision with people in the organisation and also with key stakeholders like your customers as many times as possible. Two things happen due to this – One, it becomes ingrained if you repeat a thing often enough, Second – it also puts a pressure on you since it has now become a commitment.
(Download the MISB Bocconi brochure here. Start your application!)
This is the second part of the interview. The first part can be read here.
Follow MISB Bocconi at InsideIIM here
—————–
This is a Promoted Feature