Uncategorized
"Every brand must have a purpose for its existence" – Aseem Puri, Sr Director Marketing, Unilever at IIFT
The students of IIFT, Delhi got an opportunity to interact with Mr Aseem Puri , Sr Director Marketing, Fabric Cleaning Asia at Unilever. Mr Puri an alumni of IIFT, Delhi (Batch 2000-02) is a Senior Marketing Leader with Unilever leading a large billion dollar portfolio of global brands. He is also responsible for brand innovation, brand communication with top line /bottom line responsibility for fabric cleaning brands across Asia.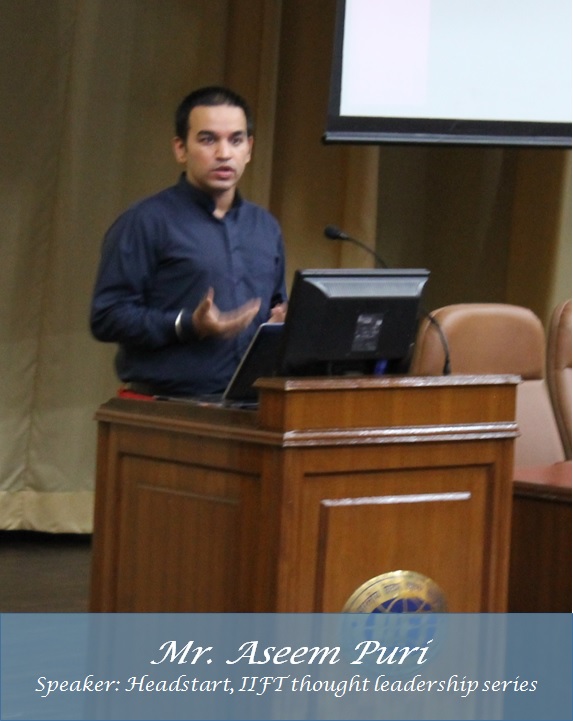 Mr Puri started off the lecture by talking about the power each customer has in today's world. A single customer with a bad review can ruin the brand image of a big chain of hotels with a multi-million dollars budget for advertising. Dissatisfied customers can share their grievances online on multiple platforms like Twitter, Facebook, Youtube, etc and with the chance that the reviews may go viral, the damage a single review can do to a brand is far more than the goodwill a brand can garner from good advertising.
"Marketing hasn't changed, Customers have"
Mr Puri then talked about the changing world of marketing where the concept of 4P model has been replaced by the 5Ps. People don't care about the brands anymore; they change their minds in an instant. With the advent of digital marketing, the customer has a choice on whether to be exposed to an ad campaign or not. So to accommodate the changing and the increasingly aware customer, the 4Ps have been rethought and we have the new 5Ps. Let's take a look at the 5Ps which Mr Puri had explained in detail.
Purpose
"Doing well by doing good"
Every brand must have a purpose for its existence.  Every successful brand today was started with a purpose like Nike, Paypal, Youtube and Amazon. The students were then introduced to the dilemma Nike had, when manufacturing Aerobics gear was a lucrative market and Reebok had stepped into it big time. But Nike stuck to its guns as an athletic, outdoor sporting gear company and decided not to step into the aerobic gear manufacturing. Also HUL's Dove had a brilliant ad campaign where it encouraged women to be proud of their own beauty and not be obsessed with the artificial image of beauty which advertisers daily bombarded them with.(https://www.youtube.com/watch?v=iYhCn0jf46U)
Perform
It doesn't matter what your advertising budget is, what matters is your performance and the satisfaction you deliver to your customers. Virgin airlines for example spends only 10% of what its competitors spend on advertising. It focuses on other aspects of the flying experience like the colour of the lights used, the brightness, etc. The same applies to brands such as Comfort which is designed to be used before washing and it helps in reducing the amount of water used. Upcoming sites/brands like Airbnb and Dollar Shave club have taken on the biggies with no or limited budgets but with their ability to perform with passion, they are giving the established companies a run for their money.
Promise
Every brand when started has to make a promise and fulfil it. Lifebuoy when it started in 1895 promised its customers to be a disinfectant soap; still in 2014, Lifebuoy's USP is to offer protection against germs. Consumers don't anymore care about the attributes a brand offers, they care about its benefits. They care about what a brand is about, what it can do for them and how can it do it differently than other brands.
Personality
Mr Puri introduced personality in an interesting manner by showing a clip of Barney Stintson and asking us to name a brand which we could associate with him. There were varied answers from "Playboy" to "Wikipedia", the answer Mr Puri was looking forward to was Axe. Sometimes controversial and polarising figures associating with a brand will help get the brand a personality and also a lot of publicity. Dividing people in two halves with one supporting your brand and the other not is helpful in giving the brand its distinct personality.
Publishing
The average lifetime of an ad or a promotion online is very short in this day and age. So brands have to keep constantly creating content and publishing it on the social media space. Brands have to become like newspapers or a magazine offering customers a constant stream of information. Earlier they used to create an ad and let it run for 6months to a year or even more, but now brands can't afford to be so lax. Mr Puri then showed us a beautiful campaign by Dove which engaged women and helped them in discovering their real beauty.( https://www.youtube.com/watch?v=XpaOjMXyJGk)
Mr Puri ended an enriching and an intriguing session by taking up a few questions from the enlightened students. There was a common doubt among the students whether digital marketing is effective in a country like India where still the majority of the population doesn't have access to the internet. Mr Puri then replied by talking about the indirect influence a digital marketing campaign has. Every family or at least every village has somebody who daily goes online, so brands can get through to all of the other people through that one person and that message is way more effective than the traditional methods of advertising such as T.V and radio. Also he asked the students to create a landing page and sell a product of their choice online and to put out adverts on Facebook and Google. On the overall it was a very informative and interesting session as it provided the students insight on how marketing has evolved over the years and what are the different skill sets one needs to develop to be a successful marketeer in this day and age. We are proud as IIFTians to have such an illustrious and successful alumni in Mr Aseem Puri at HUL.
About the author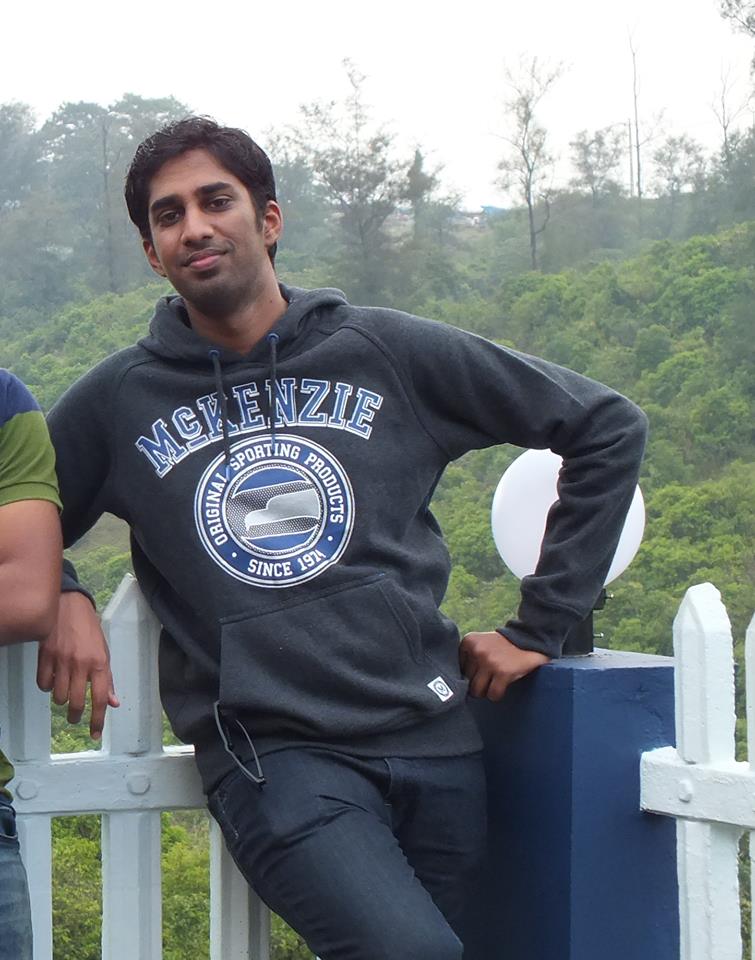 Ritesh is currently pursuing my MBA from IIFT, Delhi. In his my free time, he writes on football at The False 9 a blog on football tactics and strategy. Other than football and writing, he's very passionate about World Cinema.
For more details, follow IIFT here