Exemplary Learning In Thrilling Environment – Capgemini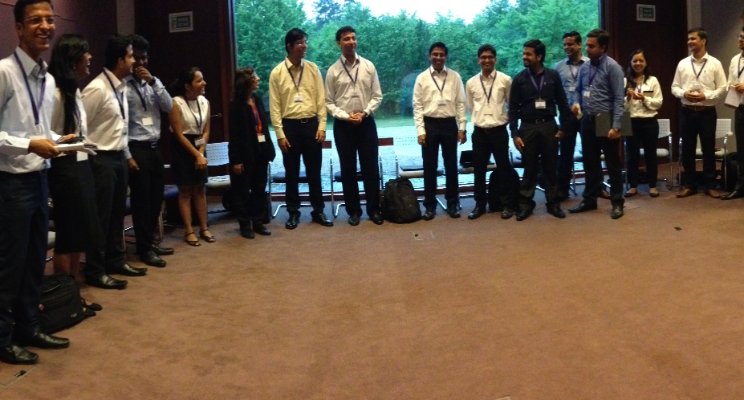 People Matter, Results Count. This is the tagline of Capgemini – one of the few companies for which its people come first, and then results. A long-lasting taste of this tagline is what I got during the 5-weeks of my onboarding here.
12th June 2017 is the day I started a new chapter of my life with Capgemini as one of the 19 E.L.I.T.E. trainees – the crème de la crème of the top five b-schools in India. I had been eagerly waiting for this day for a long time since it was going to mark the beginning of my first formal work experience. Even though I didn't really know what to expect, 'far exceeded expectations' is the only way I can even begin to describe the day! The way we were welcomed, all our logistics taken care of, senior leadership interactions on the first day itself and the grand networking dinner that ended the day – gave us all a flavor of the efforts put in by the E.L.I.T.E. Core Team in planning and execution for the program. But more importantly, it also conveyed to us the level of dedication we would need to have for our projects, for the program and for the organisation for being worthy of being called E.L.I.T.E.
The title contains the phrase 'Exemplary Learning'. One way to interpret it would be a learning experience that sets an example for other companies. However, another way, and the one I intended it to mean more, is the way we learnt things during our training and onboarding. Attending lectures and quietly listening to the speakers is what comes to our mind when we hear the word 'learning'. At Capgemini, it means anything but. We got sufficient exposure to key fields that we would encounter in our career like blockchain, APIs, cloud, big data, etc. through interactive sessions. But that is what we expect the training programs to consist of, don't we? What turned out as a pleasant surprise was having sessions on topics like emotional intelligence, unconscious biases and other topics focusing on culture and behaviour in organisations, and how helpful they turned out to be! A complete 2-day workshop conducted by professional actors flown from abroad to help us improve our soft skills just says it all. And the way the senior leadership interacted with us, the ease with which we asked them questions and the honesty with which they replied – shows that Capgemini is one company which really lives its values and has an "open-door" policy in a true sense.
Since I mentioned the word values, let me talk about the most fun value of Capgemini, i.e., well, 'Fun' itself. The training part of the E.L.I.T.E. program was more of a "Work hard, party harder" than an "All work and no play" thing. The bowling and laser tag events, dinners and scavenger hunts on weekends were always going to be more than enough for us to rejuvenate ourselves for the next week. But that's not the E.L.I.T.E. way of doing things; and so, for the fifth and the last week of training, all of us were flown to the home country of Capgemini, i.e. France, for our Consulting Skills Workshop. The magical land of Capgemini University at Les Fontaines, replete with the magnificent castle made us feel like we were on a different planet. The excellent interactive and practical training we received there ensured that we were fully prepared to work on our exciting assignments starting the following week.
As I excitedly continue working on my first project, I feel I can't be grateful enough for that entire 5-week experience for all the ways its learnings will help me perform in my project, and for all the smiles the memories of it bring to my face. It was truly a one-of-its-kind experience that will stay with me forever.