Experience of a Lifetime – Summer Internship at Alshaya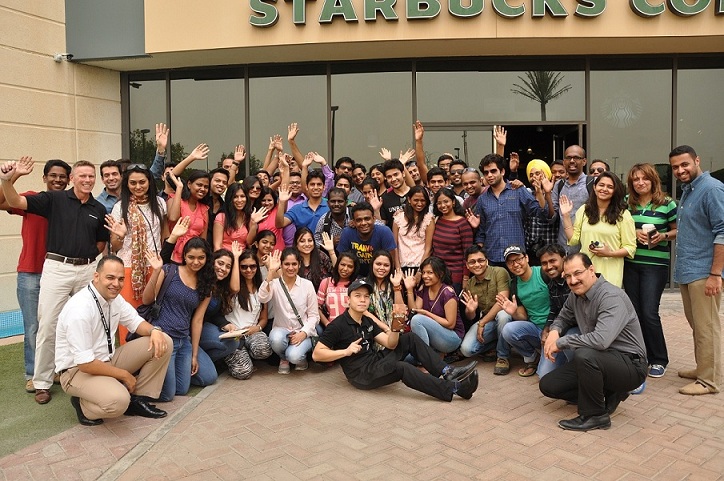 An international offer during summer placements is a dream for many MBA students. I still vividly remember the day when I was pleasantly surprised to receive an offer for internship at Alshaya. I was anxious about visiting a completely new country within few weeks, when I received a mail from HR by the end of March along with visa and flight tickets to Kuwait. I was offered to intern in Home Furnishings division with the supply chain team for all five brands. We made a WhatsApp group of all interns from IIM A, B, C, L, FMS and XLRI and hence we were familiar with each other before we met during internship.
The journey started from Delhi when we boarded flight to Kuwait. The company officials received us at airport and we reached the accommodation at around 3 am. All 53 interns were provided stay in the same apartment complex and we occupied the first 8 floors. The apartment was luxurious and completely furnished along with provision for self-cooking. The fridge was stocked with food items, which we would require for an entire week. Well, it lasted for more than two weeks for me! I fell in love with my apartment and the beach view from my room.
We were informed that the company bus would reach our accommodation the next day and we'll leave for office at 7 am. I immediately wondered, "After getting used to sleeping late almost every day, how would I get up at 6 am daily!!" I managed to get up the next day, of course partially because of the excitement to get back to office almost after a year. We were all dressed up in business formals for the first day at office. On the way to office, I was mesmerized by the serene beauty of the beach throughout the gulf road. It was  a refreshing moment to see the calm beach and enjoy hearing songs on the way. From the next day, I was looking forward for our onward journey to office every morning.
We had induction at auditorium on the first day, where the director of learning and development   briefed us about the internship program and presented an overview about the company. I reached my department around 3 pm and met my project mentor. He handed over a project brief document containing the scope, objectives and deliverables. My project was optimization of the inbound supply chain for the ordered stocks of five home furnishing brands. I also had to recommend a strategy to increase the visibility of inbound stocks and create a process to evaluate the performance of all stakeholders.
My manager explained about the project and the significance of its outcome to the whole division. I was intrigued by the myriad of complexities in retail business. I had to understand the logistics, the regulations at each port and the role of all stakeholders including the host brand in the inbound supply chain. The complex supply network of the stocks to the five markets – Kuwait, UAE, Saudi Arabia, Bahrain and Lebanon was challenging to be interpreted.
I realized the importance of approaching the project step-by-step as it was a completely different industry and job role from where I had worked pre-MBA. I started by listing down the objectives and goals for each week and worked on them every day. I introduced myself to all teams in the division and started the project by understanding their work and the business as a whole. It was important to get a holistic picture as a management student and also to figure out the right approach to start my project. I had a series of meetings with merchandising, planning, supply chain and logistics teams to understand about their perspectives about the existing processes. I also made notes on the minutes of each meeting and obtained insights by asking various questions related to my project.
The first weekend arrived. We were all set for a city tour organized by Alshaya. One of our interns introduced most of us including me to the popular game, 'Mafia'. We started playing the game in bus from our first city trip. Gradually, we played Mafia every evening during our return journey in the bus. After a tiring day at office, everyone would be looking forward excitedly to board the bus just to play mafia daily. That was the extent of craziness about the game and as many people joined the group, we were not able to complete the game even after reaching the residence. We used to continue playing for almost half an hour and leave for our apartments only after the game ended. The next week, we were pleasantly surprised when some of the pictures taken by HR were displayed in office cafeteria. I was delighted as I was there in almost all of them and it was a good means of publicity.
Two weeks passed by. I started working on my project after preliminary data collection and approached my mentor and team for any doubts and clarifications. Everyone in the division right from merchandisers to senior managers was courteous and patiently answered all my queries. The work environment was very friendly and casual, which I felt was the perfect culture for me. We also used to have team lunch ordered from restaurants every Thursday.
After receiving the first month stipend, we were all excited for an unforgettable experience when we planned for a trip to Failaka Island, which is about 20 km away from Kuwait. We started our journey in a beautiful yacht, which we had pre-booked before two weeks. We also brought food pre-ordered and packed for lunch during the trip. The experience was the craziest, funny and the most memorable for all interns. I had never travelled in sea before and it was a life-time experience for me. The best thing about internship at Alshaya is the bond of friendship among all interns from the country's best b-schools. The fun, enjoyment and life-long friendship is the most unique experience anyone would get at Alshaya.
During the first week of May, we had mid-review of our projects. My mentor was happy about the progress of project and provided his feedback for some improvements. He also suggested to implement the new processes, which I had recommended for a week to observe the results. I planned meticulously on each deliverable and incorporated improvements by obtaining feedback from my mentor. It was very important to keep in constant touch with project mentor and it helped in understanding and refining the scope of project from time to time. At the end of my final presentation, my manager was happy that I had also created a tool and process for measuring inbound accuracy for all markets every week which was beyond the scope of my project.
I also realized the importance of excellent communication skills in a managerial role where it is required to persuade the teams for data collection or scheduling meetings for the queries, essentially to convince them to spend time out of their regular work for the project. It's always courteous to email anyone before approaching them for doubts or clarifications. I never faced pressure to show the project progress from my mentor and I was free to work at my own pace. However, it's better to keep mentor updated every week and I made it a routine to send a mail with a detailed weekly report. The reports helped me to look back next week on the work I had done so far and were also useful for my final presentation.
This internship was one of the important learning experiences in my life, where I also faced numerous challenges during the course of the project especially while working in a multi-cultural environment with people from diverse backgrounds. In a nutshell, a piece of advice for future interns based on my experience: Being proactive, adaptability and willingness to learn are the skills which are extremely crucial to get maximum learning experience from summer internship and contribute back to the business world as a practicing manager.