'EXPLORing My Passion Of Film Making While Learning The Art Of Management' – Vishal Kaushik, Class Of 2017

Prologue
Stories have always been an inadvertent part of me. They were my escape, my revelations and later served to be the sole purpose of my life. I used to write so many and then hide them in some corner of the cupboard fearing their discovery. I grew up, graduated as an engineer and joined a firm in Bangalore while those stories were still tucked in that old cupboard in my dusty attic which one fine day was cleaned. We were moving to Gurgaon and my father while packing up, found my childhood scribbled on sheets. Reading them, I smiled to myself; I had reunited with my long lost dream. These forgotten pages, which anyone would have dismissed as the work of an eccentric child, rekindled my love for films and filmmaking. From that day to this, I have had only one dream – directing a Bollywood movie. Yes, I wanted to bring my stories to life through a visual medium and make people feel what I felt while writing them.
Finding a way to re-align my goals with my dreams
I knew, no one would take a novice like me, seriously. Being an engineering graduate wouldn't help either since there were millions more. In September 2014, I decided to leave my job in Bangalore and settle for one in Mumbai, thus moving closer to the industry I coveted to be a part of. However, it didn't work out as planned.
Meanwhile, I managed to crack the new IIMs in the year 2014. My parents heaved a sigh of relief. But my concerns skyrocketed. Fearing what if, I get stuck in a 9-5 job and this time in a business suit, took away my blissful sleep. One fine day, during the city meet, in Bangalore, organised by IIM Rohtak, I was introduced to Rithvik Vamanagunta, the pivotal meeting in this story. We shared similar interests and he was presently a student at IIM Rohtak. Together we could build an ecosystem of media and entertainment inside a premier management institute. What else could I have asked for?
Entry to IIMR
I joined IIM Rohtak in June 2015. There, I met several mates who had similar interests in photography and/or filmmaking. We expanded the horizon of the photography club, exploR, which now included filmmaking under its ambit. I had this idea of conducting a film summit at IIM Rohtak. The catch was, no other IIM had ever conducted one, and we could never be sure what response would this fetch. However, Director Prof. Rakshit supported us. We scheduled the inaugural Film Summit in July 2016.
Meanwhile, I had decided not to join any of the traditional companies for the internship. Though it seemed a reckless decision but I badly wanted to intern from a production house. Numerous applications went unanswered, I received very heartfelt apologies also for not having a place to accommodate me as well but yet I was waiting for that one acceptance mail. And enters the next pivotal e-meeting. A friend of mine introduced me to Naveed Manakkodan, Producer at AIB. After a long series of emails, I was finally offered the internship at AIB. It was difficult for them to accommodate me as well because nothing beats experience but maybe this time my passion did. The coming two months were overwhelming. We were working round the clock and for the first time, I was seeing what I wanted to do all my life. That ignited my passion towards filmmaking a little more and pushed me to do something more in the field of entertainment to build upon my experience and also connections. MBA is a great deal about networking.
During my internship in Mumbai, I approached all the major production houses to invite speakers for the summit. Unlike us, the marketing or production heads there have their schedule sorted out months in advance. You see how being a management student helped now? This was lesson number 1; plan your tasks in advance. On most days, I could only reach the reception, talk to the guard and return. I was no different from a struggler trying to realise his dreams in this city of dreams. On one such day, I went to the office of Phantom Films. I went to the security guard and lied; "I have an appointment with Mr. Priyank Vyas". Mr. Vyas is an IIM A alumnus, of the class of 2013, who was then working as a senior marketing manager at Phantom Films. Needless to say, this information was up on Google. Which brings me to lesson number 2, always step in the puddle after assessing its depth. Once I was in his presence, the verity of my claim outside didn't matter. The next day, Mr. Ranjan Singh, Marketing Head at Phantom Films, became the first confirmed speaker at the Film Summit.
The first ever Film Summit at IIM Rohtak – Working towards my dream
The days leading to the summit was perhaps the only time I had a lot of anxiety, during my entire stay at IIM Rohtak. We were running short of sponsors. Since we conduct events throughout the year, bringing in new sponsors for an entirely unknown, nascent event was a tough task. Moreover, some high profile guests who were earlier supposed to come sent their apology mails in the last moment. Three weeks before the event, I was not entirely sure if the summit would see the light of day.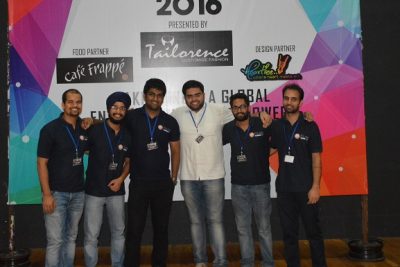 In hindsight, I realise, being a management student always helped my cause. It was time to show some disaster management skills. I took to Facebook to invite guests. Somehow, I found their original profiles, sent them requests and invited them to come over as speakers for the summit. And needless to say, got a few responses. With the speakers sorted, the next roadblock was the management of the entire event.
With some help from the college administration, we were able to pull it through without any glitch. Last year's success has given us the platform to make it large this time around, which brings us to lesson number 3, there will always be last-minute glitches, you can't do away with them, what differentiates you is how you deal with them.
During the summit, while listening to speakers I realised Indian directors are often accused of not making quality films and are often compared to their Hollywood contemporaries. In my humble opinion, the movies reflect the taste of the public. Haven't we seen the fate of some really critically acclaimed movies who never saw the day of light at the box office. We must share the blame because movies are just a reflection of what we want to see. Indian directors cater to the public demand. And they have to, despite this being an art, at the end of the day, they need to make money to survive in the trade. Unless we change what people want to see, it is impractical to expect the directors to do otherwise.
To that end, we at exploR Club, have screened movies from various countries, differing in genres and language. We tried to cover everything from Iranian cinema to Japanese anime and screen movies in Indian regional languages as well. Because we often dislike things we don't know about. That brings me to lesson number 4, knowledge is the key to greater perceptions.
With the success of exploR Club and Film Summit, I dedicated a lot of my days left at IIM R to build something substantial to gauge the interests of students joining the institute. About me, I got placed at a reputed e-commerce firm with a thriving film vertical. But before I join, I plan to devote my time making video essays for my YouTube channel. So yes, I am closer to my dreams.
And that will bring me to the final lesson number 5, if you have a dream and the courage to make sacrifices for it, the place, the people, the environment will not matter because with your willpower you'll create the best ecosystem around you, wherever you are and whoever you are with.
I thank my soon to be alma mater for catapulting me towards realising my dreams, for giving me this opportunity to pen my story and give out the learning that I had in these two years. Hasta la vista, see you outside the college. J