Faculty And Students Of Tsuru University, Japan Visit MYRA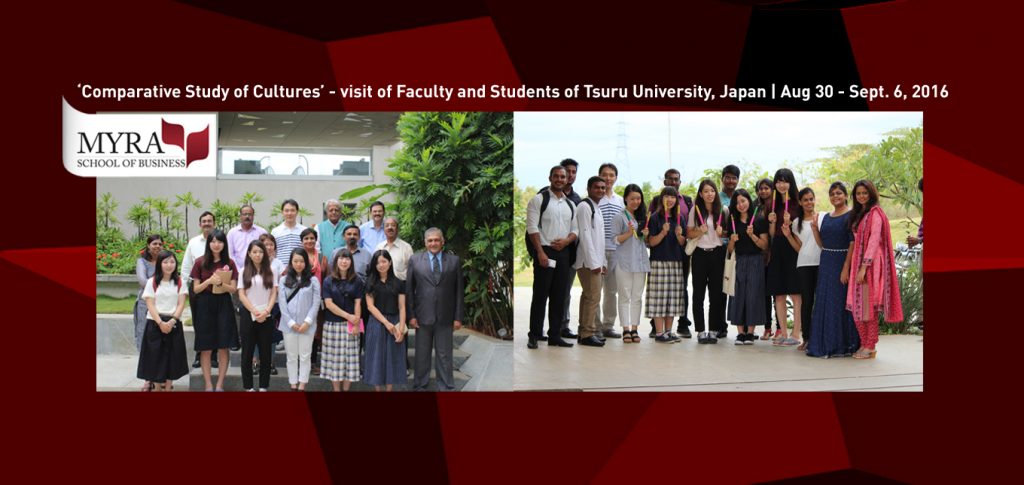 A delegation of students of the Department of Comparative Study of Cultures, Faculty of Humanities, and two faculty members — Dr. Mika Hasebe Contract Assistant Professor, World Language and Society Education Centre, Tokyo University of Foreign Studies (TUFS) and Dr. Yutaka Suto, Professor in Global/Transnational Sociology, Department of Comparative Study of Cultures,  Tsuru University, Japan, visited MYRA School of Business as part of a Study Tour — a week-long Immersion Program to do a comparative  study of the cultural fabrics of the two countries.  It entailed a tour to Karnataka State, South India, specifically Bangalore and Mysore, from August 30, through September 6, 2016.
Tsuru University offers both undergraduate and postgraduate courses in Humanities and Social Sciences and has a good number of full time international students enrolled for its various programs.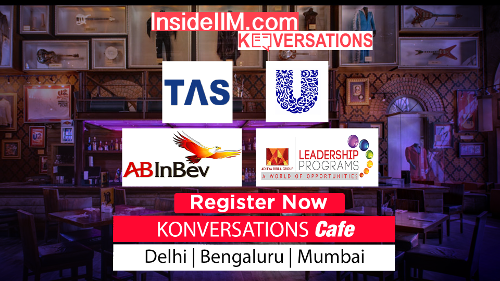 The objective of the study tour was to understand the social and cross cultural consequences of development and globalization through a field visit to South India, interactions with student communities, rural, tribal and industry visits.  Accordingly, the Immersion Program brought in three essential components — academic, industry and cultural interaction and experience.
A visit to four cities — Bengaluru, Mysuru, Ooty and Wayanad — encompassed visits to tribal hamlets near Gundalpet; tribal areas near Ooty to meet and learn about the Todas; to Sultan Batheri in Wayanad; to organic farms near Mandya and a visit to an experimental school in Chamarajanagar — offered the Japanese students experiential learning opportunities to understand the social and cultural (in Tier I, Tier II and Tier III) aspects both from an Indian and Japan perspective. This program offered a great opportunity to MYRAcles to interact with Japanese students to gain global perspectives and learn firsthand the nuances of intercultural issues, said Dr. Shrijay Urs, Executive Director, MYRA.
The week-long program had a formal welcome address by Dr. M N Panini, Distinguished Professor, Centre of Excellence for Sustainable Business Innovation (CESBI), MYRA, followed by academic sessions which were oriented towards the socio-cultural scenario of the country.  Dr. Umapathi, Retired Professor of Political Science, University of Mysore gave an overview on 'Introduction to Political India'; Dr. Sudhindra Seshadri, Senior Associate Dean, MYRA School of Business delivered a session outlining an 'Introduction to Indian Business and Society' and Dr.C.R.Sathyanarayanan, Deputy Director & Head of Office, Anthropological Survey of India,(Ministry of Culture, Govt. of India), giving an overview on 'Introduction to Field trip'.
The formal interactions overflowed into informal rich social interactions over dinner organized at the Sports Club, Mysore on the evening of August 31, 2016. Field trips to Somanathpur, local visits to the Mysore Palace, Srirangapatna, Chamundi Hills, & other tourist spots and a visit to Tippu Sultan Palace at Bangalore gave an overview of the cultural and social scenario to the Japanese students.   Folklore dance and classical music by MYRAcles welcoming the delegation showcased the truly Indian culture and mesmerized the Japanese group.   The delegation proactively participated in the Ganapathy festival celebrations both in the city and on the campus organized by the MYRA student community.
In line with its mission of being 'truly global and uniquely Indian' MYRA is expanding its global associations by partnering with Tsuru University, Japan by bringing this delegation from Tsuru University, Japan. As India is growing faster, students are curious to know about India as it counts as one of the most promising emerging markets for the future and is growing at a fast pace. With globalization and growing interest in the emerging Indian market, there is an increasing interest in understanding the nuances of social and cultural consequences of development and globalization in the global South, said Dr. Shalini Urs, Chairperson, MYRA.   The Study Tour will add 2-credits to the student's' undergraduate program at their home university, added Dr. Yutaka Suto.