Feel The RUSH At IIM Ranchi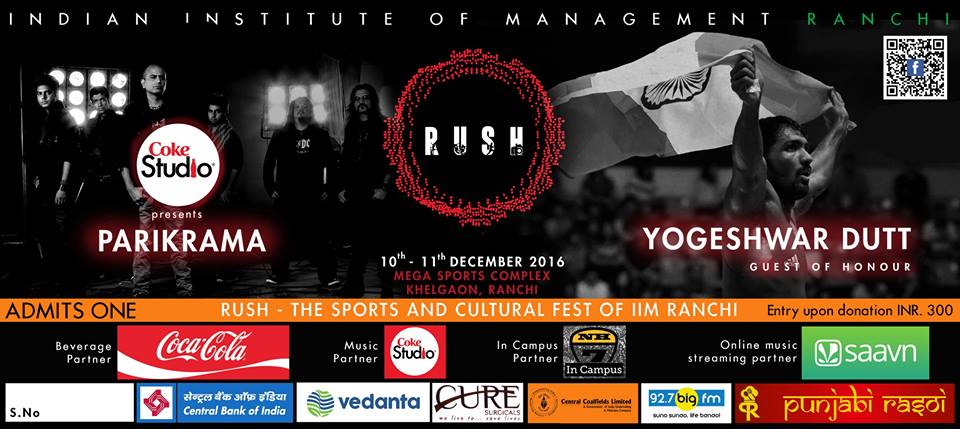 Catch hold of your breath as there would be a strong adrenaline RUSH in your body as we set ablaze the grounds of Sheikh Bhikari Stadium of Ranchi for the 2-day mega fest which would be a wonderful amalgamation of various sports and cultural activities – RUSH 2.0. RUSH is into its second year and it is going to be the biggest event of IIM Ranchi till date. Not only the organisers in the backstage but each and every student of IIM Ranchi will share the vibe that is about to go contagious as the event unfolds six days hence. The theme this year is Marvel Vs DC – On this day you'll believe a man can fly…!!!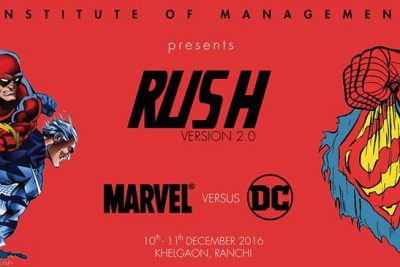 Flagship cultural events are War of bands, Fashion show, Group dance, Street play. Flagship sports events are Athletics, Badminton, Basketball, Carrom, Chess, Football, Tennis, Table Tennis, Volleyball, Throw-ball, Poker, Darts, Kho-Kho. We also have some other interesting events like Stage play, Duet dance, Solo singing, Solo instrumental, Live photography, RJ Hunt and Roadies…!!!
We expect to have a footfall of 1500 people with 400 participants from 15 different colleges. The highlights of this 30-event annual fest would be the music performance from Coke Studio featuring PARIKRAMA whose song "But It Rained" got listed as "25 Greatest Indian Rock Songs of the last 25 Years" and our guest of honor, the Olympic medalist and Padma Shri Awardee Yogeshwar Dutt who would give away prizes to the winners of this event.
As I speak to Ayush Garg and Rohit Bhagat, 1st year students of IIM Ranchi, who recently got elected as the student council members of the cultural committee and the sports committee respectively of IIM Ranchi, they expatiate on how a typical day in the life of a committee member at IIM Ranchi goes by during this week prior to RUSH. "With great power comes great responsibility" – Their day begins with 6-8 hours of packed academic schedule and then starts their work of meeting sponsors and different authorities, running around to get those numerous permissions. Then in the evening along with attending lots of meetings, doing follow-ups, working on promotional activities etc they have to complete their assignments, projects, study for quizzes held on every other day and by night they need to plan all the activities for the next day. With 3-4 hours of sleep in the night, it all starts the same way again for them.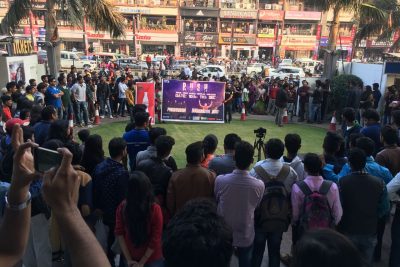 We have been working through many challenges as IIM Ranchi is hosting RUSH only for the second time. We have dedicated sponsorship teams for every provision. Our prominent sponsors for RUSH 2.0 are:- Music Partner- Coke Studio, In campus partner- NH7, Online music streaming partner- Saavan, Beverage partners- Coca- Cola, FM partner – 92.7 Big FM. For promoting RUSH 2.0, flash mobs are being performed at different places including malls, colleges etc in Ranchi. We are giving away free passes at these places through a quick Q&A session on the theme of RUSH i.e- Marvel vs DC. To foster good relations with Khelgaon Residents (Khelgaon being the place where we have our hostel) a door to door activity is also planned for giving away the entry passes.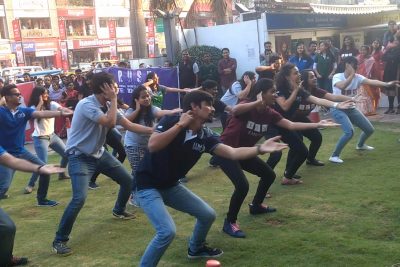 All in all, we, the IIM Ranchi students are gearing up to bask in the flamboyance of RUSH 2.0 and we promise to give all of you who are attending this fest an enthralling and a mesmerising experience. We hope to see you here very soon.
Please find the link to the teaser of RUSH 2.0:-
————-
About the Author: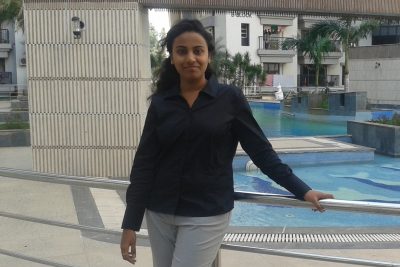 I am a student of IIM Ranchi belonging to 2016-18 batch and a part of InsideIIM student team 2016-17.
A short poem to describe me-
Juggling with a plethora of nascent ventures, My life feels exhilarating, For once I reminisce my pleasant old humdrum times, but then at the end of our comfort zone Life begins, So I'd rather be experimenting, outgoing, enjoying And set my life to be eventful than plodding.