Feeling The Last Minute CAT-Jitters? CAT High-Scorer, Porush, Spills His Secrets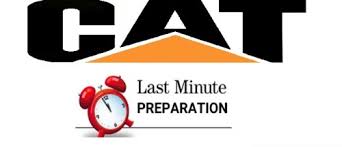 Bill Cosby said, "Decide that you want it more than you are afraid of it." And that is exactly what I did. Right from the inception of my preparation days, life hasn't been easy. Let me be frank here. It was a complete rollercoaster ride, with the path generally following downwards. There will be days when you would tell yourself – "This isn't my cup of tea. I'm fed up with failure. Maybe CAT isn't my thing, so let's give up."
Despite the relentless struggle, I'm glad that my preparation ideals have positioned me in the right place. Here are a few tips which will help you in taking on CAT.
NEVER GIVE UP
Be persistent, no matter what. Don't let your mock test scores pull you down. CAT mocks are for mocking. Laugh it off. However, remember to analyse them before you laugh it off. 
STAY CALM
Take some time out for meditation. It is important to have a calm and clear mind if you want to perform to the best of your abilities. Trust me on this when I say it will make a difference even if you start a week before the day of the exam.
REVISE, REVISE AND REVISE
No matter how much you focus on getting your concepts right, remembering them during those three crucial hours is more important. Allocate time to revise formulae on a daily basis.
PREPARE FOR VA-RC IN ADVANCE
Do not try to read anything new for VA-RC section at the last moment. Don't even think of picking up a new novel at this time. Just revise the basic rules. Cover the root words. Do not forget to read newspapers on a daily basis.
VIRTUAL CALCULATORS ARE YOUR BEST FRIEND.
If you have been using your electronic calculator all this while, it's time to say good-bye to it. You need to get used to a virtual calculator as it is going to be your only weapon in DI.
FOCUS ON ALL SECTIONS
Most B-Schools have sectional cut-offs. Therefore, it is important to perform equally well in all the 3 sections in order to achieve a higher cumulative percentile in CAT. 
ALLOCATE YOUR TIME WISELY
It is extremely important to prepare a time strategy and the time you shall dedicate to each question. Search for the easy questions first. The tough and easy questions are adequately combined to judge your management skills. Nobody is going to gift you a Rolls Royce every time you tackle a difficult question.  If they did, then maybe I'd consider changing my advice.
STAY HEALTHY
Refrain yourself from indulging in any actions which can potentially harm your health. After all, "Jaan hai toh Jahan hai". Also, never miss "the night before CAT sleep" to get your mind in proper balance for the D day. 
DO WHAT'S BEST FOR YOU
Ultimately, strategies for CAT preparation are subjective and it differs from person to person. What worked for me need not necessarily work for you. CAT mocks give you the platform to experiment with your strategies and come up with the strategy which is ideal for you. So know and master what is ideal for you.
————-
About the Author:
Porush Shrivastava
"Completed B-Tech in Mechanical Engineering from Radharaman Group of  Institutes, Bhopal, MP. First-year MBA student studying at Institute for Financial Management and Research (IFMR)."
IFMR Graduate School Of Business, Krea University
Established in 1970, IFMR Graduate School of Business, Krea University is a leading business school with the objective of moulding ambitious young men and women into competent and socially responsible organizational leaders in a global setting. IFMR GSB is fortunate to have pre-eminent faculty members, most of whom have Ph.Ds from well-known institutions in India and the United States.