Fight As A Batch – A Brief Account Of A Delightful Semester At SJMSOM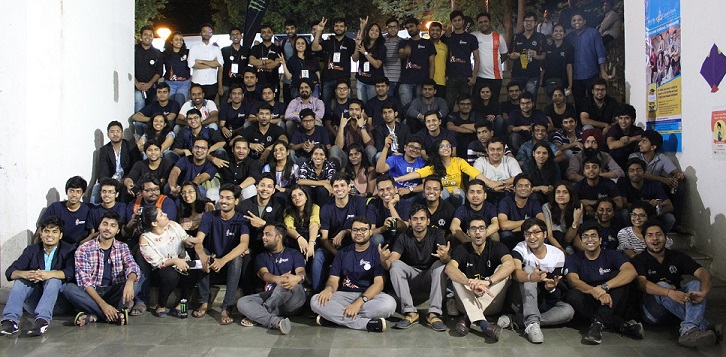 It's that time of the year again where "MBA aspirants" (in search of a better term) from around the country would start to think about their prospective business schools. Our priority list always consists of much the same factors – placements, faculty, location, campus, fees etc. However, it often gets confusing as many of the average packages in LPAs these days seem strikingly close to each other and the views we get from the insiders studying in these B-Schools about campus and faculties often seem too good to be true. I had much of the same issues while I was looking for my perfect management school to enrol in. And I write here in an attempt to make this selection easier for you, by telling you that there is probably one more factor that can help you shortlist schools of your choice and that is sheer numbers. Yes, I mean the number of students you would be studying with – it does matter.
Class strength is probably what most of us often ignore or de-prioritise while selecting an MBA college. There has been much buzz about what's the right class strength for a business school – and all the views are debatable in every way. But this is my take as an insider on how a close knit class strength has helped me grow at SJMSOM IIT Bombay so far.
Where other B-Schools keep on exponentially increasing their class strength year on year, SJMSOM IIT Bombay holds on to its class strength of about 110-120. That precisely, is what makes it stand out in the clutter. It is also what has led all of my batchmates to have a wonderful first semester here.
And simply because I cannot help it, as a management student, but to write much of my prose in the form of bullet points, I have the benefits bulleted for you below.
Collaboration with faculty:
There is a conscious effort on part of the faculty to know each and every student that passes through SOM IIT Bombay. And I know, how clichéd this will sound, but most of us feel that the profs here really know us – where we come from, what our backgrounds are, what are our interests, strengths and weaknesses. There is a well-established communication and feedback network between the faculty, the seniors and the juniors. There are many occasions to collaborate and interact with faculty since there are lesser students per teacher – with SOM having a healthy student-teacher ratio of 1:10. And since IIT Bombay provides more research facilities than any college in India to their faculty, there are a lot of opportunities to associate with teachers on projects that go beyond the syllabus.
Stronger networking with senior batches:
In every B-School, it's the senior batches that would be able to help you out the most and will guide you through every step of your initial journey. When I said our faculties know us well, our seniors know us even better. There is just over a 110 of us and a tad over 105 of them – it's easier to connect and even easier to approach for help in curriculum or otherwise. And I personally have derived and learnt much from the advice of my seniors in my first semester. These connections have helped me become more confident and comfortable while sharing my views and perspectives than I was when I entered here.
Since the moment I enrolled here, a constant statement that I have been hearing from most of my seniors is that "you have been observed every step of the way". That awareness that there are people observing me has just pushed me to do even better and the knowledge that I had a counsel whenever I hit the rocks made me sail on comfortably through my MBA life so far. The culture at SJMSOM is one of constant and constructive feedback, which has helped us improve in areas we all lag in and further strengthen areas that we are already good at. For me personally, the experience was unlike any other school I have heard of, here at SJMSOM the seniors actually thought it their responsibility to support us and took time out of their busy schedules to hold many preparatory sessions. And how were they able to do it? Just the way their seniors did it for them. The key to it is that there is only as many of us as one can comfortably manage to associate with. Take an overwhelming batch size of 400 for example and the information percolating down through the batches would have been lost in translation or would have to be repeated so many times that it would end up getting diluted. At SJMSOM, however, we have been able to establish a strong dialogue and I will attribute much of it to our batch size and to how effectively ideas and values were communicated through the batches that have been here and currently are here.
Here goes the probably the most overused slogan in SJMSOM. However, this is the one value that we have grown to imbibe more strongly than any others since we entered here. We are a "batch" in the real sense of the word. Because there is only as many of us, we know each other very closely and are more aware of each other's strengths and weaknesses than you can see in any other B-School. How does that help us? We derive from each other's strengths and thrive on teamwork and associations. Since we know everyone's backgrounds and areas of interests so well, we know whom to approach for what. It's not a classroom full of 400 students where many don't know the names or are confined only to their sections. It's a group of diverse individuals trying to make their way through the tough B-School lives, helping each other out at every step and making sure no one falls behind.
To sum it up, I would say none of us at SJMSOM are a face in a huge crowd, we are all individuals with unique traits that are recognized by everyone around us. And together, all of us are always working toward upping our own games, obtaining much from each other along the way.