Final Placement Report 2014 – Vinod Gupta School of Management, IIT Kharagpur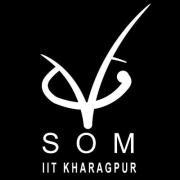 VGSoM, IIT Kharagpur is proud to present its final Placement report 2014, which marks the conclusion of an outstanding placement season! Despite recessionary fears and the current economic situation, Vinod Gupta School of management, IIT Kharagpur can boast of a very successful placement process.
We have set a record, where more than 90% of the batch was placed in the first round of the placements week and have managed a 100% conversion ratio for PPI/PPO's.
The students have been offered challenging management roles across various sectors like BFSI, FMCG, Consulting, Manufacturing, Analytics and E-Commerce. More than half of the batch chose Consulting, Sales & Marketing profiles for their careers.
Consulting sector offered coveted profiles across Business consulting, Management consulting, Technology consulting and Process consulting. In the IT and Analytics sector students were offered profiles in areas like IT Consulting, Business Development Analytics, Data Analytics Bid Management and Project management. As far as finance profiles from BFSI's are concerned, we received a variety of profiles like Wealth management, Financial research analyst, Relationship Management, Corporate finance and Banking operations.
VGSoM proved its reputation among the FMCG companies yet again. It is quite evident by the number of companies that have visited us. A variety of profiles were offered in Sales & Marketing like: Territory Sales Manager, Are Sales Manager and also profiles in operations like: Supply Chain Management and Logistics Planning. There was also a growth in the profiles and the number of offers made by the E-commerce sector. Students were offered roles in Marketing and Logistics with profiles like Account Manager, Logistics, Analytics & Community Manager.
This year, apart from our coveted regulars, many reputed first-time recruiters also took part in the placement process. Congratulations and best wishes to all the students for their future careers with these respected organizations!
Here is a link for the detailed placement report 2014, VGSoM, IIT Kharagpur:
http://www.som.iitkgp.ernet.in/pdf/vantage.pdf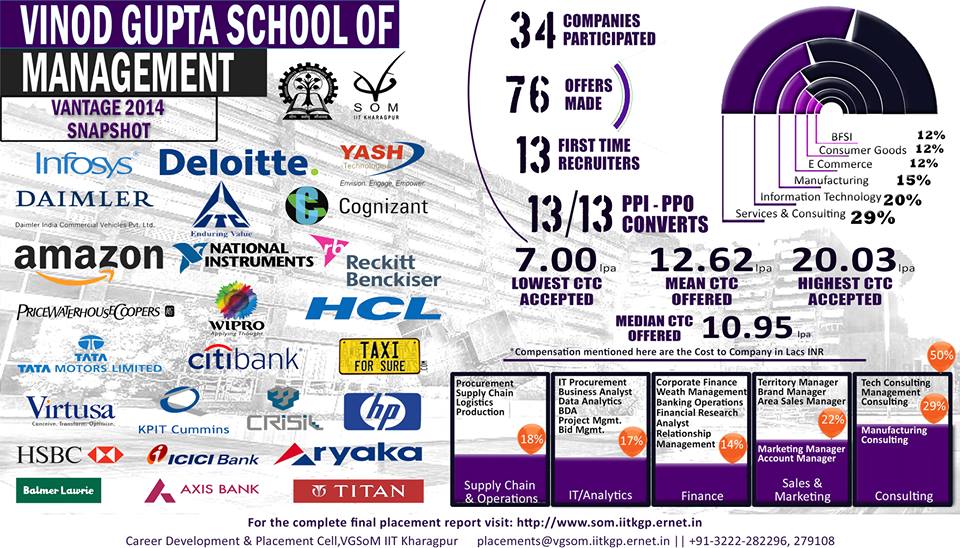 VGSoM Kharagpur
The Vinod Gupta School of Management is a business school in India. It was established in 1993 at IIT Kharagpur and was the first management school to be set up within the IIT system. It was initiated by a distinguished alumnus and a Life Time Fellow of the Institute, Mr. Vinod Gupta. In the year 2018, VGSoM completed 25 glorious years of its existence as a premier B-School of India. Today it is consistently ranked as one of the top 15 Institutes for business management in the country and boasts of a list of illustrious alumni holding prestigious positions in companies across the world.