Final Placements – Class Of 2017 – IIM Indore

Highlights of Lateral & Final Placements 2015-17
IIM Indore, which has the largest batch among all IIMs, has successfully wrapped up the Final Placements for the Class of 2017 with a 27% increase in Pre-Placement Offers.
2. The batch had 611 students across 3 different programs (PGP, PGP-Mumbai campus, IPM) which undergo a common placement process.
3. The placement season witnessed participation a record 200 companies, including a whopping 74 first-time recruiters.
4. Some of the major first-time recruiters include Apollo Munich, Apollo Pharmacy, Atos, Avery Dennison, Directi, Dell EMC, Feedback Infra, FIS Global, Ford, GMR Group, ICICI Securities, Panasonic, Shriram Wealth Advisors, Sundaram BNP Paribas, Vedanta and VF Corporation.
5. Firms like Amazon, Asian Paints, Genpact, Hindware, IndianOil, Indus Valley Partners, Infosys Management Consulting, Johnson & Johnson, Sun Pharmaceutical Industries and United Breweries returned to recruit after a brief hiatus.
6. Strategy & Consulting was the leading domain this year with 160 students securing offers and marquee recruiters like BCG, Deloitte S&O, EY, among others, continuing to recruit from campus.
7. IIM Indore maintained its position as one of the preferred recruitment destinations for the Finance domain with bulge-bracket investment banks like Credit Suisse, Deutsche Bank, Goldman Sachs and J.P. Morgan Chase together rolling out over 30 offers.
8. Leadership & General Management roles were offered by Aditya Birla Group, Airtel, GMR Group, Mahindra & Mahindra, Paytm, Philips, Reliance Industries, among many others.
9. The second batch of the five-year Integrated Programme in Management had 100 participants and witnessed recruiters like Apollo Munich, Avery Dennison, Britannia, Ford, Genpact, Shriram Wealth Advisors and VF Corporation recruiting exclusively from this course. IPM participants also secured offers from marquee recruiters such as EXL Service, HDFC AMC, HSBC, ICICI, JPMC, KPMG, L'Oreal and Mother Dairy, with close to 40% of the batch opting for the Finance domain.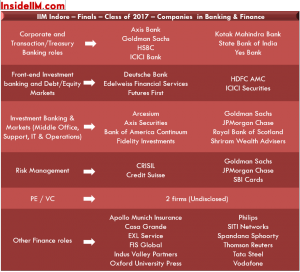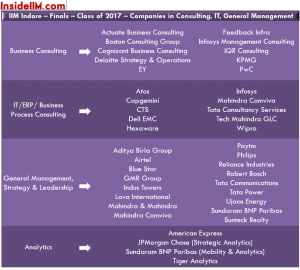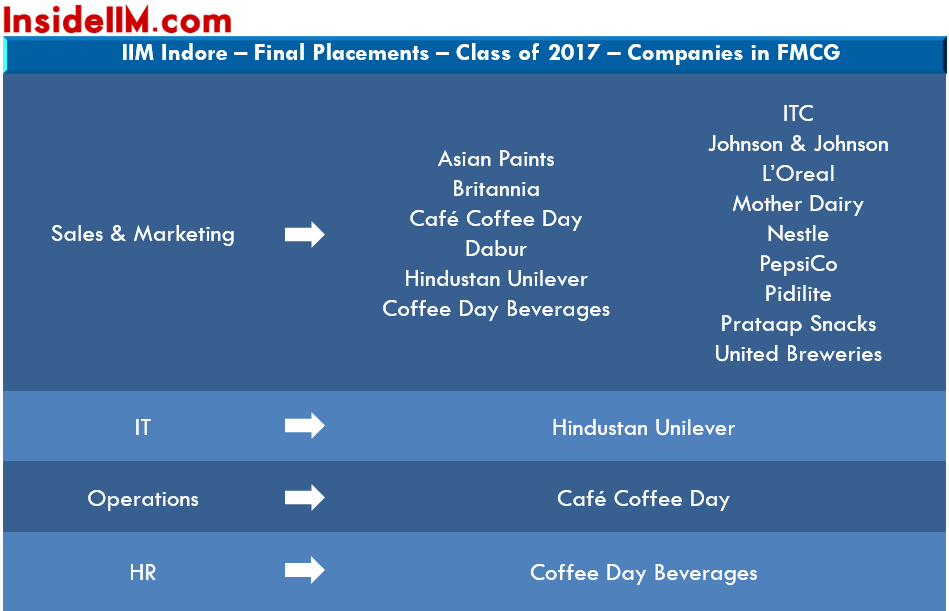 Director's Quote – 
"At IIM Indore, we are confident that our graduates will contribute significantly to make organisations both effective and efficient and this is substantiated by the AMBA accreditation of our courses. Multitudes of leading recruiters have offered various challenging managerial roles to more than 600 of our 2-year PGP and 5-year IPM graduates. Despite the reduction in hiring due to ongoing economic conditions, we have continued to be the preferred choice of campus for many of the industry leaders. We are also happy to highlight the improving performance of our IPM participants. This year a lot more recruiters expressed interest and appreciated the performance of IPM participants in the whole process."