Final Placements – Great Lakes Institute of Management, Chennai – PGPM Class of 2015

Charismatic Cholas, the PGPM Class of 2015, witnessed the best ever placement season this year.  Leading corporates across Industries and functional areas participated in large numbers offering exciting roles.  Top recruiters like Accenture, Airtel, Cognizant, Deloitte, Dell, Genpact, Dunia Finance, HCL, KPMG, MuSigma, Snapdeal, TCS, Universal Consulting, Wipro, ZS Associates and many more, recruited students in large numbers, while Amazon India made the highest offer.
The Average CTC increased from 11.43 lakhs p.a. last year to Rs. 12.02 lakhs p.a. and all 371 students participating in the placement process secured final offers.
Key Highlights
Participation by diverse set of companies across IT/ITES, Consulting, E-Commerce, Analytics, Telecom, Financial Services, Manufacturing, and many more
Maximum profiles offered in Sales & Marketing (32%) followed by Technology Consulting (31%) and Business Consulting (15%)
Average CTC offered for the Class of 2015 is of INR 12.02 lakhs p.a.
Median CTC offered for the Class of 2015 is of INR 11.50 lakhs p.a.
Highest offer made by Amazon India
Sales & Marketing was the top function of choice with 32% of the batch taking up profiles in the area followed by Technology Consulting (31%) and Business Consulting (15%). Sales & Marketing roles were offered by IT/ITES, E-commerce, Telecom and BFSI firms like Airtel, Mogae Media, Cognizant Technology, Snapdeal, TCS, Photon Infotech, Interakt, TVS Logistics, HCL Talentcare, GAEA Technologies to name a few. Techno-Functional/ Consulting roles were offered by firms like Amazon, ITC Infotech, Cognizant, Vitrusa, Wipro, Accenture, Photon Infotech, Infosys, TCS, L&T Infotech.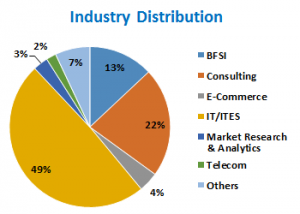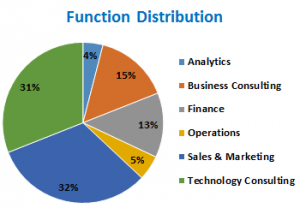 *Others include Advertising & Media, Education,
Manufacturing, Pharma, Real Estate, etc.
While IT/ITES and Consulting remained the top recruiting areas with almost all large companies participating in the process, emerging areas like Analytics and E-Commerce saw many new roles being offered by major recruiters like Blue Ocean, LatentView, Musigma, Amazon, Caratlane, Indiaproperty.com, Matrimony and Snapdeal.
Mr. R. Shreenath, Director – Corporate & Career Services of Great Lakes Institute of Management, said, "We are very happy with the response we have received from the corporates with a larger and more diverse base of recruiters than ever before. This is testament to the confidence of our corporate partners in the quality of our graduates and we look forward to serving their talent needs in the years to come".
List of Recruiters*
BFSI
Bank of America
Dunia Finance
HSBC Technologies
Credit Mantri
eInfochips
iNautix
DCM Shriram
Hansacequity
Scope International
Consulting
Cognizant Business Consulting
People Matters
Universal Consulting
Deloitte US
Prakash Kochar
Virtusa
KPMG
Syncore Consulting
ZS Associates
Mafoi Strategy
Internet Business/ e-commerce
Amazon
Indiaproperty.com
Snapdeal
Caratlane
Matrimony.com
IT/ITES
Accenture
HCL Technologies
Mindtree
Alliance Global Services
iKen Solution
Photon Infotech
Changepond
IMaCS
ZickPick.com
Cognizant Technologies Solution
Infosys
Rapid Value
Crayon Data
Infotrellis
Secova
Dell
Interakt
Saksoft
Fresh Desk
ITC Infotech
Sutherland Global Services
FSS
Kaar Technologies
Tata Consultancy Services
GAEA Technologies
KPIT Technologies
TCS BPO
Genpact
L & T Infotech
Wipro
HCL Talentcare
Maveric Systems
Zycus
  Market Research     & Analytics
Blue Ocean
LatentView
Musigma
Infiniti Research
Telecom
Airtel
Lava International
Mauj Mobile
Others
Amrita Group
Mogae Media
True Value Housing
Galaxy Surfactants
Natural Remedies
TVS Logistics
Greenlam Industries
Next Education
VBHC
Leitner Shriram
* Partial List. Students had sabbaticals from E&Y, L&T – Heavy Engineering, Mindtree, TCS, Wipro Technology
Great Lakes Institute of Management
Great Lakes Institute of Management, established in 2004 by Dr. Bala V. Balachandran, has emerged as a leading B-school in India within a short span of 10 years. Led by exceptional academic faculty, steered by an outstanding advisory council and buoyed by the international collaborations, Great Lakes has, within a short span of 10 years emerged as a top-ranked business school, ranked 8th among 1 year MBA program by Outlook India, 9th under Executive Programs by Business Today, 10th among Executive Programs by CNBC-TV18 and 16th among top Indian B-schools by Business India in 2013. In 2014, Great Lakes was accredited by Association of MBAs (AMBA, UK) for its PGPM and PGXPM programs and became the youngest B-school in India to receive this prestigious international accreditation. Great Lakes has 40+ full time faculty and 130+ visiting faculty including over 20 international faculty from top global schools like Yale, Kellogg, Stanford, etc. Further collaborations with world's leading institutions like Yale University, Nanyang Technological University, University of Houston, University of Bordeaux, etc., have helped Great Lakes in globally benchmarking its programs. Great Lakes has a 27.5 acres LEED Platinum rated green campus in Chennai and a second campus in Delhi-NCR.