Final Placements : IIM Indore – Class of 2012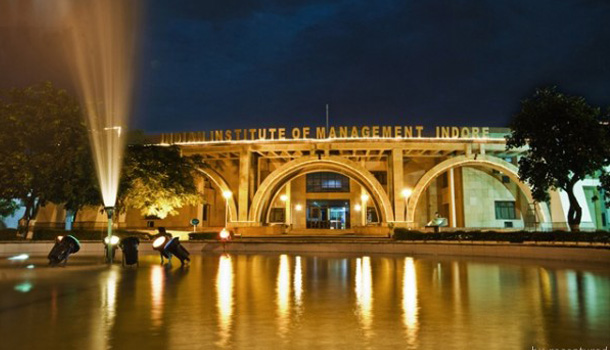 We are extremely happy to have IIM Indore on board with the Placement Committee verifying the report in the InsideIIM format.
However, very disturbingly, a leading management education website decided to copy the InsideIIM format without giving any due credit. This is the second instance in a fortnight There have been instances in the past where management education websites have shamelessly plagiarized effort made by Team InsideIIM. The entire report was prepared by Team InsideIIM and was sent to the Placement Committee for verification. After a few modifications, the report was sent back to us by the Placement Committee of IIM Indore. Somehow a report appeared in a leading management education website in a similar format. The same report was then sent by the IIM Indore placement team to one of the biggest websites in India and they have used the exact same data stripped off all the formatting and branding. This is appalling.  (The previous statement was omitted based on comments below and further investigation on the issue by Team InsideIIM.)
We rely on our readers to acknowledge this and help us reach out to a wider audience regarding who the creators of the original format are. these incidents of plagiarism.(The previous statement was omitted based on comments below and further investigation on the issue by Team InsideIIM.)
Back to the subject of this post, it is necessary to put things in perspective. Class of 2012 was the 13th batch to graduate from IIM Indore and also the largest batch of any IIM at any point of time in history of Independent India. Also, the average pre-MBA work experience of the 443 large batch was over 30 months. The only other institute to attempt something like this has been ISB Hyderabad in its brief history of just over a decade. Just for this reason alone, we would commend IIM Indore for having being able to place over 430 candidates.
The view at InsideIIM is that 100% placements is not a great barometer of an institute's ability or reputation. While a lot of you may disagree, when we look at top business schools in the world it is normal for a big chunk of candidates to remain unplaced 6 months after graduation. We see the same trend coming to India soon. In any case we believe it makes more sense to be unplaced than to take any job that comes one's way.
Highlights of the Final Placement season at IIM Indore :
– Boston Consulting Group returned to recruit again and has become a regular now at IIM Indore.  TAS has added IIM Indore as a campus along with 2 other campuses ( IIM K and IIM S) in the country this Final Placement Season.
– Several middle and senior management level offers were rolled out to match the expertise and preferences of the batch, which had an average work experience of 32 months
-20% year on year growth in the number of offers made per company
– Sales & Marketing and Consulting were the most sought after profiles with 27% and 26% of the candidates opting for them respectively.
-IIM Indore continued its steadily increasing dominance in the consulting domain, with a 90% surge in the number of offers over the previous year
-The 443 strong batch saw a 50% increase in the number of recruiters visiting the campus
– IT/ITES and BFSI sectors rolled out maximum offers to 46% of the candidates. Highlight of the season includes 13% of the candidates opting for sunrise sectors such as e-commerce, Education, Pharma and Healthcare.
-Cognizant Business Consulting (CBC) selected 28 candidates and emerged as the largest recruiter of this season. Global Consulting arm of Tata Consultancy Services and Deloitte Consulting recruited 19 and 13 candidates respectively
– A conglomerate offered EA to MD role to one of the candidates
The list below is not exhaustive – Names of certain companies have been withheld due to non-disclosure agreements with  the companies.
(The new trend InsideIIM has observed this season is placement committees deliberately not wishing to share a few names that have actually recruited. They do this due to strategic reasons. All campuses discover a few new companies or forge new relationships with companies unheard of previously. It happens a lot with hedge funds and certain niche consulting companies. They do not want other campuses to discover names of these companies and target them.)
The above names do not include certain niche consulting and retail companies which have recruited and also offered international placements in Asia – Singapore and the Middle East.
We would also like to point out that IIM Indore was the only campus to separately share names of companies that offered PPOs to its students.
Also, 9 students were yet to be placed as on May 6th,  2012 and the Placement Cell of IIM Indore continues to help them seek quality jobs.
We would like to thank the placement committee of IIM Indore for providing information in the InsideIIM.com format. We believe it will be of immense help to readers, aspirants and recruiters.
This is the seventh in a series of reports that InsideIIM.com will bring to you. We are committed in bringing you a complete picture. We will also ensure that no irresponsible reporting is done on this website. Attempt will be made to verify the data with the institution before any publishing is done. However, lack of response from the institution will not prevent us from providing insight to our readers. We must also put a disclaimer that despite our best efforts it is not always necessary that the data given to us is 100 % accurate.
Also Read:
Insights@InsideIIM :  A must read section for any management education aspirants, current students or recruiters
Knowledge Cafe on InsideIIM : Understanding the Sports Broadcasting business in India
Football Clubs Finances : The Business of Football
Student Exchange – The Most definitive Student Exchange Programme Report – 2011 (One of its kind report for top business schools in India)
Industry Series : Interview with Rishiraj Singh Pruthi – Head, Customer Marketing at Abbot Nutrition
 Interview with Ravishankar Iyer: Building vocational skills for India Tomorrow
Read our Final Placement Reports for the Class of 2012 :
Final Placements: FMS Delhi – Class of 2012
Final Placements :IIM Lucknow – Class of 2012
Final Placements: IIM Bangalore – Class of 2012
Final Placements :XLRI Jamshedpur – Class of 2012
Final Placements :IIM Kozhikode – Class of 2012
Final Placements :IIM Calcutta – Class of 2012
Our facebook page : InsideIIM
Follow us on twitter here : @InsideIIM