Final Placements : IIM Indore UAE – Class of 2014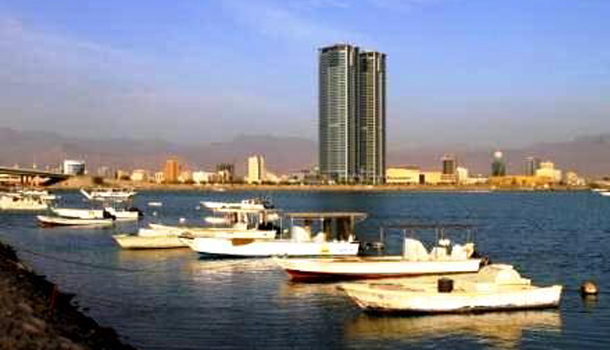 We've recently started reporting on the final placements at IIM Indore UAE in our InsideIIM format. Our knowledge about this program continues to remain a bit sketchy, because of its short history and because it is out of our network. You can read our introductory post on the MBA programme of IIM Indore UAE here. Students and recruiters reading this are requested to do their own research. On the other hand, we continue to receive several queries about this programme on our portal, and we are happy to furnish the placement report in the InsideIIM format, as confirmed by the placement committee at IIM Indore UAE (placements at IIM Indore UAE are independently handled by the institute's own placement committee at UAE, and the parent campus does not actively help in the placement process).
We had earlier covered the final placements for the class of 2013. You can read that report here. We had also covered the summer placements for the batch of 2014 (i.e. this batch). You can read that report here. The inaugural batch had 13 students. The next batch had 38 students. The institute has now moved to a 48-student batch, starting from the Class of 2015. The summer placement report for that batch can be found here.
Alert : IIM Indore has cancelled admissions for the 2014-16 batch. It is unclear whether this programme will survive beyond 2015.
This is the final placement report for the Class of 2014.
Highlights of final placements – as reported by the placement committee.
–    Cognizant Business Consulting (India) and Zahara Petrochemicals (UAE) were the biggest recruiters offering 7 and 6 positions respectively.
–    Arthur D'Little UAE recruited for their Trainee program exclusively from IIM Indore UAE in the Middle East Region
–    Citibank UAE offered their niche wealth management roles.
–    52% of the batch placed in UAE.
–    23 companies for a batch of 38. 1 candidate opted out of placements to start his venture 'AppsOnRoll'
Salient features of final placements for the class of 2014 as noted by InsideIIM – viewed in comparison with summer placements for the same batch.
–    In Banking and finance, the summer placement saw a mix of predominantly Indian and some foreign firms. In the final placements, all banking and finance recruiters are from UAE. None of the recruiters from summer placements are seen in the final placements, although Citibank UAE had recruited for summers (batch of 2015).
– In consulting, getting AD Little (UAE) on board is a quite  a coup for this programme. The number of recruiters has also increased, from mainly Accenture and KPMG during summers, to a wider pool that includes Capgemini, Ernst & Young, and others.
– With Cognizant and Zahara Petrochem offering 13 roles, it means that there were 21 recruiters hiring the other 24 people.
– Other roles which catch the eye are one with Facebook (IT role), another with InMobi (business development).
Do note that a few of these offers like Facebook, Reliance etc. were cracked by the individual student himself or herself. We are happy to announce that the offer rolled out by Aspect Ratio was through InsideIIM.com!
Banking and Finance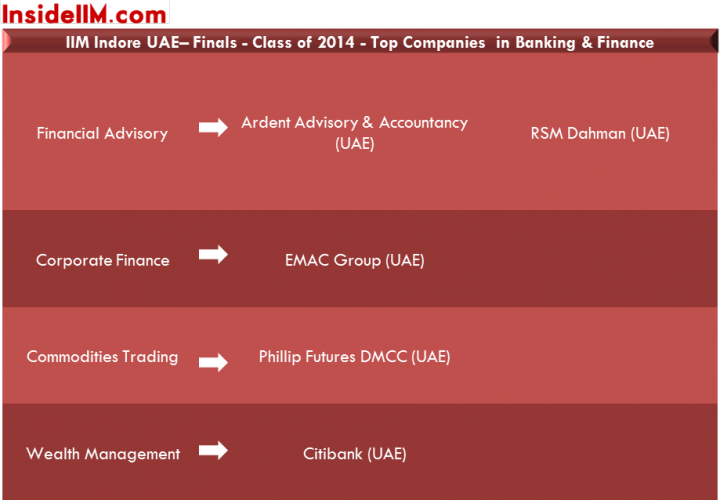 Consulting and General Management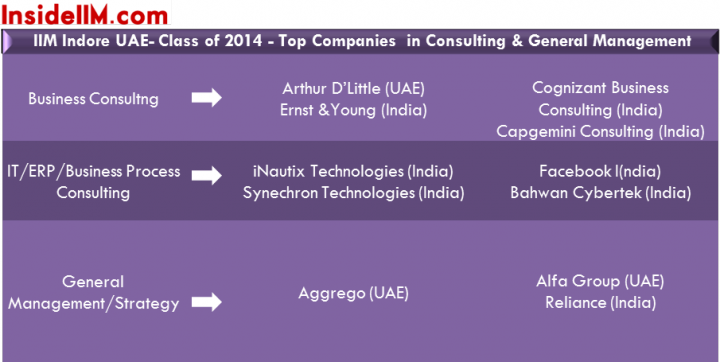 Sales and Marketing, Business Development and Analytics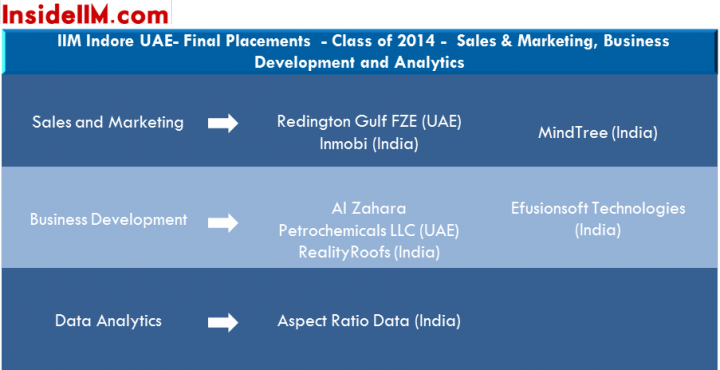 Summary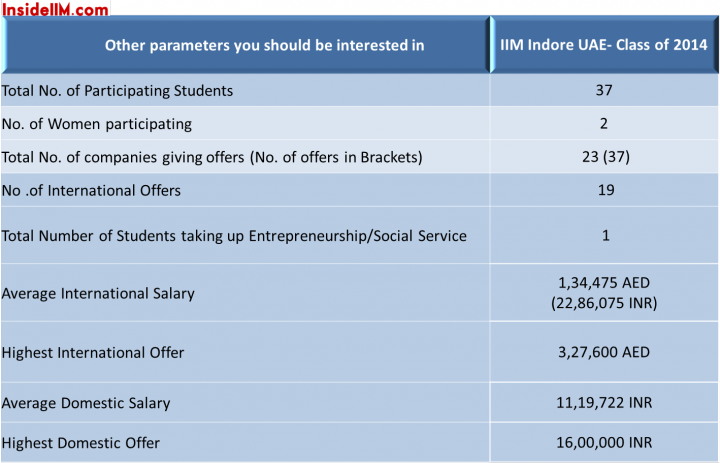 In case you wish to point out anomalies in the report, do write in to us at editor(at)insideiim(dot)com. We will try to clarify it with the placement committee. Anonymity will be ensured.
Earlier placement reports  from IIM Indore UAE
Summer Placements IIM Indore UAE – batch of 2013-2015
Summer Placements IIM Indore UAE – batch of 2014
Final Placements IIM Indore UAE – batch of 2013
Read final placements for the Class of 2014 for various B schools here
Final Placements – Batch of 2014- IIFT Delhi and Kolkata
Final Placements – Batch of 2014- MDI Gurgaon (unverified)
Final Placements – Batch of 2014- JBIMS (unverified)
Final Placements – Batch of 2014- XLRI Jamshedpur
Final Placements – Batch of 2014- IIM Ahmedabad (IPRS verified)
Final Placements – Batch of 2014- IIM Bangalore
Final Placements – Batch of 2014- TISS Mumbai
Final Placements – Batch of 2014- IIM Calcutta
Final Placements – Batch of 2014- IIM Indore
Final Placements – Batch of 2014- FMS Delhi (Unverified)
Final Placements – Batch of 2014- SPJIMR