Final Placements : IIM Kozhikode – Class of 2012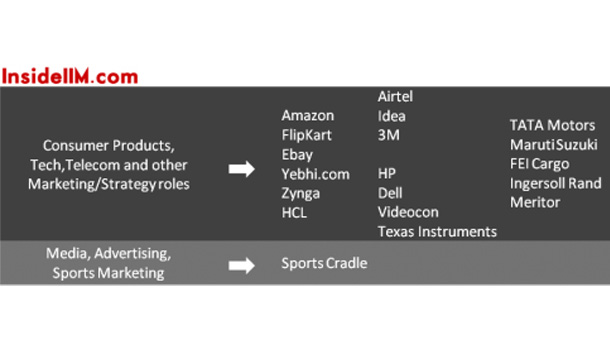 Update on 13th April 2012 – The report has now been verified with inputs from the IIM Kozhikode placement committee.
'IIM Kozhikode successfully completed placements despite a paralyzed economy, increased batch size and global slowdown' says the Placement report sent to us.
Major highlights:
– Tata Administrative Services recruited the highest number of candidates (6) from among all IIMs despite recruiting at IIM K for the first time.
– Average Salary rose by 7% over last year
– No. of PPOs increased from 18 in 2011 to 51 – almost a 3 fold increase
-47% increase in new recruiters which shows increase in confidence of the industry on our students
– Highest Domestic Salary by a Europe based investment bank. Highest International Offer is for a General Management Role
– Sales & Marketing domain saw maximum number of offers at IIM Kozhikode
– General Management saw the highest average CTC
– Madura F&L, Idea Cellular and TATA Motors expressed their happiness and satisfaction with the placement process at IIM Kozhikode
Highest Number of Offers :
Deloitte 16
Cognizant 11
HCL 11
RIL 10
Goldman Sachs 7
Asian Paints 7
Earlier, this report talked about 3 students still to be placed based on an email from the Placement Chairperson. The Placement Office at IIM K has clarified that all 3 students have offers but the institute is trying to help them get better offers. The misinformation was due to a change in guard as a new Placement Chairperson has been appointed.
Please find below information about various profiles based on data in the Placement Report given to us by IIM Kozhikode on 13th April 2012.  The names below may also include companies that gave PPOs and may not have visited the campus for Final Placements.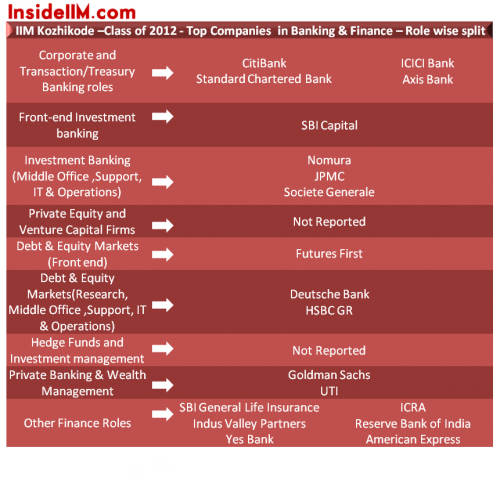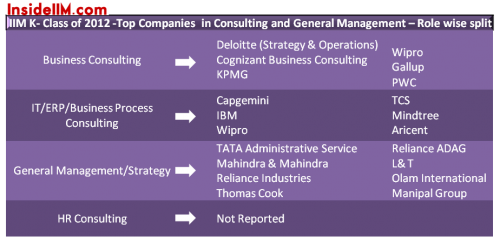 We would like to thank the Placement Committee of IIM Kozhikode in helping us publish verified and accurate information.
This is the fourth in a series of reports that InsideIIM.com will bring to you. We are committed in bringing you a complete picture. We will also ensure that no irresponsible reporting is done on this website. Attempt will be made to verify the data with the institution before any publishing is done. However, lack of response from the institution will not prevent us from providing insight to our readers. We must also put a disclaimer that despite our best efforts it is not always necessary that the data given to us is 100 % accurate.
Disclaimer : InsideIIM.com does not take any responsibility for decisions taken on the basis of the above report. You are advised to check with experts and certified career counselors. Also, the contents of the above report have been changed on 13th April 2012 after engagement with the IIM Kozhikode Placement Committee. An unverified report was published on 12th April 2012. This is now a verified report.
Other Final Placement Reports for the Class of 2012 :
Final Placements :IIM Lucknow – Class of 2012
Final Placements :XLRI Jamshedpur – Class of 2012
Final Placements: IIM Bangalore – Class of 2012
New ! – Industry Series : Interview with Rishiraj Singh Pruthi – Head, Customer Marketing at Abbot Nutrition
The Most definitive Student Exchange Programme Report – 2011 (One of its kind report for top business schools in India)
Articles by IIM K alumnus :
You may also like to read:
Final Placements – Class of 2012 : The big test for the IIMs
Summer Placements 2011-13 – IIM Bangalore
Summer Placements 2011-13 – IIM Calcutta
Summer Placements 2011-13 – IIM Lucknow
Summer Placements 2011-13 – IIM Indore
Summer Placements 2011-13 – IIM Kozhikode
Summer Placements 2011-13 – XLRI Jamshedpur
Summer Placements 2011-13 – FMS Delhi
Summer Placements 2011-13 – JBIMS Mumbai
Our facebook page : InsideIIM
Follow us on twitter here : @InsideIIM