Finance, Consulting and Research again leads the way in Placements 2015 for KIAMS – Achieves 98% placements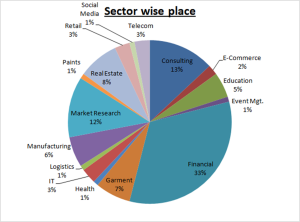 Kirloskar Institute of Advanced Management Studies (KIAMS) students once again stand tall amongst the other leading B-schools in terms of placements.
Placements Report by KIAMS is an eagerly awaited report amongst students and B-schools. This is because KIAMS, along with a few other top B-schools like IIM Ahmedabad, SPJIMR and TAPMI, are signatories to the Indian Placement Reporting Standards (IPRS). As a signatory to IPRS, KIAMS has to get its placement numbers audited by C.A PG Bhagwat, and the last two years' reports are available on CRISIL website. Therefore, the numbers reported by KIAMS are genuine and verified by a credible agency. So, if KIAMS or IIM-A say that 98% of their graduates were placed, then the numbers can be trusted by students.
"Placements have concluded on a strong note for KIAMS students this year,"says Dr. CN Narayana, Director, KIAMS. "We have a strong brand image of converting students into well-rounded industry-ready managers. Companies have shown immense faith in KIAMS by repeatedly visiting us, and of the 75 companies that visited us for the on-campus recruitment, 26 were repeat recruiters. This is an encouraging sign for us."
Nearly 33% of the recruitments were for positions in the Financial domain. 12% of the class of 2015 joined Market Research Firms, while 13% were recruited by Consulting firms. Interestingly, Social Media Agencies were the new recruiters this year. The placement season this year witnessed a spike in startup recruitments, with startups like Enthusionz Services Pvt. Ltd., Jaro Education, faircent.com, and Corporate Culture making their presence felt. The salaries offered were also impressive – the highest salary offered to a KIAMS PGDM passout of 2015 is 7 lakhs, while the average hovered around 4.5 Lakhs.
KIAMS Director –Dr. C.N. Narayana attributed the strong showing to the curriculum at KIAMS, which is the most industry ready curriculum amongst India's B schools. The entire course curriculum of KIAMShas been revamped in a joint effort of the KIAMS Faculty, alumni, who have strong credentials in the corporate world, and industry partners. The curriculum is designed to suit the rapidly changing industry needs. Apart from SIP and short–term projects that give KIAMS post–grads exposure in real time,many students help faculty members of KIAMS with their research work. Electives at KIAMS are aligned to job profiles and they focus on enhancing analytics and skills. Of course, the support of the Kirloskar Group gives a special"on the job" edge, wherein students are exposed to the operations and functions of Kirloskar Group companies.
KIAMS is also introducing a Centre for Creativity and Innovation this year, which will be a first of its kind in the B-school fraternity. This will surely add to the recognition of KIAMS as a leading B school in India, and this will surely lead to more success in placements for its students.
KIAMS Harihar & Pune
OUR STRONG TRADITION OF EXCELLENCE CONTINUES! We live in the world where winner takes it all and there's no place for the second best. Not only do you have to beat intense competition, you have to be at the top of your game and race ahead of time. The forethought of our Director is evident today and his vision is refelected in our main aim: "At KIAMS we aim to provide an outstanding education, academic, social and extra curricular, which give opportunities for all students to excel, thus developing their ability to benefit themselves and others." You need to step up and take on the challenges, consistently hone your skills to be at your best. At the same time you need to keep yourself refreshed and rejuvenated to stay motivated and focused on your goals. Nestled on the banks of river Tungabhadra, is a 6 acre setting that promotes all this and more. Welcome to KIAMS, where idyllic setting meets intense learning atmosphere. A place where you will feel inspired to think creatively, and where the scope of your mind will be broadened so that you can unleash to its optimum potential. A BRIEF PROFILE Kirloskar Group Of Companies, one of the largest industrial conglomerates in India, has been growing and enriching lives for more than a century now. KIAMS was conceived as a training institute and knowledge hub in 1991. It was envisioned as a learning centre where Kirloskar Group Managers shared their expertise, experience and kept up with the latest concepts and movements in Management. In 1995, the training institute was opened to managers all over the country. ACTIVITIES • Management Development Programs - training and consulting education for industry executives • Consultancy - in India and abroad • Research