Finance + Startup = FUN : Made It Happen @ Taxi For Sure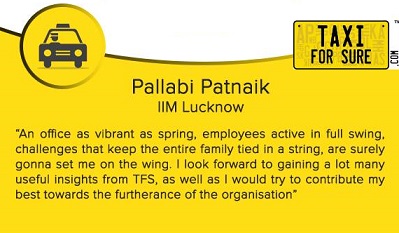 My journey began with me landing at my favourite city of India, Bengaluru. Already excited about spending my summer in a much cooler climate, I geared up for my induction on the next day. 10'o clock sharp in the morning, I was there, standing before the open shutter of the Global Headquarters of Serendipity Infolabs Pvt. Ltd., popular as Taxi For Sure (TFS). Disappointed by the shutter-look of the entrance at first, I climbed up 3 floors, only to be delighted by the beautiful office space laid with vibrant colours and elegant interiors. The environment of the office itself made you feel all energetic and lively. The absence of cabin tradition, ensured your interactions with your colleagues and seniors, and highlighted the flat structure of the organisation. Not in every organisation you go, will the Co-founders and COO devote 3 hours of their busy schedule, just to invite you into the Taxi For Sure family with jokes, stories and life experiences of how the company was started 3 years ago. The Co-Founders Raghunandan G and Aprameya Radhakrishna, and the COO Ronald Rosario, familiarized us with the company's culture and tested our understanding of their operations and strategies from a business student's point of view. Post these interactions, our 2-day induction schedule continued with brief sessions regarding every other department and function the company hosted. I must say, these first 2 days were very enlightening about the various functions of the company and its ambition over the next few years. Along with understanding the company, we interns also got to understand each other and the culture and experiences of our respective institutes. We were a group of around 20 hailing from various IIMs and other premier B-schools of India. And to our surprise, on the 2nd day of our induction, Taxi For Sure completed its 1 million rides and hence we got the opportunity to experience the grand celebration and have a look at the balloon clad Jaguar, which was sent to the customer taking the one millionth ride.
The induction ceased with the allotment of functional roles. Owing to the fact that I am specializing in Finance, I was delighted to have been selected for a role in the Finance domain under the Finance Controller of the organisation. Being an engineer, this was my first exposure to a core financial role. I built up on my expectations and made up my mind to make the most out of this opportunity. The next day I and my co-intern in Finance went up to meet our reporting manager who greeted us with a broad smile and firm handshakes. We were called into a meeting room with her, where she gave us an outline of where the Finance domain features in this company, which functions as a cab-aggregator. We were given a brief of what our projects would be aimed at and what her expectations from us would be. Then we were introduced to the entire Finance Team at TFS. We then moved to our prospective seats, when I realised that coincidently, I would be sitting next to one of the co-founders of the organisation, owing to the cabin-less, flat structure of the organisation. It was scary, but hilarious.
Our project commenced with defining metrics and developing working models for the performance measurement of the organisation as a whole, with special emphasis on the financial aspects. After proceeding with this part, we had to bring in process improvements as well as standardise and document the entire working of the finance functions in the organisation. The biggest challenge in this project task was fulfilling the basic requirement of interacting with people. Being a start-up company, all the employees used to be extremely busy and engrossed in their work. Hence, in the initial days, it was very difficult to extract information from multiple departments and functions so as to proceed forward in our project timeline.
In spite of being busy throughout, the people were very courteous, friendly and helpful. We interns had soon built up a rapport with most of the employees in the organisation. Whenever people had time, they readily interacted with us, giving us very useful insights and new directions of thought. Our project started speeding up towards completion. And along with this professional journey, emotional connections started developing on the go.
Being the first batch of interns at TFS, we had an Interns Day celebrated. The event Alfresco was a collaborative effort of all the interns, where we ignited the spark of fun and entertainment among all the employees of TFS. It was a breakthrough from their busy schedules with exciting quizzes, games and even sweets eating competitions, followed by rooftop party with DJ and dinner.
 Besides all the fun we had as a team of interns, we had developed a close connection with our Finance Team in particular.
"Finance could be financially lucrative but is substantially boring"!
Do you believe this? Ah … Well I hear this from every non-Fin MBA around me, who proudly claims to be from a more happening and fun-filled role. And now I can technically oblige them to amend their negative views about Finance. It's time for a twist in their opinions. All thanks to my internship at Taxi For Sure, where the Finance team accounted for some of my most memorable and fun days at work.
Team Finance was notorious for not participating in any activity other than its regular work role. The team used to be glued to its seats, with eyes focussed on the laptop screens. But today you see them merrily moving about, cracking jokes, playing pranks, giggling and laughing out loud, going out for short outings and snacks together. What brought this change? We Interns? No, we did not force any change.
They had the spark, we just ignited it.
Our first breakthrough began when we packed our bags and left office early to begin our Fun Tuesday, with a pleasant evening-out to the IIM Bangalore campus. After long security checks, the beautiful campus greeted us in. The cloudy evening and cold wind breezes just made the evening perfect for a leisure stroll through the campus. The lush green banks of the road soothed our eyes, while the huge grey stoned infrastructures made it no less than a visit to an ancient fort or a famous tourist destination. Strolling through the alluring campus we reminisced some of the "3 idiots" movie moments, starting from the famous 'anda scene' spot to the tall water tank. This was followed by a sneak-peak at the hostels and its rooms, complemented by room delivery of multiple tasty varieties of Maggi and some quick pick-ups from the Au Bon Pain Outlet within the campus. Of course, we couldn't have ended the trip without a snap with THE IIMB LOGO. And here it goes.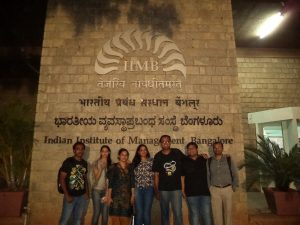 It was now time to put a temporary halt at these unending photo-shoots and we proceeded for the next episode of our Fun-Tuesday @ Cosmopolitan Club, Jayanagar.
And the bowling at Amoeba began.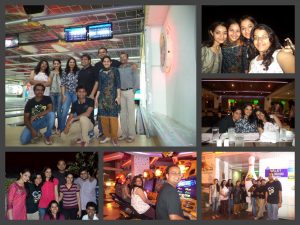 We had some excellent bowlers, rather, excellent first-time bowlers in our team. Clean sweeps after sweeps, it was a close call between the leading scores. The game brought about laughter on the faces of even those who always restricted themselves to silent smiles. The bowling game had unravelled the fun-component within everyone. People were thirsty for more games. So we continued our adventure with air-hockey, basketball and even bike racing. It had been a long day, but we were neither drained-out nor was our thirst quenched. After exploring all our skills at the Gaming zone, we proceeded for a sumptuous dinner @ Chutney Chang, the longest buffet of Bangalore. This marked the end of our Fun-Tuesday with a few final photo-shoots before departing. But the fun did not depart. Neither did the pranks, the jokes and the laughter.
Team Finance is still the most workaholic team, but now it works with a fresh tint of fun and entertainment.
Efficiency is at its best when it has an icing of a hearty smile.
The breakthroughs continued…
With all the fun and learning clubbed together, 2 months just swept away. It was time for our final project presentations, where I witnessed the hard-work and effort put in by each and every fellow intern. All our projects were highly appreciated by the executive committee and it felt proud to realise that the contributions we were making during our internship period will definitely be given an opportunity to be implemented.
And then the moment arrived. The moment of parting away. It was the day of partying, dancing and running around inside the office, bringing out the child within every employee once again, before we stepped out of the office. And it was garnished even more with the creative FIN minds. Yes, I said 'creative & finance'. The Farewell and the coffee mugs … Aww … We just loved it.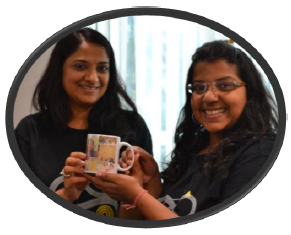 I am sure we can confidently amend the 1st statement now. No one has enjoyed even a fraction of what we have done. We are truly the "Fun-Fin Team". Three Cheers to Us.
Further working in a start-up, with such an open culture and energetic friendly employees, was one of the best learning opportunities I could have got during my internship. And the best part was that none of us were required to remain confined to our project domain. I explored many other functions in depth. I travelled more than 15 times through cabs booked through Taxi For sure during those 2-months, which further helped me figure out the bottlenecks of the company from the point of view of a customer. Accordingly, I contributed suggestions for improvement both as an employee and a customer and was recognised for the same too.
Before we bid a good-bye, let's look back and cherish the last unforgettable moment with my Fun-Fin Team and our co-founder Raghunandan G.
My Sincere Thanks to TFS for all the learning and the opportunities to explore my abilities.
———————————-
(This post is an entry for the Summer Saga 2014 contest)
Pallabi Patnaik
IIM Lucknow