First Day Of MBA Journey – IFMR

It all came to an end I thought, all those sleepless nights and sweating in the middle of the night. This had to stop somewhere, never knew when it would. With that thought in mind, while entering into IFMR, the only thought that was all the time pinching me was how to get the most out of the investment in the form of money.
Mr. Vikas Gupta, MD-Talent, Deloitte Consulting India Pvt. Ltd. and TA Verghese, Global Business HR Head, TCS started addressing us. They recklessly thrashed every brick of the wall we had built around us, the wall that confined us to the smaller dreams, which were pretty much, obvious to happen. They made me realise that the world is much bigger. I trusted them, for they have seen the bitter world, and were not spoon-fed anything like our generation. the first few minutes of their addressing assured that jobs aren't going anywhere; it was more about what I wanted to achieve and what else would I like to add, that later in my life, I can say is my legacy. Dream bigger, but keep every option plausible. Be like the water, flow through anywhere. Develop the base, and you will be able to play at any surface.  After that amazing revelation session came a dynamic soul, named Shounak Chakraborty. As a part of the education, aside from improving our problem solving activity and scoring better grades, also improve the social, intellectual and emotional quotient. Dreaming became a real life thing, actually happening, that too in the daily schedule, we were not required to do anything but dream. Be open to our dreams, and at the same time, get to know what our true potential really was. After we became acquainted with the jargon, and now it all felt a simple task, with an attempt to recharge our cortex.  Clarity is the most important thing in life, I heard, I felt, believed, but was never so clear about that. This was completely new for me. It was less of a workshop, and more of, as a much needed life lesson. What I had thought of the life in a B-School to be; monotonous classes from breakfast to post-dinner case studies, competitive nature of students, in contrary to that, people here were more friendly and just amazing go to people. Classes, for those who wanted to be a part of the transformation process were now fun with learning.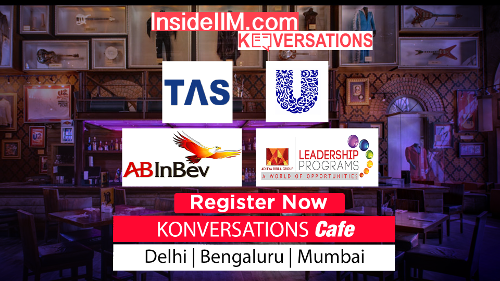 We were gaining what we had lost in the previous years in gathering knowledge; absorbing the wisdom. Future, for sure is uncertain, but something what I recalled from a class 8 version of me, was a simple 2 words phrase; "we can". These lines once again given me the confidence I had lost.
————
About the Author:
Tanmoy Mukherjee
"First-year MBA student at IFMR"
IFMR Graduate School Of Business, Krea University
Established in 1970, IFMR Graduate School of Business, Krea University is a leading business school with the objective of moulding ambitious young men and women into competent and socially responsible organizational leaders in a global setting. IFMR GSB is fortunate to have pre-eminent faculty members, most of whom have Ph.Ds from well-known institutions in India and the United States.