My First Week At IIM Lucknow Noida Campus – Pranay Chafle's Story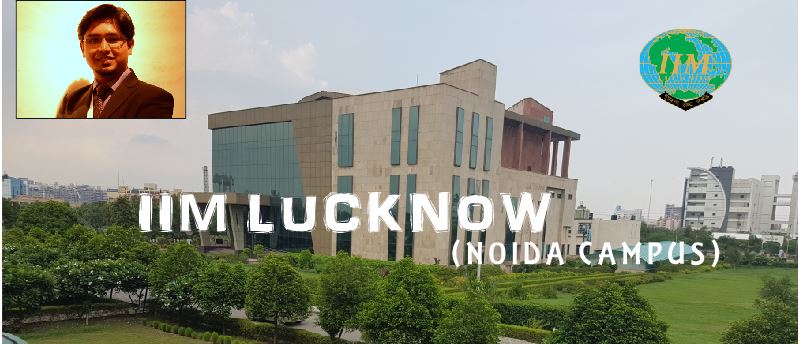 It was a bright and sunny day. The sun was shining in its full glory when I first stepped into IIM-L Noida Campus. I was awestruck by the colossal façade and the grand entrance in front of me. Overwhelmed with joy by the sight of billboard, which said 'IIM Lucknow Noida Campus', I then realised the real meaning of the expression 'Dream Come True'.
I was sent to the Executive Hostel by the guards at the gates, where our warden, Mr. Dilip, greeted me with a warm smile. After all the initial formalities, I was given my room keys. First I was little apprehensive about the condition of my room but took a sigh of relief after an initial scrutiny. Later that afternoon, I met with all my peers at lunch. We exchanged our greetings, more formally than casually. Everyone was trying to get to know each other and their whereabouts. It was visible from our faces that we were in a state of elation.
Subsequently, we formally met with our seniors in the evening. Some of us already knew them through a Whatsapp group. I must say, the seniors played a crucial role in our decision making process to select this niche path of Sustainable Management and I am thankful to them for all their help. During our interaction, they dropped the first bomb of assignment which was to be submitted by 3 A.M. Every one of us was so confused and worried about its feasibility. But I guess this was our initiation into the culture of IIM-L and I enjoyed every bit of it.
The next day was officially our first day at IIM-L. It was inaugurated by The Director, The Dean, Chairman, chief guests and all other dignitaries of IIM-L and PGPSM course. Being a new and niche program, PGPSM raised a plethora of questions and attracted lot of apprehensions in my mind, but upon listening to the address of all the dignitaries, it disappeared like a puff of smoke. Their reassurance about our decision made me confident and proud of it. Their address made me more determined and evoked a sense of responsibility towards our environment and society. Moreover it encouraged me to work harder for a sustainable world. The subsequent induction classes worked as a catalyst that strengthened my belief. The curriculum is designed in such a way that it will engrave this feeling and help us all in our future endeavours.
To conclude, my first week at IIM-L had been very exciting and encouraging. I have embarked on the most memorable journey of my life and my peers and the faculties are the most important part of it. It is just the beginning of that journey and there are many more milestones to be achieved, many hurdles to be crossed and many challenges to be faced. I am confident that nothing is impossible and all of this can be achieved with collective and collaborative effort.