FMS Convention 2016 : Annual Leadership Summit

Faculty of Management Studies (FMS) is one of the oldest B-Schools in the country, established in 1954 under the aegis of the University of Delhi. The institute was started as a part of the Delhi School of Economics and has grown to be a full-fledged management institute. Being a part of University system, it has been contributing to the industry, business, government and social sectors. Its alumni have excelled in various sectors of the economy. The vision is to develop FMS as a world class university based institution which strives for academic excellence and thought leadership in the field of management education.
FMS, since its inception has believed in the goal of creating World Class leaders, and therefore, has worked towards organizing the Best B-School Festivals and Leadership Summits in the country. The aim of these Business Festivals is not only to impart knowledge and required skills amongst the students but also to bring out the best in them. FMS Annual Convention is one such event which is awaited by students every year.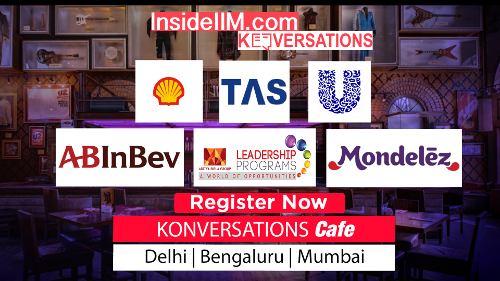 This year we are holding our Annual Leadership Summit: The FMS Annual Convention. The details of the event are as follows:
Theme : 'Transforming India: The Road Ahead'
Panel 1: Skill India: 'Meeting of the Minds' of Management Educators
Chief Guest: Mr. Alok Kumar Verma, Commissioner of Police, Delhi
Prof. M. L. Singla (Dean, FMS) [Moderator]

Prof. Ajit Prasad (Director, IIM Lucknow)

Prof. Kanika T. Bhal (Former Head, DMS, IIT Delhi)

Prof. Atish Chattopadhyay (Director, IMT Ghaziabad)

Prof. C.P. Shrimali (Director, MDI Gurgaon)
Panel 2: Transforming India : Value Addition by the Corporate Sector
Prof. V. Suneja (Professor, FMS Delhi [Moderator]

Mr. Piyush Pandey (National Creative Director, Ogilvy & Mather)

Mr. Saurav Mukherjee (Director, Bennett Coleman & Co. Ltd.)

Mr. Atul Kunwar (President & CTO, Tech Mahindra)

Mr. Sujitesh Das (VP Strategic HR, Microland)

Ms. Geeta Khurana (Global Head – Transformations, Denave)  

Mr. Lalit Agarwal (CMD, V-Mart Retail Limited) 
Event Details:
Date: 11th September 2016, Sunday
Time: 8:45 a.m. to 4:30 p.m.
Venue: Manekshaw Centre,, Khyber Lines, Delhi Cantt.