Once You Are At FMS, You'll Never Want To Leave – Aman Jain, FMS Delhi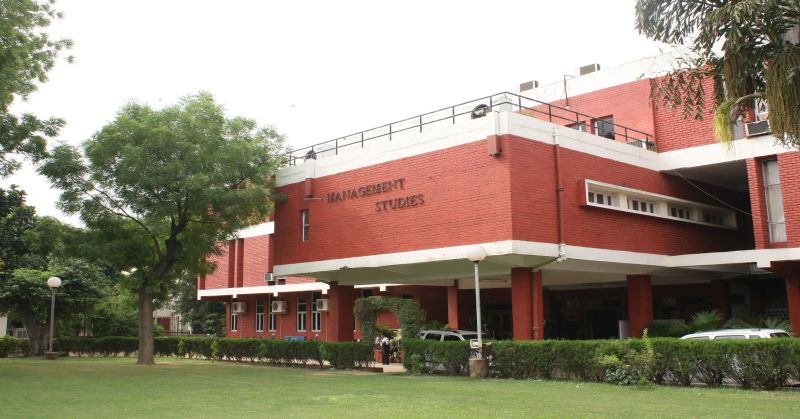 What makes my campus unique is every individual on this campus is an institution in itself. We are individuals making psychological communities at one place. The most common line that echoes in each and every classroom and is reiterated by every professor at FMs is 'Once you are here at FMS, you'll never want to leave this place'. Such is the attachment and the value system associated with this campus where the values and beliefs instilled into us by this system and professors not only help us turn into good managers tomorrow but also a responsible citizen of this country.
What differentiates us at FMS is that we don't compete with each other here rather complement each other's work, performing to the best of our abilities and aspiring to be a great person in spite of all the constraints. The small batch size and a small building, our two biggest assets ensures that we are continuously barging and bumping into each other at every corner of this building. During the tenure of our course here, we turn from a bunch of strangers into that one large family where we live under the same building that becomes our home, professors starts assuming the role of guardians and parents and our very own seniors battling every situation that comes along our way, the same way our elder brother and sister would have done.
We proudly refer our campus as the 'Red Building of Dreams' because from the moment we step into the campus we are always encouraged to pursue our dreams and work for something that excites and motivates me rather than something that is expected out of me in a traditional MBA college system. The small fees of our college as compared to the gigantic amounts taken by other B-schools gives us that breathing space and flexibility where we can dare to pursue our dreams without the fear of a huge amount of loan looming over our heads. We are able to reap the benefits of this not only during our college journeys but also during our professional careers where we start on a strong economic footing with no liabilities dragging us down as compared to our peers from our school.
The learning opportunities available at the campus are immense but we are only a single cog in the wheel of this institution as a whole – Delhi University. This we consider as an advantage that makes us better than any B-school in the country, because we are in system where we brushing shoulders with the students of 86 departments in this University. This opens up the floodgates for us and provide an entry into altogether different dimension where we have huge opportunities to learn and be grow into a person who is well informed and knowledgeable person.
A memorable classroom experience in my B-school
During the Organizational behaviour class, we were given a personality conflict case study where we as a group have to analyse the personality traits for both the individuals and try to analyse the points of conflicts for both of them and providing a genesis of the case.
The experience was memorable in the sense that it was an out of box exercise where we went beyond the traditional teaching of a classroom and was more of a combined knowledge sharing session, where people put their heads together and share different perspectives of a very common issue or a problem.
And knowing such diverse viewpoints is always of use as we will working in form of teams for the future years in a professional system. And we as the future managers need to have this quality of taking our team together despite of the diversities in viewpoints present as working in a team has its own benefits of collaboration, new perspectives and provides a support mechanism in the team members.
All these positives made it an immense learning experience, the takeaways for which will help us in the future course of our professional career.
Introducing – some of my crazy batch mates
Our batch is full of people with varied academic qualifications and extraordinary talents and experiences. Some of the crazy, interesting experiences of some of my batch mates are:
• Saswat – He is a mechanical engineering who dared to opt out of placement process to prepare for civil services and aspire to work in the developmental sector after my MBA , making us feels if he has gone out of his mind but his mom is an artist, and taught him calligraphy and he is now pretty good at that. He has also won some inter- school competitions and can do origami and once made a bride out of a single piece of paper, gifted a girl an original rose inside an origami box once.
• Arimardan – He aspires to opt for a consultancy firm and when I asked him to share his experience with him this is what I got, a structured and a point to point answer.
Wanted to go to Ladakh
• Step 1- Planned the trip
• Step 2 -Booked flights
• Step 3 -Bought a bike
• Step 4 -Learnt the bike
• Step 5 -Taught another friend the basics
• Step 6 -Went to Leh
• Step 7 -Rented two Royal Enfield
• Step 8 -2nd and only pro rider got injured
• Step 9 – Helped the rider I taught on my bike ride solo through Khardungla.
• Roopali – It was during her last few days in Bangalore and she was out with her friends at their favourite hangout place. The nostalgia of visiting the place had already started to kick in but in an urge to create unforgettable memories of the place, she was dared by her friend to sing a song on open mic. Her friend made her sing the song "Raja Raja " in front of a full house in one the most posh places and the worst thing that happened was after that the hotel people put up the snippet of the gig on their Facebook page to make her haunt for the rest of her life.
• Harsha – Once she had to go out for a haircut but then suddenly changed her mood and felt lazy to even step out of the room. So, she decided to open YouTube, took scissors and started chopping her own hair. And the best part she had no prior experience of cutting anyone else's hair, let alone her own hair. But thankfully for her, this daring experiment didn't land her in a lot of trouble and the final outcome was more or less okayish.
These are just very brief experiences that can make people under estimate the crazy quotient of our batch but believe me you'll be very wrong in making that assumption.
Which ABG company would you want to work for and why?
I really want to pursue a career in Aditya Birla Idea Payments Bank Limited. I have a prior experience in working in the banking sector where I was handling the credit card portfolio of a US bank. Now, in the current scenario where the GDP of India is poised to grow, and the central government stressing on promoting the digital payment after demonetisation, the sector of payment banks is set to show exponential growth. I really want to be the part of a sector where I can witness the growth and live the journey of starting from scratch to being a specialist.
Placement Cell FMS Delhi
Established in 1954, FMS has been a pioneer in India offering management education. FMS has the unique advantage of being a premier 'B-school' in a University milieu and in the national capital, thus offering valuable opportunities for our students in interdisciplinary learning and to undertake live projects from national/ international organisations. FMS is proud of a long list of illustrious alumni. It has rich legacy and history of producing World Class Business Leaders who are ranking stalwarts in Top MNCs across the globe.