Foundation Stone Laying Ceremony of IIM Udaipur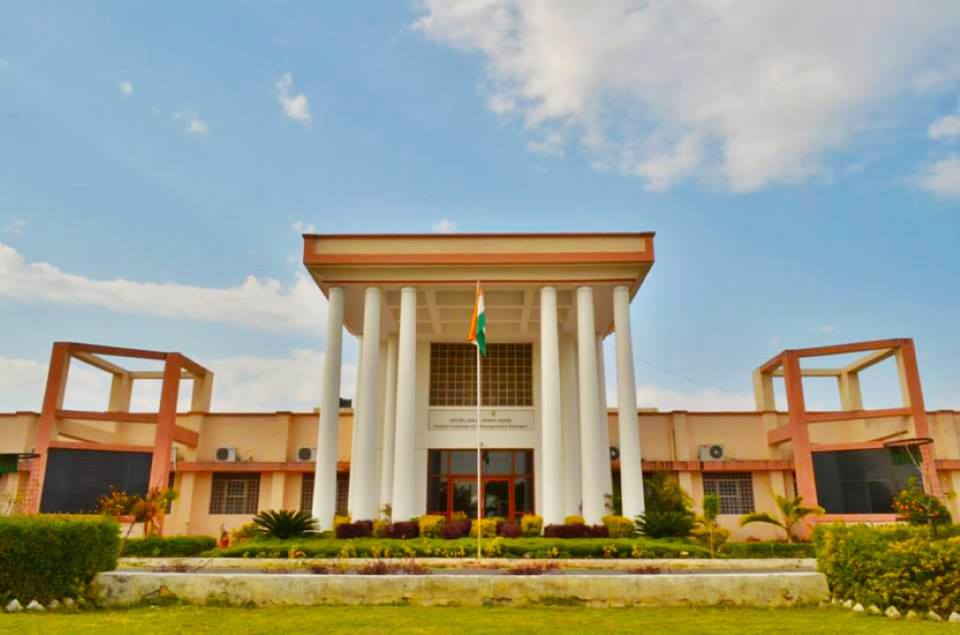 The much awaited foundation stone laying ceremony of IIM Udaipur was held on 13th February, 2015 at the site of the institute's upcoming campus at Balicha, Udaipur.
The Balicha campus, which is spread over an expanse of 253 acres, is set to be the largest IIM campus in the country. The campus will have state of the art facilities in terms of both academics and extra-curricular activities, to facilitate holistic development of its students. In accordance with IIM Udaipur's constant endeavor to be environment-friendly, particular emphasis is being laid on ensuring that the new campus is a green campus, with over fifty percent of space being reserved for parks. The new campus will also house twenty-seven water bodies of different sizes.
With the vision of setting new standards for sustainable and energy efficient academic institutions, construction of the new campus was initiated on barren land of 300 acres which was devoid of vegetation. With the help of xeriscaping and added area research, a green belt is being created which will be an inspiration for the native arid zone. Traditional water harvesting systems are being employed, to create a self-sustainable campus in terms of water demand, which will help neighbouring villages and surrounding zones to achieve water efficiency. In terms of green technology, the highlight of the new campus is that it will be a net zero-waste campus where all waste will be treated as a resource.
The ceremony began with the unveiling of the foundation stone by the Chief Guest, Smt. Smriti Zubin Irani – Union Minister of Human Resource Development, Government of India. The event also had Smt. Vasundhara Raje – Chief Minister of Rajasthan as the Guest of Honour.
Post the unveiling of the foundation stone, the lighting of the lamp was done by Smt. Smriti Irani and Smt. Vasundhara Raje. The welcome address was then given by Shri. C. K. Birla, Chairman – Board of Governors, IIM Udaipur. Mr. Birla spoke about the role of management institutes as a bridge between academia and industry. He also mentioned that the vision of IIM Udaipur is being committed to research and generation of new knowledge in the field of management. IIM Udaipur would be achieving this, through its mission to inculcate values that will guide the journey of its students as leaders. Mr. Birla also discussed at length about IIM Udaipur's emphasis on development of the region and on constantly striving to be a world class institute.
Smt. Vasundhara Raje heralded the laying of IIM Udaipur's foundation stone, as a very prestigious event for the region. She emphasized on the need for IIM Udaipur to become a Centre of Excellence for Rajasthan.
Smt. Smriti Irani then addressed the audience and mentioned the laying of the foundation stone as an initiative to give substance to the dreams of many aspiring students. Ms. Irani also discussed about initiatives that should be taken up at IIM Udaipur, namely world class water management research that would benefit the entire state of Rajasthan, adoption of five surrounding villages by the institute to help improve their standard of living, use of agro-based industry skill development technologies from India and abroad at the institute, and development of a centre for tourism and hospitality on the campus.
Prof. Janat Shah, Director – IIM Udaipur then expressed his gratitude to all individuals, organizations and especially the Centre and State of Rajasthan, for their unwavering commitment and support. Some of the other dignitaries who attended the ceremony were Shri Arjun Lal Meena – MP (Lok Sabha), Shri Phool Singh Meena, MLA – Udaipur Rural, Shri Kewal Nohria, Member – Board of Governors, IIM Udaipur, Shri Shailendra Kumar, Director (Management) – MHRD, Govt. of India, Shri Ashwini Bhagat, Secretary – Higher Education, Govt. of Rajasthan, Prof. I.V. Trivedi, Vice Chancellor – Mohan Lal Sukhadia University, Shri Bhawani Singh Detha – Tribal Commissioner and Shri. Rajendra Pawar, Chariman – NIIT & Member – Board of Governors, IIM Udaipur.
The ceremony came to an end with the playing of the National Anthem. With the laying of the foundation stone, work on the new campus has begun in full swing. Future batches of IIM Udaipur can look forward to moving to a campus with world class amenities that is known for the competitive students it produces, as also for its constant efforts to build a sustainable campus that works with the local community to create an ecology that is beneficial to both the institute and the region.