Four Screwy People At IIM Trichy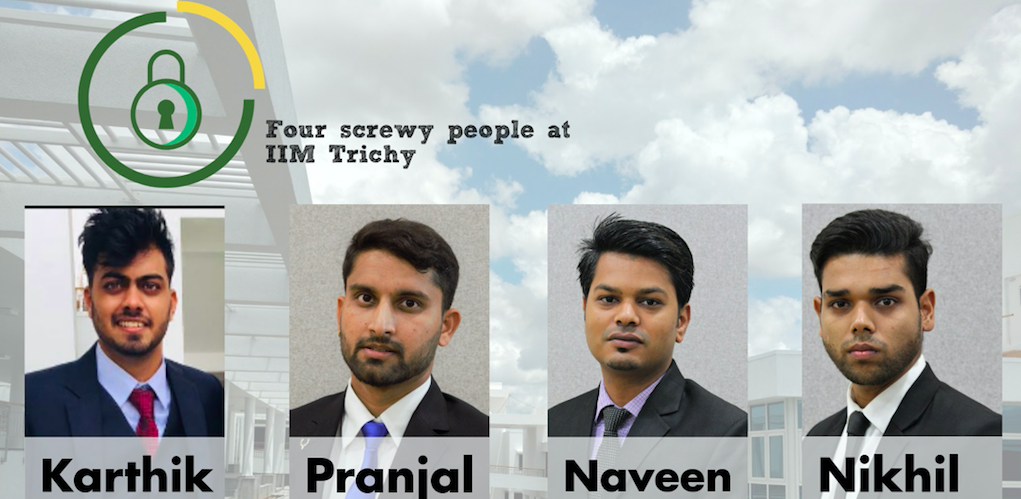 Below are the four names coming to top of my mind from our batch (PGP 2017-19) at IIM Trichy. Without them, my first year would have been lackluster. All of them are eccentric in their own way.
Introducing:
Mr. Karthik Tarase, an exuberant and light-hearted person whom I met on the first day of my MBA owing to the alphabetic seating arrangement. One thing which keeps him apart from the crowd is his hobnobbing ability with everyone which probably made him the most popular of our batch.
Any professor asks for some example, he would either come with his experience at Nokia or at event management. We were so used to his examples which he uses almost in every subject that whenever he starts giving his patented examples, the whole class starts booing. However, these two examples have helped him to score full marks in the CP (Class Participation) components.
Mr. Pranjal Pushp Singh, not at all a typical Bihari except his accent. Probably the best-looking face in the campus. And I feel he finds contentment in it when someone talks about his good-looking face. He cracks jokes on the spot. Most of them are hysterical but few them are pure poor jokes.
I could still remember his presentation in one of the marketing courses. He almost took 12 minutes out of stipulated 15 minutes time and hence other group members did not get time to present. When we asked him, why has it happened? We all were flabbergasted by his reply- "The topic was about Royal Enfield and I became emotional while speaking about it. The brand is close to my heart". Nevertheless, a diligent finance enthusiast putting in immense effort owing to not having a finance background.
Mr. Naveen Sharma, popularly known as Chacha (uncle) among us. A typical Haryanvi with a belligerent look lashing out about someone or another. Even Professors sometimes are victim of his opprobrium. We do not expect him in a group meeting, he is kind of a free-rider and he is quite happy about it. Nevertheless, a quick-learner and puts in calculated effort in his academics.
Mr. Nikhil Mayank Pandey, a beefcake and a diehard fan of Bhai (Salman Khan) who is much more concerned about his diet and health than anything else in life. Most of his time goes into watching TV series in Netflix and Prime or in some physical exercising. Least bothered about learning anything but marketing. A marketing enthusiast having a very good public speaking ability with whom if you talk, you might come across few new English words daily.
Nevertheless, all the above four people are my close friends at IIM Trichy. Most of the days' time I spent with them, which I really enjoy. I wish to continue this friendship for the rest of my life.
P.S – Stereotyping has been done to make the writing evocative.
Which ABG company would you like to work for and why?
The ABG company for which I would like to work for is ADITYA BIRLA RETAIL LIMITED. Being a marketing and operations enthusiast, I always wanted to work for Retail industry; e-commerce of retail to be specific. Despite its huge growth potential retail has always been a dynamic industry. For all the organized market players owing to the recent stiff competition from e-commerce have necessitated the need of looking into their strategies. I aspire to contribute to ABRL in some way in making their future strategy.
-This article is written by Kumar Rajib Das – Class of 2019