Freedom 251 Turns Into Fiasco – Views From Prabhakar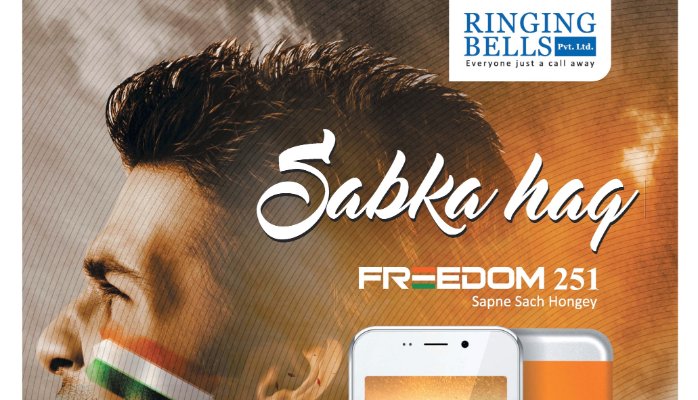 If you were one of those eager beavers like me who were waiting for India's $4 smart phone wonder and was madly prancing around after seeing the 2 full page ads in your morning newspaper, and rushing to their website to book yourself the world's cheapest smart phone you were in for a rude surprise.
Because a $4 phone was what everybody wanted and eagerly waiting for even if you were a snobbish Iphone 6 plus user.  Because a $4 smart phone even for the snob is reverse snobbery at its best.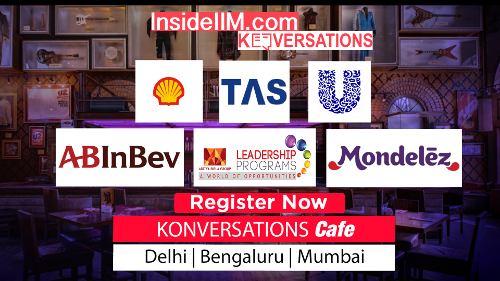 The first ad that appeared promised the Indian masses that it was going to deliver them into the digital age (even those who were denied of Free Basics a month ago).   The headline boldy said 'Sabka Haq' which translated into English as  'Everyone's birthright'.  Followed by a sub head that said ' Sapne Sach Hongey' or your dreams will come true.  The generous use of the Indian tri-colour was also misplaced.
Funnily enough it was sad that the name of the manufacturer was Ringing Bells Pvt Ltd  because all the wrong bells were ringing for the poor phone manufacturer this morning.  Their baseline read 'Everyone's just a call away' but they were certainly not a click away.
While I madly rushed to my computer dropping everything else in sight, I managed to book myself one only to be disappointed at the buy stage.  After filling in my details like millions of Indians and pressing the buy button you were either directed to a blank page or  redirected to filling in your personal details again, and again, and again.  After going through the process a good 5 times, I blamed Apple for its Safari browser, went on to Firefox and Chrome with no luck.
Only to find that Freedom#251 was already trending on Twitter with millions having fun at the expense of the poor manufacturer.
In fact they were so unprepared that if you were to enter 0.5 phones as the quantity it showed you a phone at half the price.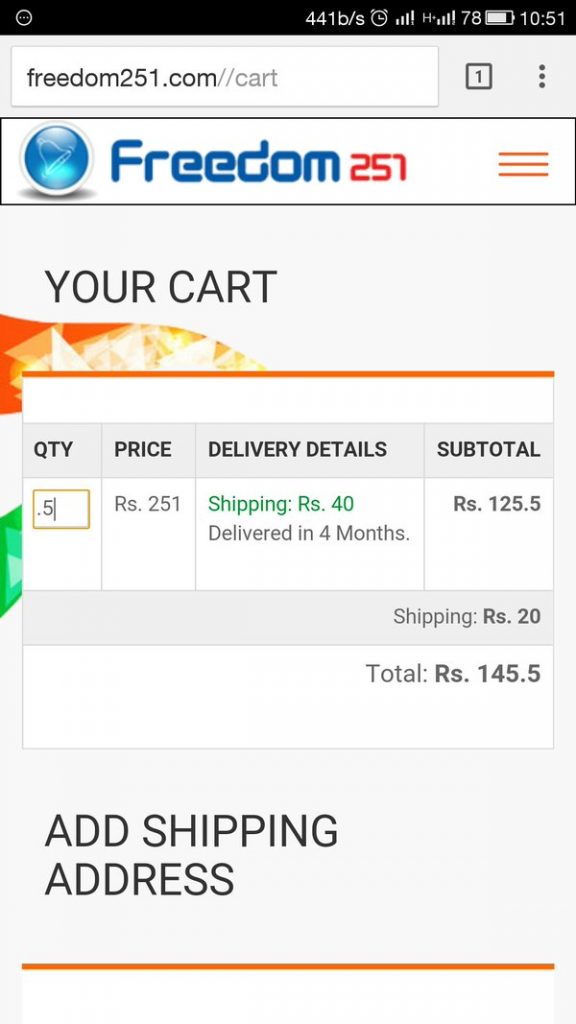 So technically you could buy half your phone at half the price.
The second ad had the brand promise ' Stay Ahead in Life'.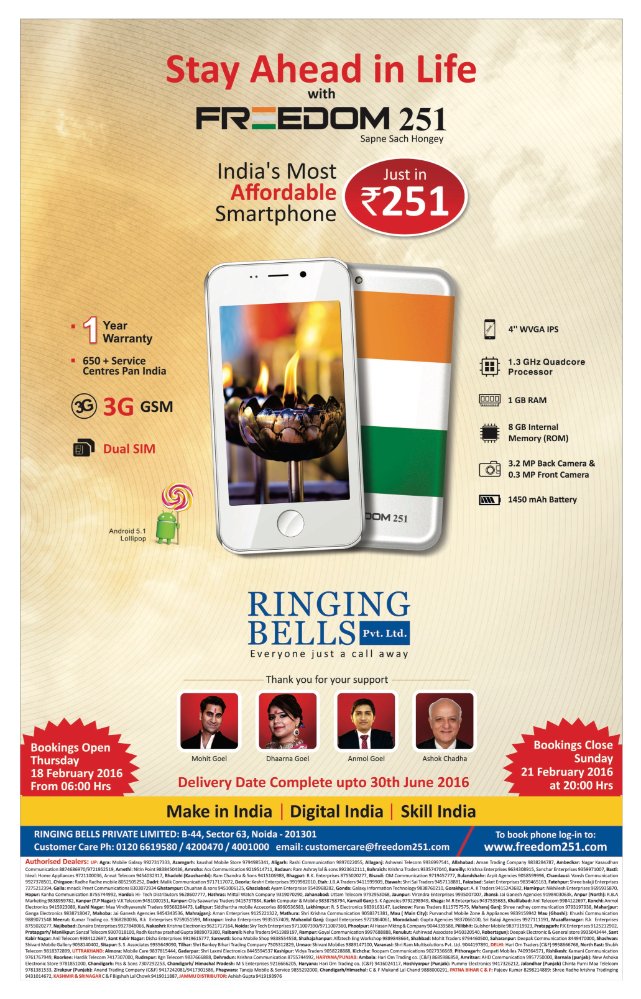 Unfortunately it was a bit of a shame because what could have been the pride of India quickly turned out to be a fiasco for Make In India, Digital India and Skill India, the 3 entities the brand was paying obeisance to.
You were almost reminded of Internet 1.0 when over anxious start ups were hastily launching their products only to be disappointed by their servers crashing.
It was actually such a big blow that one couldn't but help feeling bad for the manufacturer.  In the meantime the product and company were getting trolled on Twitter.
In New Delhi, in the meantime the brand was getting ready to be launched with VVIPs from the Government with the Defence Minister and a Member of Parliament.
So what went wrong?
There is no doubt that here was a company in a hurry who had not done its due diligence before its launch.  Proving that all the painful trouble that global companies go through before launching their products, and all the criticism they draw for being slow and stodgy there is merit in being well prepared and right, rather than quick and wrong.
In the afternoon the manufacturer had issued an apology on their website, but it was a question too little, too late.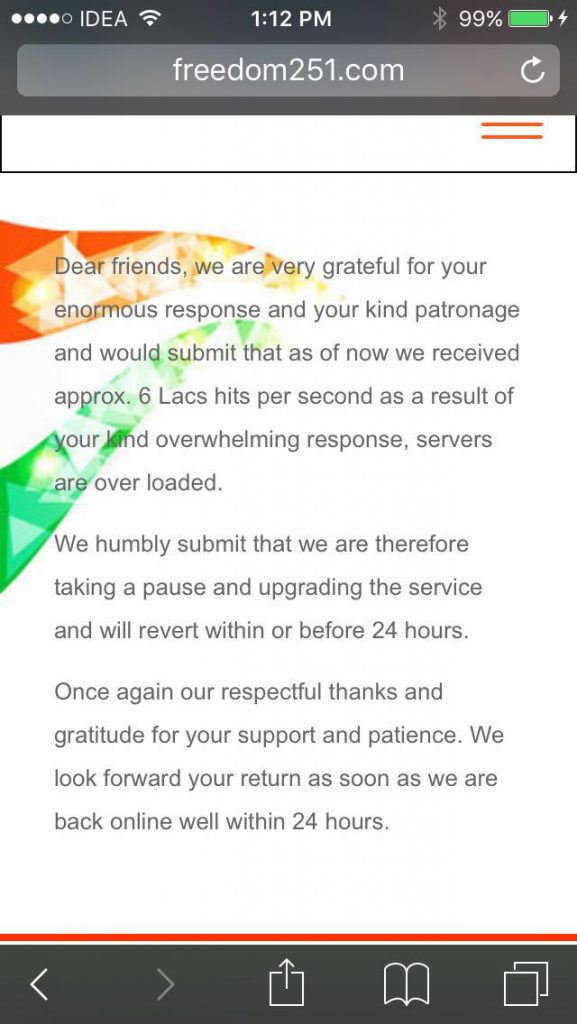 For most Indians the bad launch may mean that the product will take sometime to take off although Rs 291/- including postage seems like a steal for a smartphone.
Vikas Mehta says 'This has been a disappointment. Given that both Nano and Aakash Tablets failed inspite of jaw dropping prices, this brand hasn't learned a thing.'
'You seldom get such disruptive opportunities and to squander them with poor preparation is sacrilege. Remember Flipkart's first Big Billion sale!' says Professor Anand Narasimha
For Ringing Bells P Ltd I am sure they have learnt their lesson and it has dawned on them that they were not smart in launching a smart phone in such a hurry.
If there is one marketing lesson in this; it is that speed is good but never at the cost of detail, and slow and steady usually wins the race as the good old adage told us.
———
About the Author
Prabhakar Mundkur is an ad veteran with over 35 years of experience in Advertising and Marketing. He works as an independent consultant and is also Chief Mentor with Percept H.