Fresh Graduates In India Can Take A Loan From Government To Start Business

The Prime Minister's MUDRA yojana is a great opportunity for a lot of young under-grads and post graduates to get access to capital to start a business. You need not incorporate a company – in fact loans will not be given to companies as per the rules – a sole proprietor or a partnership firm will get loans.
We believe enterprising young graduates should definitely make use of this opportunity. You will need to approach a PSU bank in your vicinity to avail this scheme. The government has given a mandate to the banks to disburse loans of 1.22 Lakh Crores and there is a special priority to entrepreneurs and traders under the age of 30.
MUDRA operates a special scheme for women entrepreneurs; viz; Mahila Uddyami Scheme. Assistance will be provided under all three groups, viz. 'Shishu', 'Kishor' as well as 'Tarun'.
If you want to open a school or any education initiative that is 'income generating' you can avail a loan. If you a re a fashion designer and want to open a boutique of your own, you are eligible. If you want to open an ice-cream parlour, you are eligible.
MUDRA offers smaller loans upto Rs. 50,000/ under the 'Shishu' category and beyond 50,000 and upto Rs. 5 lakh under the 'Kishor' category. It also offers loans beyond Rs. 5 lakh and upto Rs. 10 lakh under the Tarun category. Depending on your nature of business project requirement you can access finance from one of the intermediaries of MUDRA as per the norms.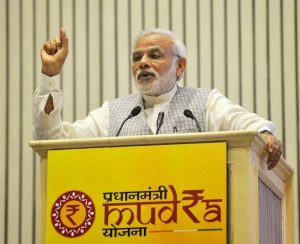 What is the eligibility of persons for availing MUDRA loans?
Any Indian Citizen who has a business plan for a non-farm sector income generating activity such as manufacturing, processing, trading or service sector and whose credit need is less than Rs. 10 lakh can approach either a Bank, MFI, or NBFC for availing of MUDRA loans under Pradhan Mantri Mudra Yojana (PMMY). The usual terms and conditions of the lending agency may have to be followed for availing of loans under PMMY. The lending rates are as per the RBI guidelines issued in this regard from time to time.
While we have covered parts most relevant for you, you can check the FAQs on the government website here. The scheme's scope is much wider and aims to improve access to capital to millions of small entrepreneurs, shopkeepers and businesses in a wide variety of sectors. As per the data released 24,000+ crores have already been disbursed under this scheme by various state banks and NBFCs. Check the region wise data here. There are also many project profiles on the website released by the MUDRA office – people who have submitted their business plans and which have got funded. You need to download that file.
The rate of interest is still a question which is not clear from any documentation given out so far but the FAQs say that a low interest rate will be the main feature of this scheme.
We at InsideIIM fully support this endeavour of the government. For years only the well-off in our country have had access to capital. Small businesses who need access to capital to grow would always struggle. If this scheme is executed well, it can have a massive effect in generating employment and kickstarting innovation in India. It can allow millions of women to become independent too. Similar schemes have been there in the past, but it is for the first time that it has been marketed at this scale.
The government isn't paying us to promote this scheme, but it is a scheme that resonates with us given the struggle with which we have built our own venture and we understand the importance of access to capital for a small entrepreneur. We ourselves cannot avail of this scheme anymore because we are an incorporated enterprise but we are sure thousands of our enterprising users are eligible.
We hope more of you will spread the word and ensure that enterprising people in the remotest part of India will make use of this opportunity.
'This is a Promoted Feature.'