"From a blue-collared worker to a student at a premium B school" – Prabhakar MN, XLRI Jamshedpur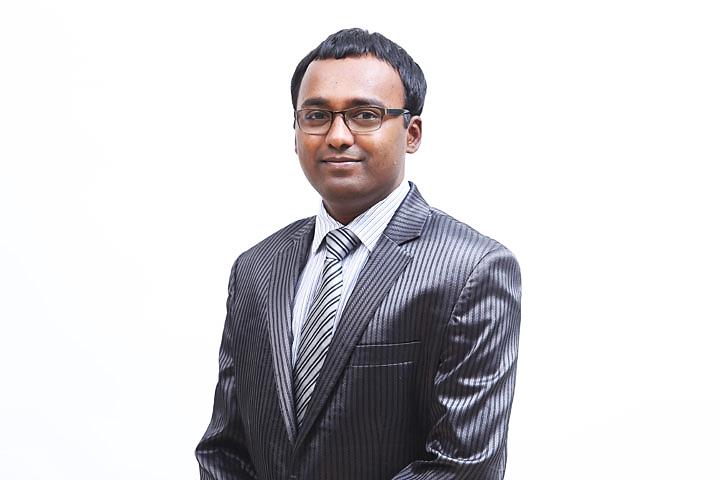 Prabhakar MN was a 'workman' who didn't settle for a simple life and always wanted to push the limits. He is now pursuing his PGDM (GM) course at XLRI Jamshedpur.
 What makes your career different?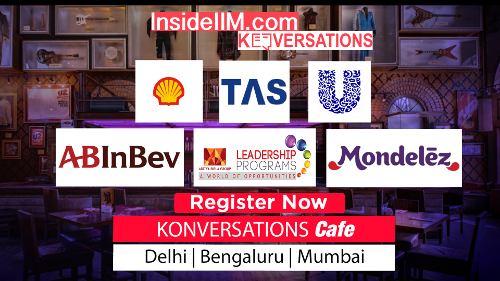 Unlike the mainstream, I did my Trade apprenticeship training at MVC (MICO Vocational Centre) after my 10th. I later joined GE and was employed there as a 'workman' for under 5 years. I was inspired by the organizational culture there and was bewitched by the then CEO Jack Welch's book "Straight from the gut". Parallelly, I completed my senior secondary (Diploma) education, I quit my job and joined BE full time at MS Ramaiah. Post BE, I joined Bosch and worked there for a little more 5 years.
A picture speaks a thousand words. The below infographic explains my unique timeline: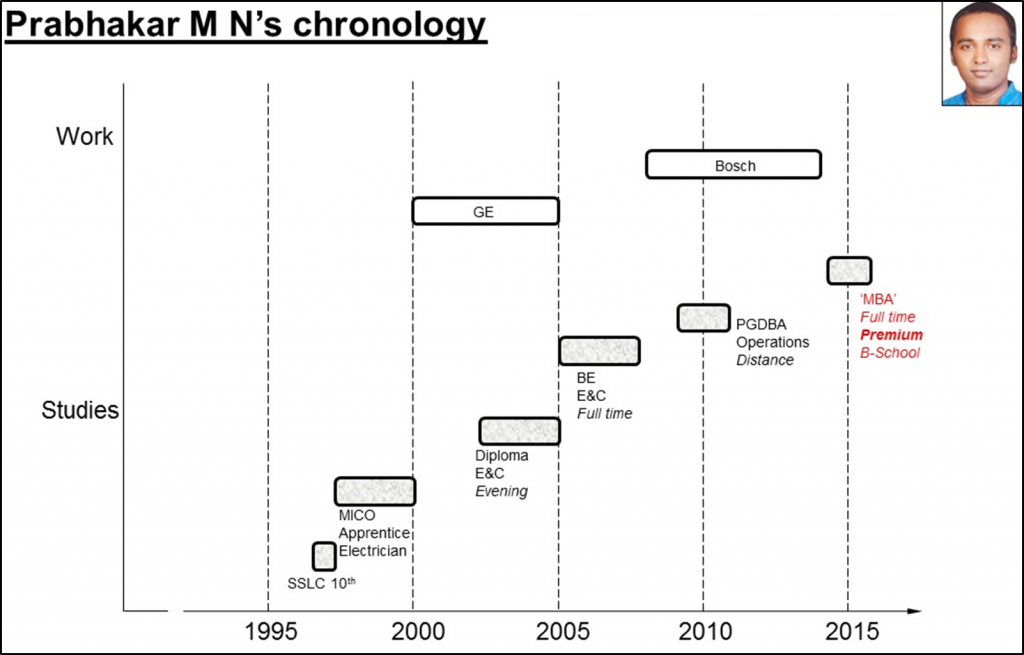 How has your approach to your career been?
I always loved to take an active approach instead of a passive one.  Its  been a productive "challenge the status quo" experience. When I was a 'workman' I challenged myself to leave my job and do something useful -Engineering studies. Later I had to outperform to get exciting job offers in 2008-the year of recession. Relocating, learning a new language and adapting to a different environment were just part of work life after BE. Again, raising the bar to leave my comfort zone and get into an ever demanding life of General Management studies was a needed to add another 'S' curve over the previous.
Tell us about your work life?
At GE, I was delighted to receive a 6 Sigma Green Belt certificate signed by Chairman  & CEO, Jeff Immelt. I was one of the 20 Manufacturing members selected for an esteemed 'Associate Development Program'.  At Bosch, I was happy that I was able to turn-around the quality performance of one vendor from being poor to that of an award winning one at country operations level. Another highlight was releasing a critical part for an indigenous simultaneous engineering project after a series of gruelling encounters with technical challenges. A man has to do what he ought to do and I did leave both companies for studies. I'm grateful to both of my previous employers for providing a chance to better myself.
Why MBA?
When I saw good business decisions around me, I used to always appreciate them due the qualitative and quantitative analysis behind it. I also felt that I could further add meaningful value to better those decisions to improve efficacy. However, it's not easy to fine tune an executive business decision of a company while working at the grass-root levels. But, it becomes more comfortable as one moves up the ladder. I wanted to accelerate this growth path and hence chose to leave my job to do MBA at XLRI.
What is your take on unconventional career choices, as your own?
I would like to answer this question metaphorically. As I always say that do not just "think out of the box", but "break the box"; this would not only help one to move forward, but also make it less stressful for people who want to do it. I get calls from my ex-co-workers who want to study like me. It's a satisfying experience when you can really show people that a particular thing is possible and they can do it too.
What are your beliefs?
You must have noticed by now that I subscribe to "Change is the essence of life". Because, anything that we do – can definitely be done better. And needless to quote this: "Not taking a risk is itself the biggest risk!"
What are your future plans?
In the near future, I'm looking forward to join a company in a pivotal role to rein in and direct a significant gamut of the business processes. Also enhance productivity across the entire value chain by integrating classical world class improvement technologies like Lean, Six Sigma and a plethora of business tools along with my 120 months of diverse work experience.  In the long term, I would want to be a responsible Employer, providing jobs to deserving candidates, with my company having a 'sustained competitive edge' preferably in the people-enabled services sector.
Lest we forget, everything depends on what Lord Krishna wants to grant.
Linked in profile: http://in.linkedin.com/pub/prabhakar-mn/40/968/a11/
Follow the External Linkages cell of XLRI Jamshedpur on InsideIIM here.
Read other stories in the Xtraordinary Xlers series here 
External Linkages
Established in 1999, ExLink is the media, branding and PR cell of XLRI Jamshedpur. Responsible for managing print and social media branding for the institute, ExLink is the face of XLRI to the world and maintains relationships with all stakeholders such as prospective students, recruiters, alumni and internal committees on campus.