From France With Love – Student Exchange Program At IIM Ranchi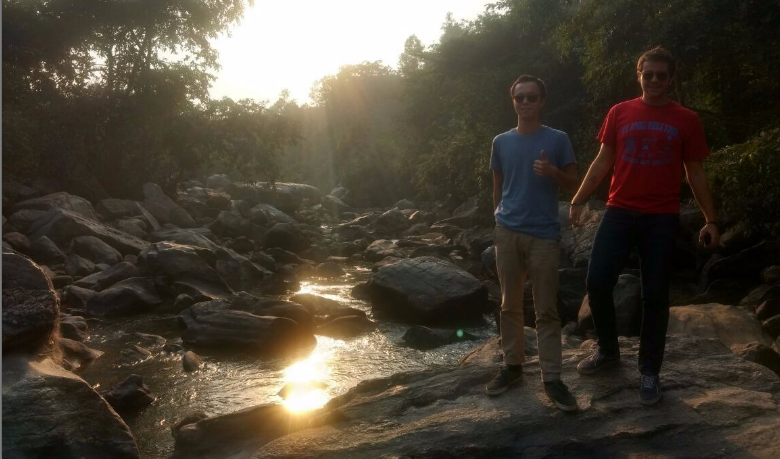 Travelling across continents to come to an absolutely new place can be a daunting thought for many. However, for Alexandre Issad and Leo Mounier', their stint at IIM Ranchi proved to be an experience of a lifetime.  The two students came all the way from Audencia Business School, France to come to a place which neither of them had visited before. They were the first students to come to IIM Ranchi as a part of the Student Exchange Program (STEP) Program. Here is what they had to say about their three months in IIM Ranchi.
First Experience in India – the spicy delicacies of Delhi
When we first arrived in India, Delhi was the place where we stayed. We stayed there for two days and had a great time there. Delhi is deep India. We did try some Indian food or rather the Delhi food. It was very good, but …very, very spicy. In time, we did accustom to the food here.
From Delhi to Agra – Taj Mahal beckoned
Though the schedule was hectic, we still managed to get the chance to visit various cities in India. Unfortunately, we couldn't visit all the places that we wanted to, yet the places that we got to explore gave us wonderful memories. Our exploration of this amazing country took us from Delhi to Agra, where we saw the beautiful Taj Mahal. From the rooftop, we saw the sun rise over the Taj Mahal, which was an amazing experience. The way the orange hue of the morning sun shone against the white marble was an image of compelling beauty. We set out to see the monument very early in the morning and were probably the first people to arrive at just the moment when the gates opened for the day. We were glad to find not much crowd there. It was a wonderful and a very special moment for us to see Taj Mahal – the epitome of India right in front of our eyes.
The backwaters of Kerala, holiness of Varanasi and merriness of Goa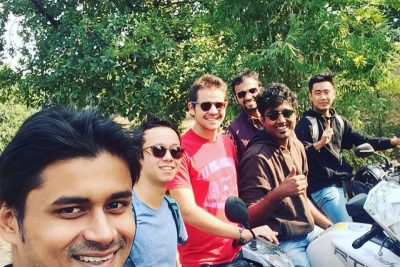 We also went to the backwaters of Kerala. It was a very beautiful place. We got the chance to stay at a small place at the coast. There was something special about Varanasi. You could sense that it was a holy city. The last trip was in Goa. It was a dream for us, French guys, to go to Goa and when we went there, it was indeed a dream come true moment for us. Very different experience from the rest of the trips but an amazing one.
Back to Studies at IIM Ranchi
We were here to complete our term and were glad to find good faculty here. The subjects were taught really well. We were both Finance enthusiasts and the faculty at Finance was really experienced. It was a really good opportunity to interact with them. Overall, the classes were really interesting. We learnt a lot during our three months here.
The people, the friendliness and memories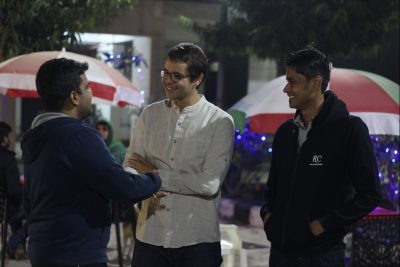 At IIM Ranchi, we felt really welcomed. It was a place where we got this wonderful opportunity to interact with people from different parts of the country. In fact, the first thing that struck us the most and eventually helped us the most was the friendliness of the people at IIM Ranchi. The faculty, the staff- everyone was really nice to us. We did not have much experience in staying in a foreign country and as a result, the initial days weren't easy. Language was an issue as our fluency in English wasn't perfect. However, gradually we were able to communicate with everyone, understand the people around us and be understood.  We would definitely have fond memories of the people of IIM Ranchi.
Fun at Futsal
One unique experience we had at IIM Ranchi was when we participated in Futsal. It was a small tournament but the energy which everyone showed was really great. We both enjoyed playing with other fellow students and it was really a fun event. Though we couldn't win the tournament, it was a thrilling experience.
Unexpected learning

Every young man of our age should come here to learn more about himself and the world in which we live in. Here, we learnt beautiful things about ourselves, the people and a country which are truly amazing.
Message to juniors
The only advice we would like to give to our juniors would be that if they really want to have a truly unique experience during their student exchange program, they should come to India especially to a city like Ranchi.
Au Revoir guys!