Gems of Joka – Vimal Kumar – Entrepreneurship before IIM Calcutta!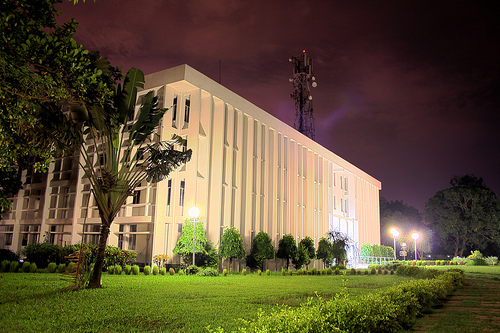 This is a new series on InsideIIM.com where we profile interesting creatures on the Joka campus. This is the second story in this series where we meet Vimal Kumar. He is an entrepreneur who created a business and even exited from it before coming to Joka! You don't find too many of those in the IIMs!
….Background
I am from Coimbatore. I studied Electronics Engineering in PSG Engineering College in Tamil Nadu. I graduated in 2011. I started an online food-ordering and party-booking website offertale.co.in.
… On experience of starting this site.
I wanted to start something that would excite people. Also I was fascinated with the internet so I was determined to do something that would connect these. I had ideas of a t-shit merchandizing site and a social networking site but these were infeasible back then because they would not give me revenues for at least 2 years or demand high investments.
What made the idea of offertale.co.in attractive to me, when I started it in March 2012, was the ease of the processes associated with the business model. All it takes is sheer effort to get on to the ground and get started. To add to this, I'm a big foodie and so what else would stop me from getting started?
.. On the kind of support  from family, friends and mentors
Honestly, my family was scared that I would  not make it big in life because of the magnitude of the risk I was taking but they still gave their assent. It motivated me to pursue my idea, even though they gave me no financial or moral support. So the path of an entrepreneur is a very lonely one.
My partner was my batch mate and my other friends were emotionally supportive. There was a professor from my college who would keep checking up on my progress and that was always heartening.
…Still involved in the venture?
No. I am not. I exited from the venture by selling my stock. There was a conflict of interest with my partner. Also, I felt that offertale had satiated my hunger for innovating and now I had to move on to something new.
….So what brings you to MBA and IIM Calcutta?
Firstly, I do not believe that an entrepreneur needs an MBA because entrepreneurship is all about heart. But how an MBA can help an entrepreneur is by educating him well-enough so that he makes fewer mistakes and help him take his idea to a global or at least a grander level. Also the networking opportunities give one a lot of visibility which is something every entrepreneur needs. And these are the same reasons why I decided to pursue an MBA. IIM Calcutta was the best call I had so coming here was a no-brainer.
….What have your experiences at IIM Calcutta taught you vis-à-vis entrepreneurship?
IIMC has taught me the significance of cash in any venture. I used to think that cash was just a means to get started and going. Now I know that every process in a venture has a cost and one cannot expect every process to generate RoI. I also learnt about the channels of bringing in cash. I have established some networks with VCs and am learning what they look for when being pitched for funding.
….What next?
I have already identified some sectors that fascinate me. All I am looking for now is an opportunity to associate myself with that industry, learn how it works, find good mentors and finally create a product or service that can fill any value gaps there. My product, like my previous venture, must excite people.
…. Message you want to pass on to people in b-schools who are considering entrepreneurship but are still "on-the-fence"?
The hardest part of getting started is getting started. No. I did not say that first  🙂
Get the necessary courage to get started and persist till you get to where you want to be.
as told to Afzal Hussain
Afzal Hussain is a student at IIM Calcutta (Class of 2014). He did his BE degree from Birla Institute of Technology Mesra in Electrical and Electronic Engineering and worked as an IT Consultant in Deloitte for 2 years after that. He enjoys reading everything under the sun, listens to Apertura by Gustavo Santaolalla on loop and worships Fight Club.
Read everything about IIM Calcutta here
Read everything about Entrepreneurship here