Graphologist, Singer & Founder Of Positivity Project who is also a CA – Jay Shah – Lions of Lucknow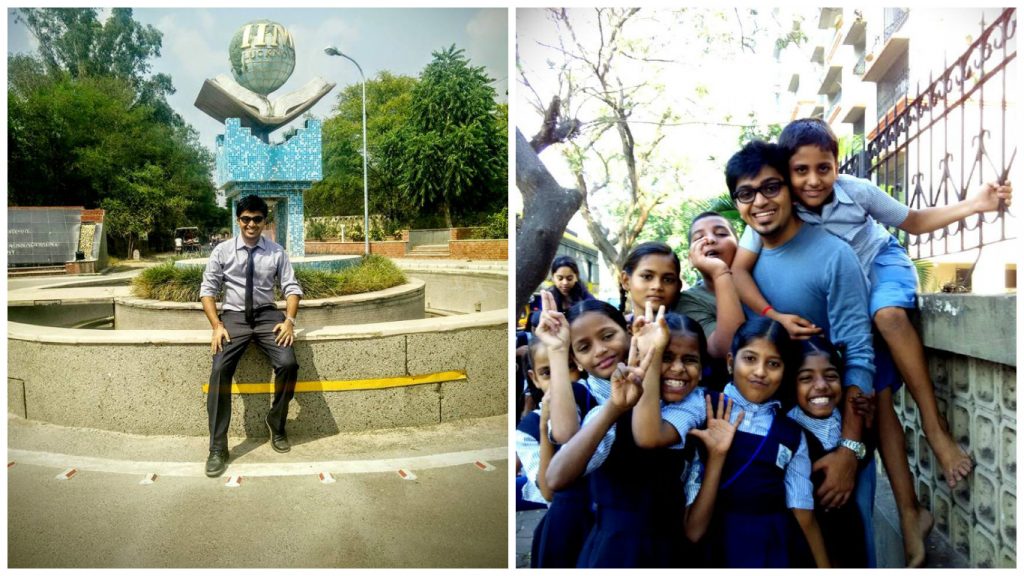 This story is part of our series "Lions of Lucknow" where we attempt to peek into the lives of some interesting and diverse profiles at IIM Lucknow. This is the first story in this series where we delve into the life of Jay Shah:
Hi Jay, Tell us about your background.
I am Jay Shah, a CA, currently pursuing MBA at IIM Lucknow. I hail from the city that never sleeps – Mumbai. Academically I have done well. I secured 10th All India Rank in CPT (CA Entrance Exam). I was pleasantly surprised to be shortlisted for Aditya Birla Scholarship (Top 20 in IIM Lucknow).
I feel bliss in social action. I am the co-founder and ex-manager of The Positivity Project – a social movement in Mumbai. I was also a volunteer teacher at Asha Kiran School on Wheels where I had an opportunityto enlighten underprivileged children.
I am very passionate about Table Tennis. I was amongst the top32 TT players in Mumbai U15 (DSO2007). I also love singing – have given over 20 performances to varied audiences. I am also a certified Graphologist and Pranic Healer.
At IIM Lucknow, I am the class representative and a core member of Bhavishya– The Social Initiative committee of IIM L.
Tell us about the social initiative which you have started.
The Positivity Project Story
The Positivity Project as it stands today is a movement to radiate positivity all around. Our family of volunteers is ever growing, finding new heights of enthusiasm every single day. We have touched lives of over 1500 people– orphans, challenged individuals and elderly in the process. Our influence is growing by the day and we hope to create an atmosphere where social work becomes a norm not just in Mumbai, but the whole of India.
My mother had once told me about one man who was very poor. He barely earned enough to sustain himself but still donated a little every day. His hard work and the blessings he received saw him become rich. His habit continued over the years. He was now in a position to donate a lakh every day. During his last days, he asked his arrogant son to start donating Re.1 a day and double it every day. At first it seemed a very small amount for a multi-millionaire, but slowly and gradually it built up. The son had to pay 13.42 Crores on the 28th day! His arrogance was lost. The man finally died after taking a promise from his son to donate ₹ 1 crore a day.
I was highly inspired. In a very filmy way, since that day I had a goal to be able to donate ₹ 1 Crore a day by 45 years of age. Also I felt that donation shouldn't be just about money, but also positive emotions.
Engrossed in these positive ideas, suddenly this thought came up in my mind, and I promised myself that I would take it up after my CA Final Exams in May 2014. This is what gave birth to the thought of The Positivity Project.
The Positivity Project as it stands today was started by 6 of us through our visit to an old age home. We interacted with the people there, made them play housie and antakshari, and distributed fruits and chocolates… It was a blissful experience for all of us to be able to create that enjoyable atmosphere and light things up for them. All of us excitedly told our friends and encouraged them to join in. Event after event, this enthusiasm has brought in new members to our Positivity Project Family. We are now a family of more than 200 'Positivizers' with the same goal.Since inception, the family has 'positivized' orphanages, old age homes and disability centres during over 50 social visits.
How was your experience as a teacher in Asha Kiran school?
It is a class of 50 kids taught on the footpath. The kids there were very receptive. I wanted to make studies interesting for them, so I started study games – like arithmetical housie, sand alphabets, body parts game, scrabble, etc. For their recreation, I organised competitions for singing, dancing, storytelling and drawing. To evolve them in extra-curriculars, I held workshops for cricket, football and clay modelling.
Taking the initiative further, I started organising 'The Beach Games' to allow them to have a picnic with numerous games planned. I had the support of a number of 'positivizers' who happily volunteered for the events.
My love for them was more than reciprocated by them. All throughout, they treated me like a celebrity. Running to hug me, shake hands, hooting my name and getting all excited. I have more than 50 cards gifted to me by these students!!!
It was particularly exciting to note during year end that some of them had topped their classes.
How has your experience at IIM Lucknow been?
It has been absolutely amazing. Amazingly, I was selected once (by Ignicion) and elected twice (by different sections) to be the Class Representative.
Academically too, I gained exposure and insights into myriad areas. Being a CA, I was enlightened by knowledge from peers hailing from various backgrounds.
I gave two singing performances in front of electric audience. I have also been honing my skills in snooker and table tennis. I have become a half marathoner too. I recently won Mr. Prom at our Prom Night.
I am also a member of Team Bhavishya.
Tell us about Bhavishya.
Bhavishya is the social initiative committee of IIM L. For me, it was just an extension of what I had done in the past. However, the different forms that social service took were at a different level altogether.
Through Evening School, we along with volunteers, taught village students. Through Paarijat, we helped create futures of underprivileged girls by finding them sponsors. Through Disha, we along with Jaipuria Institute of Management, gave counselling to an adopted school.
We held blood donation drive, medical camp, clothes and stationery donationdrive as well as social visits. The most exciting event however, was the Harmony Cup – Never before would I have dreamt of a concept like this. A cricket tournament organized at IIM Lucknow to raise funds for a noble cause. The scale of the event and the passion of the noble participants made the event a gigantic success.
Most of all, it is the satisfaction of being able to make a difference that makes all the effort worth it.
I have heard that you sing. Tell us more about it.
My singing is an outcome of a lot of effort. My mom's effort though. She used to take me to different music classes where I learnt singing and synthesizer. Her constant encouragement has seen me become a passionate singer. My music teachers in school too, held me as one of the better singers. I received the Meenakshi Divetia Award for music in 2004 – A small win early on.
I have also composed 3 tunes on guitar thanks to an even more passionate guitar friend who became a benchmark for me. I have a small self-proclaimed band with a flutist and synth player.
Tell us about Graphology (Handwriting Analysis).
I was scanning through YouTube when I came across this video on Graphology. It seemed so exciting to be able to tell a person's traits just by looking at his handwriting. However, my sceptic brain didn't allow me to believe it at first go though. So I decided to try out the tricks I learnt from the video. To my own amusement, I was able to judge people with 80-90% accuracy!!!
I couldn't stop myself from doing a certified graphology course even as CA Final was nearing. Of late to develop my hobby further, I took handwriting samples of 20 friends to help them understand themselves better. I also gave grapho-therapy suggestions for improvement. They have given me a very positive feedback.
Any message for our readers?
Push till your limit,
And then push your limits…
——
(As told to-
This article is written by Abishake Koul, a PGP student of the class of 2017 at IIM Lucknow and the Creative Head and Core Coordinator of the Media and Communication Cell)
Media & Communication Cell IIM-Lucknow
IIM Lucknow's Media and Communication Cell (MCC) serves as a communications liaison between the Institute and the external world. MCC also acts as the community building platform of IIML and ensures that all the student activities and initiatives at IIM Lucknow receive public recognition