Guest Lecture At IIM Indore, Mumbai Campus By Mr. Ananthanarayanan V, Founder & CEO, Techdivine Creative Services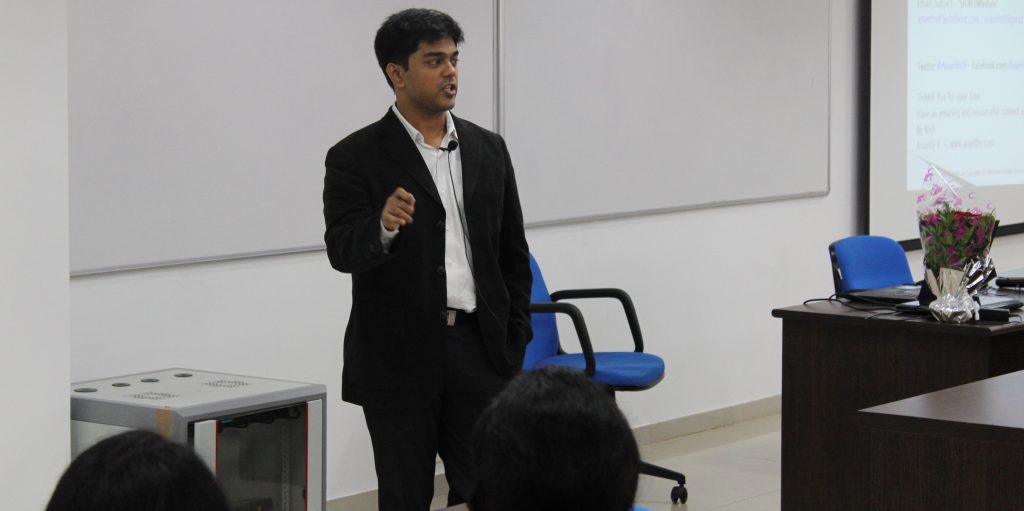 The marketing aficionados of IIM Indore, Mumbai Campus relished their Sunday afternoon with an insightful guest lecture on the topic 'Marketing in the age of Digital Disruption' by Mr. Mr. Ananthanarayanan V, founder and CEO of TechDivine Creative Services.
A digital marketing maestro, Mr. Ananth is the winner of the Peter Drucker Global Challenge 2014, and was also awarded the "Best Digital Marketing Professional in India" by CMO Council & World Marketing Congress. Having 13+ years of professional experience, Mr. Ananth has been previously associated with various companies like NIIT, Aptech, and Pfizer.
Opening with the evolution of communication, Mr. Ananth spoke about how product experiences are now increasingly being shared in real time, and emphasised on the pressing need to humanise one's brand. He spoke about how brands now have a much more responsible role to play, and that the necessity to connect with customers is higher than ever. He further analysed instances from his own professional experience using various steps like goal definition, understanding customers, and building connections and engagements.
Mr. Ananth also highlighted the significance of metrics in Digital Marketing, and how the inclusion of relevant content is of paramount importance in this field. He then touched upon various models of Digital Marketing, such as Social Media Marketing, Pay Per Click(PPC), Content Marketing, Blogging, Influencer Marketing, Email Marketing, SEO & SEM to name a few. He then shed light on various measures being taken by firms such as Google (AdWords, AdSense, YouTube Ads, Google Analytics) and Facebook (Facebook Insights) to capitalise on the advancements in Internet marketing, and the revenue models of the same. The lecture ended with a highly interactive Q&A session, where participants raised various queries.